We help people connect with nature and create lasting memories in the Northern Japanese Alps.
Click here to download our digital brochure.
Japan is full of beautiful contrast and lives in tension with itself. One of the most beautiful tensions hangs between the booming urban life in big cities and the rest of Japan where a large population live in harmony with nature, enjoying the seasons in rural Japan.
Share your journey by tagging #Kamikochi on your favorite social media.
The Journals are written by people who love Kamikochi and want to share their experiences with you.

Located in the birthplace of the Japanese Alps, Kamikochi offers breathtaking views and access to your next adventure.


Kamikochi is part of an amazing park system offering great access to the great outdoors.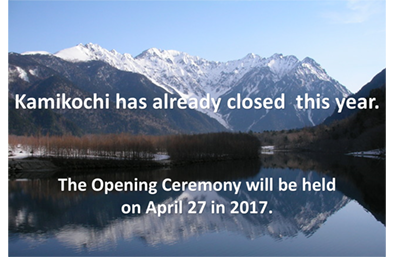 Kamikochi has already closed this year
Kamikochi Closing Ceremony had held on 15th of Nov. Thanks to all the funs of Kamikochi, There are 1.18million people visited here same as usual year.
Kamikochi route will be closed until next April.

Explore the road less traveled.
Experience the heart of japan.