We help people connect with nature and create lasting memories in the Northern Japanese Alps.
Japan is full of beautiful contrast and lives in tension with itself. One of the most beautiful tensions hangs between the booming urban life in big cities and the rest of Japan where a large population live in harmony with nature, enjoying the seasons in rural Japan. You can experience this tension as you travel from urban Japan to the rural (inaka).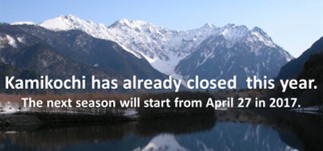 ――― Kamikochi has already closed this year ―――
Kamikochi Closing Ceremony had held on 15th of Nov. Thanks to all the funs of Kamikochi, There are  1.18million people visited here same as usual year. Kamikochi route will be closed until next April.

We love sharing stories of journeys in and around Kamikochi.
Kamikochi – Beautiful All Year Round
TAG "#KAMIKOCHI" ON INSTAGRAM TO SHARE YOUR JOURNEY WITH THE WORLD.
Share your journey by tagging #Kamikochi on your favorite social media.
Follow us to experience Kamikochi near and far.

Located in the birthplace of the Japanese Alps, Kamikochi offers breathtaking views and access to your next adventure.
 

As a way of preserving nature, many National Parks are kept out of reach. Not here. Kamikochi is part of an amazing park system offering great access to the great outdoors.

Explore the road less traveled.
Experience the heart of japan.
Kamikochi is located on a great #RuralJapan route between Matsumoto and Takayama City. If you are looking to get away from the big city and explore the road less traveled, Kamikochi and its surrounding areas have much to offer.