GEOLOGY
For most of Kamikochi's history, only woodsmen could access the area. During the Meiji Period, a man named Hyakujiro Kamijo from the foothill village Shimashima had explored the Tokugo Pass in the summer time and eventually became the first cattle rancher in the pastures of Kamikochi. His ranch was called as Tokusawa Pasture in the district of the same name, and he had other pastures in Konashidaira and Myojin districts. Today, these names are familiar to visitors to the park as scenic areas made more appealing by their spectacular views of snow-covered mountains.
After the eruption of Mt. Yakedake in June of 1915, a volcanic mudslide dammed the flow of Azusa River, and created a pond called Taisho Pond. Materials used to construct the Kamikochi Imperial Hotel were transported by boat across this pond. (Read more about Mt. Yakedake here)
1927 was a landmark year in Kamikochi's history with three major developments. Ryunosuke Akutagawa, a prominent novelist in Japan, had introduced Kamikochi and Kappa Bridge in his novel "Kappa" published in March. In July, Kamikochi was selected as one of the most scenic spots in Japan along with seven other resorts. And in August, His Imperial Highness Prince Chichibunomiya had climbed Mt. Oku-Hotakadake and Mt. Yari from Kamikochi. After the events of this year, the number of tourists in Kamikochi doubled.
In 1934, Kamikochi was designated part of the Chubu Sangaku National Park. The pastures had to be closed in accordance with the new regulations, and tourist buses carried many visitors to Kappa Bridge. Year after year, the numbers of tourists with their own cars had gradually increased, and finally a new traffic regulation was introduced in 1975. According to the present restrictions, tourists are prohibited from entering Kamikochi in their own cars.
WILDLIFE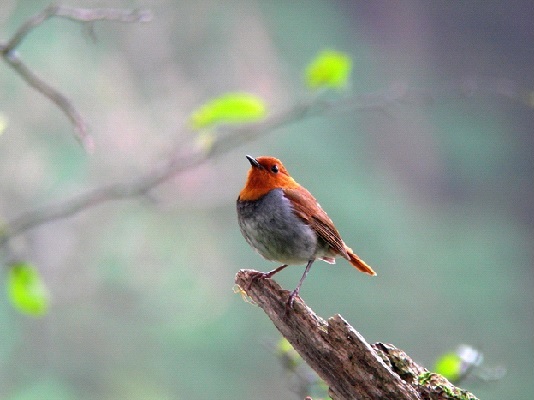 As well as sweeping mountain vistas, Kamikochi also offers its own distinctive menagerie of mountain wildlife. Since the species of animal life are too numerous to list here, let's consider some of the more representative examples. Remember: the same common sense about leaving the natural environment undisturbed applies as much if not more to the birds and beasts of Kamikochi.
Japanese Monkeys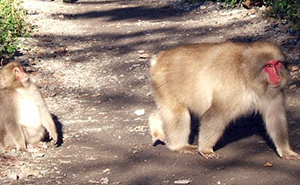 The Japanese Macaque (simply called "nihonzaru" or "Japan monkey" in Japanese), has become famous throughout the world for footage of furry monkeys bathing in the hot springs of Jigokudani in the north of Nagano. The adults are a photogenic, but mercurial lot, prone to mischief and potentially dangerous if approached. That said, the sight of them climbing trees and loping around in search of a free lunch is a welcome site at Kamikochi and a big part of the ambiance that reminds us that we're visiting someone else's home. For many, just spotting a few in the trees is a minor highlight of an outdoor excursion. That said, they are not cuddly pets or roaming photo opportunities, so please treat them with respect.
Raicho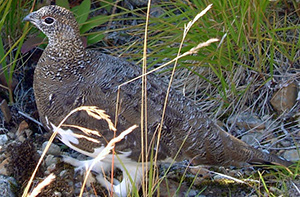 While in other parts of the world, the rock ptarmigan is hunted as a game bird, in Japan it is a revered and protected species known by the imposing name of "raicho" (or "thunder bird"). While not the only bird native to the Japan Alps, the raicho definitely rules the roost, due to its charm and unique character. To begin with, the peculiar hoarse croak of the raicho's call will often alert you to their presence long before you see them. They are also far from timid, unphased by human presence and sometimes remaining still while you take a picture (don't get too close!). If you're lucky, you might also see them in pairs. Raicho couples have the adorable habit of taking strolls with their mates, distinguishable by their differently colored plumage.
*Raicho can be spotted in Kamikochi but are quite rare, if you do catch a glimpse of one consider yourself very lucky.
Kamoshika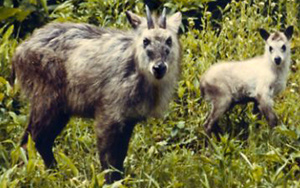 The Japanese serow is a bovid animal, somewhat similar in appearance to a mountain goat and, judging by the tracks they leave in the wooded sections of ski resorts, every bit as sure-footed. The "shika" in the animal's Japanese name, suggests similarity to deer, though in zoological terms they are not related. The kamoshika also has a special place in the ongoing narrative of Japan's ecology as it was once hunted to the brink of extinction, before luckily becoming a protected species. While your chances of seeing one in the wild may be a bit slim, the mountains are definitely where you should start looking. Beloved for their shaggy manes of fur and placid faces, the kamoshika are a prized sighting for any alpine traveler.
And a Cast of Thousands…
In addition to three of the most famous examples mentioned above, Kamikochi is home to countless other species of birds, mammals, fish, and insects. Preserving the biodiversity of the area is a key concern for the hard working men and women who maintain Chubu Sangaku National Park. Whether you're lucky enough to spot a Mandarin duck or one of the park's elusive badgers, we ask you to respect these tenants of the Northern Alps and admire them from a distance. It's all part of an ecologically aware and responsible attitude to visiting this and other protected areas.