It has finally come, a sunny day to look upon Mt. Hotaka-dake with snow. Yesterday, November 1st, was the first day this season to be able to clearly see the mountain with snow. And what a beautiful sight it was…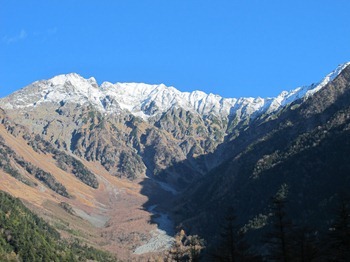 Snow could be seen on October 31st, but it was mostly blocked by clouds. That night, however, brought with it the disappearance of the clouds. Between the remaining colors of the low elevations, the browns of the middle elevations, the white of the peaks, and the brilliant blue of the sky, the scenery for those that woke up in Kamikōchi was truly superb. While the autumn colors are beautiful themselves, a white layer of snow up in the peaks really takes the scenery to another level. And to top it off, the numbers of tourists visiting now have dropped off leaving Kamikōchi quiet and calm.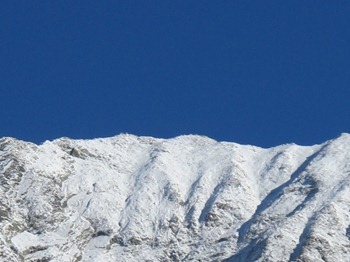 In the middle of the above picture lies the peak of Mt. Oku Hotaka-dake. At 3190 m, it is also the third highest peak in Japan. Below, you can see Gens D'Armes (the round peak at 3163 m) on the left and Roba no Mimi (literally "The Donkey's Ear") on the right.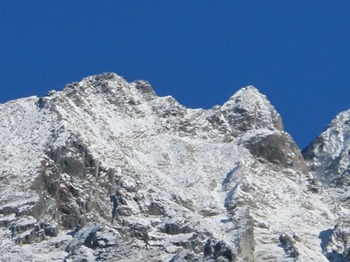 Looking up at the craggy peaks dusted in white snow, one can't help but feel the quiet and calm of winter. Rather than muttering, "It's cold," and complaining about the cold of the season, how about experiencing its good points and saying, "It's so incredibly beautiful…"
Source of Information:
– Kamikōchi National Park Guide Website (http://npg-alps.net/)