As I write, Typhoon 19 (AKA Hagibis) is set to make landfall in Japan. Major events around the country have already been cancelled. Many of our readers have contacted us with concerns about the unfolding situation and how it might affect their planned visits this weekend.
First of all, an apology: details on exactly how and when the storm would affect the area have been slow to trickle in. Until now, we have been urging caution without being able to provide much in the way of details.
So, here's what we know:
—The peak period for typhoon conditions in Kamikochi is from midday tomorrow (Saturday, 10/12) to later that evening.
–200ml of rainfall is expected along with strong winds.
—Train service linking Matsumoto and Kamikochi has been suspended from about midday tomorrow.
–No announcements regarding highway bus services had been made at time of writing, but roads around Kamikochi could also be affected by heavy rain, resulting in closures.
–In addition to roads and rail around Kamikochi, there will almost certainly be disruptions to buses and trains linking the area with larger cities like Tokyo. That includes overnight buses set to arrive in Kamikochi on Sunday morning/
–By Sunday morning, the worst of the typhoon will have passed over and services will probably resume (probably, mind you…)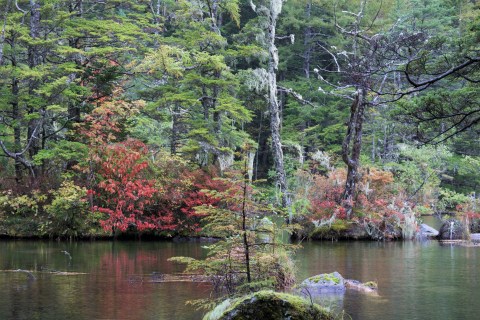 It should be mentioned that Nagano Prefecture, due to being surrounded by mountains, often gets a milder dose of typhoon weather than other areas. It's not yet clear how intense the typhoon activity will be here, but local authorities have decided to err on the side of caution.
We commiserate with any readers who have been planning a trip only to be frustrated by extreme weather conditions. As comedy legend Spike Milligan once said,  'And then the monsoons came, and they couldn't have come at a worse time, bang in the middle of the rainy season.' And that's pretty much it, really. Typhoon season sometimes does too good a job of living up to its name.
Stay safe!
Sources of Information:
Nature Guide: Five Sense, Kamikochi blog: https://fivesense.guide/blog/today/25454/
Yarigatake Sanso Group homepage: https://www.yarigatake.co.jp/minamidake/blog/details/3479/