Can you believe it's August already?  It seems like just yesterday I was covering the spring thaw and here we are just a few days before Kamikochi's time of peak activity during the summer holidays.  Visiotrs from abroad might take little notice of things like the Obon rush, but as thermometers climb toward 40 degrees in urban areas, you can bet that many will be seeking the comfort and scenic splendour of higher ground.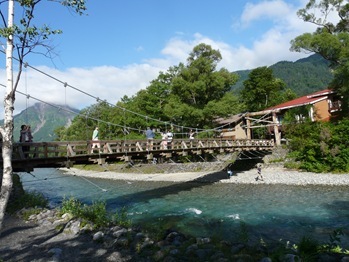 Just to give an impression of what things are like these days, let's look at some recent pictures of Kamikochi.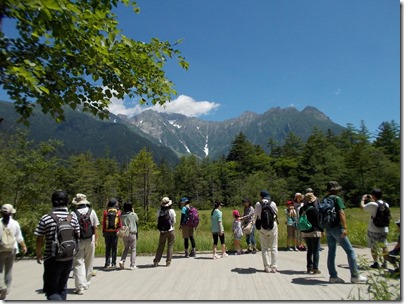 On fine days, visitors are being treated to views like the one above, with the combination of blue skies, white clouds and the Hotaka Mountain Range creating a scene which is at once both majestic and soothing.
Naturally, we've had a lot of families visiting.  Forgoing the noisy and heat drenched fairgrounds of elsewhere in Japan, they can been scene drinking in the quiet grandeur of the Northern Alps.  Once the kids warm to it, they'll be hooked like the rest of us.  Mount Yakedake looks imposing as ever in the background.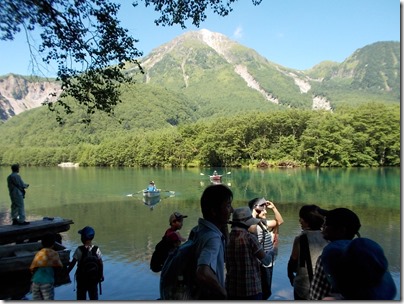 In the streams, we can see Ranunculus (better known to non-specialists as buttercups), adorning the water.   They are now in full bloom.
Elsewhere, bees and other insects can been seen gathering around the monkshood.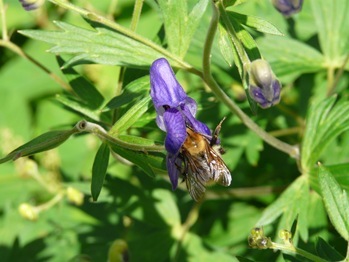 Whether it's flowers, cool weather or vigorous mountain walks that bring you to Kamikochi, make sure that you make the trip this summerEvery day is a little different in terms of climate ans scenery and every for repeat visitors there is always something new to discover.  While the weather cooperates, the views will be brilliant and the climate will provide the perfect break from your gruelling summer schedule.  Come one come all!  And, as always, be sure to visit our Facebook page: https://www.facebook.com/kamikochi
Sources of Information:
Shirakabaso Hotel website: http://shirakabaso.com/
National Park Guide website: http://npg-alps.net/