---
As a key figure in the history of Kamikochi, Walter Weston is honored annually at the festival that bears his name.  This year's iteration of the Weston Festival was held on May 31st and June 1st.  Since we didn't cover it in past weeks, here's a quick rundown on the event as well as a few words about what made the man so important to us.
Walter Weston was born in Derby, England in 1860.  As a child, he excelled in both academics and athletics.  While studying  at Cambridge, he found time to play for Derby FC for five consecutive seasons.  At the age of twenty five, he was an ordained priest in the Anglican Church and an accomplished mountaineer, travelling to the Alps when possible.
It was missionary work that first brought Weston to Japan in 1888.  During his 15 years residing in Japan, he worked in Kumamoto, Kobe and Yokohama, and his enthusiasm for Japanese customs and culture were unmatched.  Today, we are familiar with Weston primarily as one of two Englishmen who were instrumental in bringing the sport of mountain climbing to Japan (the other Edward Bramwell Clark is also credited with having introduced the Japanese to rugby).  Before the emergence of recreational hiking in the late 19th century, climbing mountains was the territory of monks and other religious asetics.  But Weston and other early pioneers helped open the eyes of the general public to a sport that was fun and accessible for people of all ages.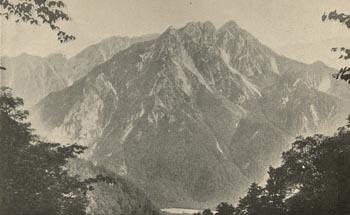 Weston's landmark publication, "Mountaineering and Hiking in the Japan Alps," can be read in its entirety (and legally, thanks to it being public domain) here: http://archive.org/stream/mountaineeringex00westrich#page/n5/mode/2up
Also, some vintage photographs from an old edition of the book can be seen here: http://www.baxleystamps.com/litho/weston_1896.shtml
*     *     *
This year's event was blessed with great weather and a very good turnout of visitors.  As in past years, crowds gathered to watch children's choral performances and ceremonial wreath layings.
The head of the Alpine Association gave a speech after which students from Azumino Elementary took the stage again with a recorder performance of Edelweiss.  The musical numbers, in particular, added to the lively atmosphere of the ceremony.  All in all, we couldn't have asked for a better Weston Festival.
Weatherwise, we've been seeing a suprising amound of warmth and sun mixed in with the expected clouds and rain lately.  On sunny days, it's allready warm enough to hike around in short sleeves, but you'll definitely want warmer clothing for those lower temperatures at night and in the morning.
As always, please feel free to post any questions or comments you might have on our Facebook page: https://www.facebook.com/kamikochi
Souces of Information:
National Park Guide website: http://npg-alps.net
Kamikochi Shirakabaso Hotel website: http://shirakabaso.com