Last Sunday, the 65th annual Weston Festival (Weston-sai) was held in Kamikōchi. And on the Saturday prior to the festival, a group hiked the path that Walter Weston took when he hiked to Kamikōchi. While the name rings a bell with quite a few Japanese who are into mountains or into Kamikōchi, most non-Japanese (including myself) initially have no idea what this event is or who this man is. Well, let's start with a little history lesson.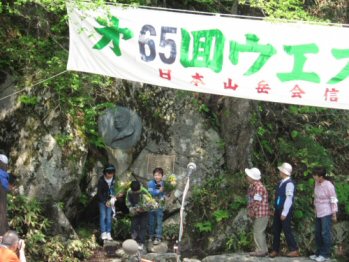 A bit over a hundred years ago, there was a British missionary by the name of Walter Weston who lived in Japan. Now this fellow was no ordinary missionary. He was also the pioneer of modern mountain climbing in Japan. In 1891, Weston visited Kamikōchi and was amazed by the beauty of the area. Over the next 15 years that he lived in Japan, he returned many times to climb the mountains of Kamikōchi and of the North Alps. Now, to commemorate Walter Weston and his introduction of modern mountain climbing to Japan, this festival is held on the first Sunday of June every year.
As tradition goes, every year on the Saturday before the festival, a mountaineering group and the local elementary school students of Azumi hike together from Azumi over Tokugo Pass and into Kamikōchi, the path Walter Weston always took when he hiked to Kamikōchi. Then on Sunday, the Weston Festival is held in front of the Weston Relief. This year, however, due to rain washing out parts of the trail, the hike over Tokugo Pass was cancelled. This didn't deter a group of mountaineers who do the traditional hike every year regardless of conditions.
The weather on Sunday changed for the better, and the festival started at its scheduled time, 10am. First, it started out with some greetings from a member of the Japan Mountaineering Association. This followed with the elementary school students of Azumi offering flowers to Weston's relief, singing Weston's song, and giving a musical performance with their recorders. You have to thank the kids. The did a fantastic job of making the festival cheerful and light-hearted. Finally, the first woman in the world to climb Mt. Everest, Junko Tabei, gave an interesting and often entertaining speech about her personal mountaineering experiences.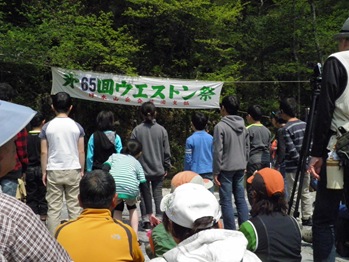 Local Elementary Students Singing Weston's Song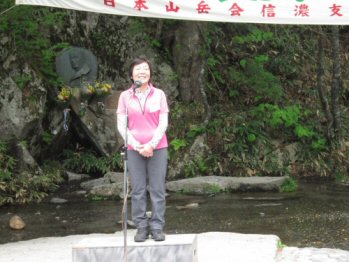 Junko Tabei, the First Woman to Climb Mt. Everest
Had I the chance to meet Walter Weston, I would like to thank him for getting Japan and Kamikōchi in the spotlight of great places to climb!
Sources of Information:
– Kamikōchi National Park Guide Website (http://npg-alps.net/)
– National Parks Foundation (http://www.bes.or.jp/kamikochi/)