At 11:30am on Saturday the 8th, the O-Fune Matsuri (Boat Festival) was held at Hotaka-jinja Oku-miya Shrine near Myōjin-ike Pond. This traditional Shinto festival is held annually in October and reflects that Kamikōchi is the land of the gods. While it often seems to rain during on the day of this festival, the weather this year was extremely good.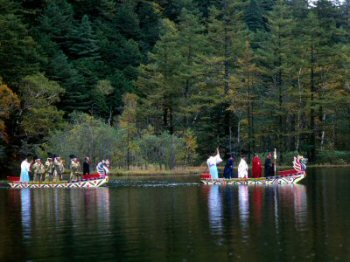 During the festival, two special boats are paddled around Myōjin-ike Pond. The above picture as well as the following two were taken at a previous year's festival. In them, you can see the intricate designs of the boats as well as the traditional attire of the priests and priestesses.
Prior to the priests making their trip around the pond, at the shrine they hold a ceremony.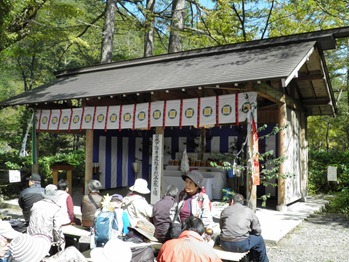 And to make things even more festive, a group of children play taiko (traditional Japanese drums), an instrument commonly found at festivals.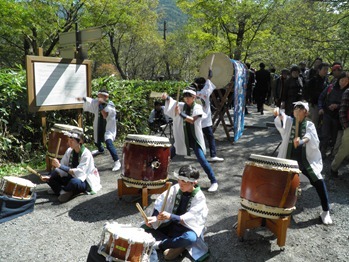 For those of you who want to experience more than just the nature of Kamikōchi, a visit to one of the several annual festivals is perfect for you. This year's Boat Festival is already finished, but there's always next year!
Source of Information:
– Kamikōchi National Park Guide Website (http://npg-alps.net/)