Despite mild rainfall, about 1,300 people gathered in Kamikochi on Saturday, June 9th for the 28th Annual Kamikochi Music Festival. It was a good turnout and more people than the festival usually attracts.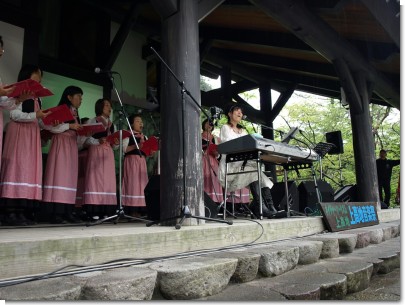 The star attraction, of course, was popular singer Ozaki Ami who regaled the crowd with hits like "My Pure Lady" and "Olivia."
It was a spirited performance enjoyed by people of all ages, including young couples, families, and youth groups–a clear indication that Ms. Ozaki's appeal spans more than one generation.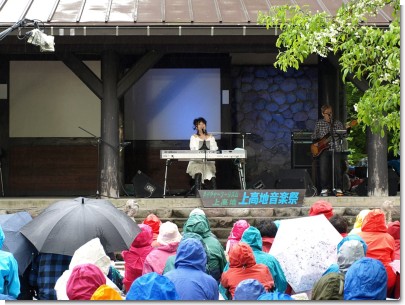 The singer herself was full of praise for the outdoor setting saying, "Kamikochi completely lives up to the word 'sacred'." In her blog, she also praised the beautiful air and water of Kamikochi and encouraged visitors to enjoy the serene enviroment of the park to the fullest.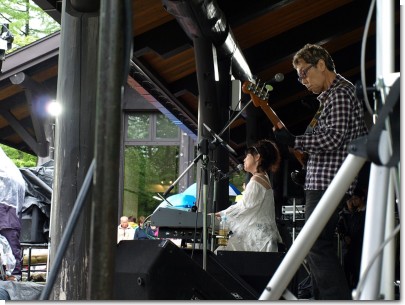 Clearly, a little rain couldn't dampen the spirits of people whose hearts had been warmed by a day of music in a soothing natural setting.
Thanks to everyone who made this year's festival a success, especially Ms. Ozaki and her fans! We hope next year's festival will be just as satisfying. In the meantime, you should take Ms. Ozaki's advice and visit Kamikochi. Remember to pack some rain gear, just in case.
Sources of Information:
Shirakaba-so's homepage: http://shirakabaso.com
Ozaki Ami's blog: http://www.ozaki-amii.com