The past two days have seen Mt. Yarigatake and the Hotaka peaks crowned with snow for the first time this season, a sure sign that winter is on the way. For a sense of how sudden and dramatic the change was, compare the before shot with the after shot below it: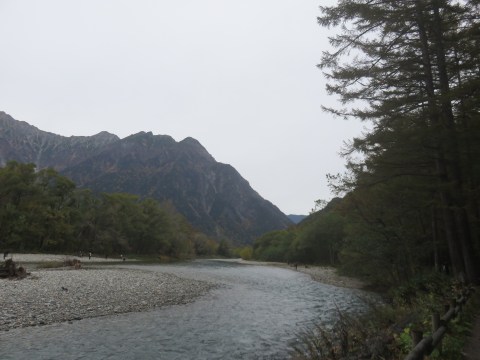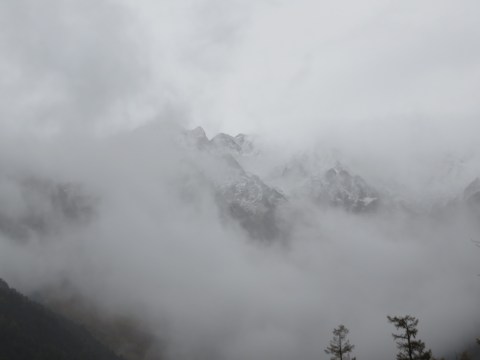 I feel a chill just looking at those peaks. But even as we gaze up at the wintery conditions atop the surrounding mountains, it's clear that autumn is still building toward its prime viewing period in central Kamikochi. The famous karamatsu (Japanese larches) near Kappa Bridge have started showing signs of yellow foliage as seen here:
The fact that we can now enjoy the sight of both maples and larches makes late October the best of both worlds. And as of now, we can look forward to a couple of weeks of solid autumn foliage viewing.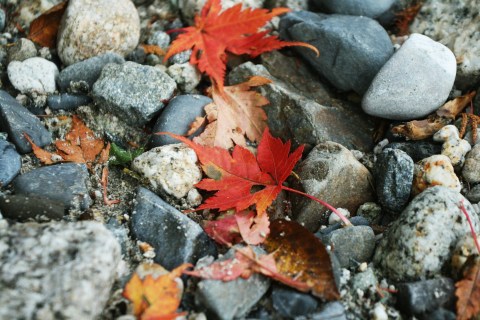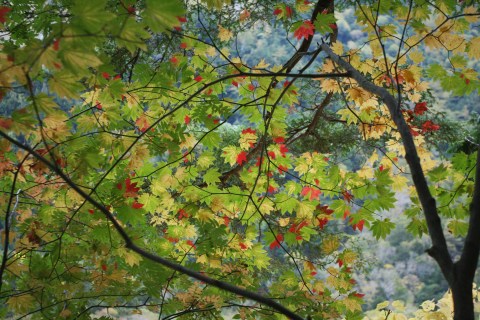 As autumn edges toward winter, the real treat for visitors is arguably the possibility of seeing both colored leaves and snow-capped peaks. This development naturally comes at a cost however: it's gotten significantly colder of late. The good folks at Five Sense, who also contributed the images used in this blog, recommend the following attire to stay warm:
Windbreaker and fleece: a versatile combination in that it allows you to regulate your warmth level by adding or shedding a layer.
Down jacket: for anyone who wants to ensure staying warm.
Wool hat: keep your head and ears warm.
Gloves: light gloves help ensure comfort in the case of a sudden temperature drop. You can also find light glove inners, some of which allow you to operate a smartphone or tablet, at any convenience store.
Also, anyone camping should note that proper cold resistant sleeping bags and other cold weather appropriate gear is a must for late autumn.
Access Update
We posted the following announcement on our homepage yesterday in the interest of clarifying the current situation regarding access by road or rail:
It has come to our attention that some of our readers have cancelled travel plans based on some of our earlier posts regarding access to Kamikochi from Tokyo.
Please note the following updates:
The expressway between Tokyo and Matsumoto is now operating normally. That means that highway buses are also operating on their usual schedule.
Regarding trains, the JR Chuo Line is also operating, though the popular Azusa limited express is still out of service and expected to remain that way until the end of the month.
Just to reiterate, there is no need to cancel your travel plans to Kamikochi out of concern for road conditions and even people travelling by rail have a number of options to reach Matsumoto.
That concludes today's entry. Thanks as always to the bloggers at Five Sense for their excellent coverage of conditions at Kamikochi on their blog.
Sources of Information: 
Nature Guide: Five Sense, Kamikochi blog: https://fivesense.guide/blog/today/25676/
…