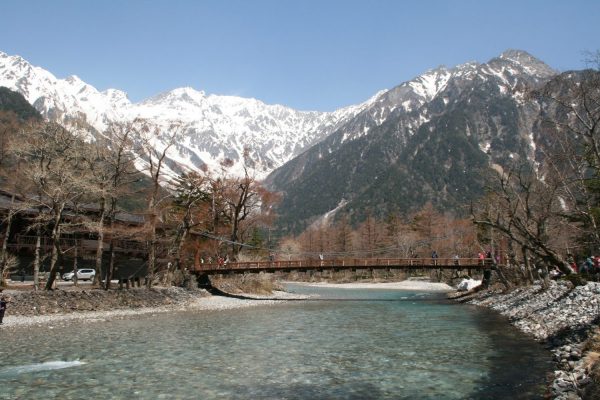 It may not be Golden Week just yet, but early visitors to Kamikochi got to enjoy a golden weekend this past Saturday and Sunday.  With the park having opened to public transit last Tuesday, there's been a steady trickle of hikers and tourists hoping to capture some of the magic of early spring.  There's still snow on the ground (more on that below) and some days are quite chilly, but between now and the start of rainy season, we'll also be getting some spectacular spring days.
Here we see one Japanese macaque grooming another not far from Kappa Bridge: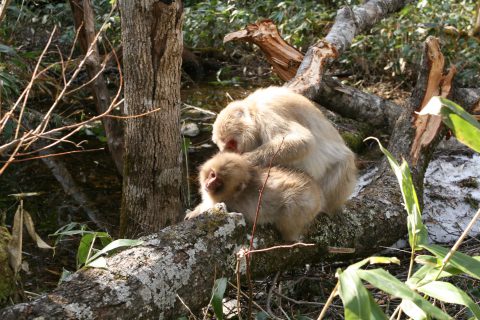 We've been getting quite a few queries about hiking conditions in the park lately, and the first thing we should talk about is recommended attire.  As it happens, our favorite website, NPG, posts regular updates on what to wear to ensure comfort in the early springtime weather.  A quick glance at recommended attire for the 20th and 21st illustrates the variation in temperature from day to day: the 20th called for a fleece hat and windbreaker, while the warmer, sunnier 21st called for a t-shirt and light trousers: https://npg-alps.net/todays-kamikochi/
Just to be clear, that doesn't mean you should expect t-shirt weather again anytime soon.  On the other hand, you may arrive all bundled up for chilly weather only to find yourself sweating in the unseasonable warmth.  Versatility is the key to staying comfortable.  Have your fleece and shell on hand in case it goes chilly, but be ready to stow them in your pack when the sun's out.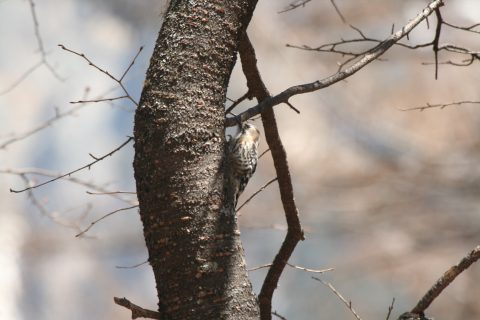 Course Updates:
Some of our readers have written with questions and concerns about the current state of trails.  We're please to announce that the major locations in central Kamikochi are all accessible to anyone with hiking boots and a reasonable amount of stamina.
As of last week, the walking path to Myojin Pond on the Right bank of the Azusa River was partly obstructed by snow, leading some to follow the vehicle road on the opposite bank.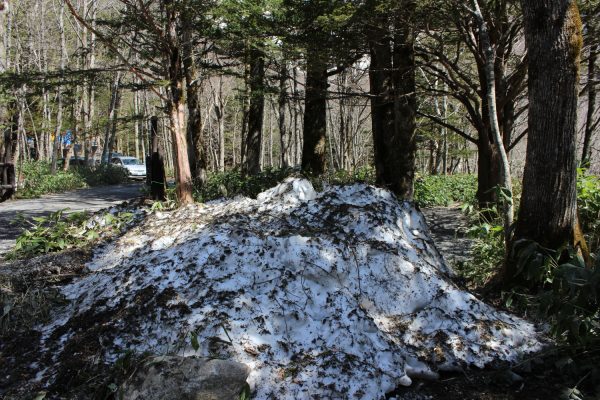 Elsewhere, the route linking Taisho Pond with the Bus Terminal is getting dryer and less muddy by the day, meaning you might be able to traverse it in sneakers (I'd still wear hiking boots, myself).
A Word of Warning:
We've had a few questions from people wishing to hike to the peaks of late.  One reader asked about hiking up to the Nishihotaka Lodge and another about the possibility of climbing Yarigatake on Golden Week. Please be advise that major mountain excursions are only for experienced, well-equipped winter climbers at this point. There's simply too much snow on the trails to attempt them without proper crampons, ice axes, and winter wear. 
With the Karasawa mountain huts opening later this week, a pair of eight to ten point crampons would see you to the Karasawa Col.  But don't even consider it if you're short on stamina as it's a tiring hike.  And if you had to look up the word "crampons," this probably isn't the hike for you.
"Kaizansai" Opening Ceremony, 2018:
Kamikochi's official opening ceremony or "Kaizansai" will be held on Friday, April 27th at 10:50am.  Expect it to be very busy around Kappa Bridge at this time and also for there to be more traffic going into the park than usual.  If you have the chance to attend, you can observe the Shinto ritual held to beseech the gods for safe passage through the mountains this season.
Source of Information and Images: 
National Park Guide Kamikochi Blog: https://npg-alps.net/todays-kamikochi/