As we turn the corner into October, signs of autumn's imminent arrival are everywhere.  From the gentle accent of yellow on leaves and pine quills to the splashes of mellow browns and oranges on the wooded hillsides, the countdown to the peak of the season is now surely underway.
This week, as with previous posts, we'll be sharing some recent photos of Kamikochi in the hope of stoking your desire to visit the park (no points for guessing who snapped these tasty pics: the genius shutterbugs at NPG strike again!).  We'll also be addressing some of your most frequently asked questions at the end of this piece.
And speaking of the tireless bloggers at NPG, they recommend that you check out the course between Taisho Pond to Kappa Bridge.  There's a lot to see along the way with the added bonus of viewing the mountains from various different vantage points as you go.
That includes Mount Yake, the peak that welcomes you into Kamikochi as you emerge from the Kama Tunnel and remains visible from the Kappa Bridge area:
On arriving at Tashiro Bridge, you can proceed along either side of the Azusa River toward the center of Kamikochi.  Views can be truly arresting on clear autumn days:
Frequently Asked Questions
Lately, we've had many people writing to us asking for highly specific details about the autumn foliage season.  In reply, the best we can offer is some general pieces of advice.
Q) When should I go to Kamikochi to see the autumn colors at their peak?
A) Conventional wisdom places the peak from mid to late-October in the main area of Kamikochi and somewhat earlier at higher elevations, such as at the celebrated Karasawa Col.  You can count on seeing some nice colors at any time during this period, so rather than trying to time your visit to the split-second that autumn peaks, we recommend that you settle on a day with fine weather predicted and head to the park with a good camera and appropriate autumn clothing.
Q) What's appropriate autumn  clothing?
A) For mid to late October, you should prepare for chilly weather with a fleece which you can store inside your pack during warmer periods.  Appropriate boots are also recommended and you may wish to bring gloves if your hands are prone to getting cold.  Lastly, a hat with a full brim is good for keeping potentially dangerous UV rays off your face.  Oh, and do pack some rain gear if you want to stay on the safe side (pro-tip: you do).
Q) What exactly can I expect in the way of weather in mid to late October?
A) Again, we can only make broad predictions.  Conditions can vary wildly at this time of year even over the course of a single day, with temperatures below five degrees Celsius in the early morning and cool to warm (to potentially quite balmy) around noon.  I climbed Mount Yake in a t-shirt back in October of 2013, but that was an UNUSUALLY warm day.
As a very broad reference point, we offer this graph from the old Kamikochi offical site: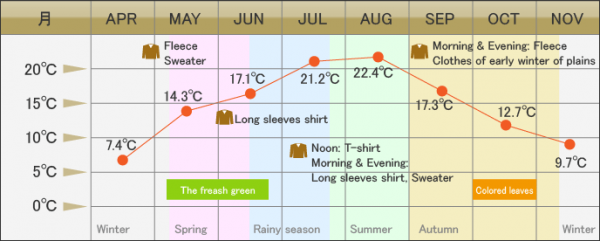 That's all for now folks.  Thanks again to the hard working and inspired bloggers at the National Park Guide website for their precious info and photos.
And to all our readers, we wish you brisk and enjoyable autumn season.  It's shaping up to be a good one!
Sources of Information:
National Park Guide Kamikochi blog: https://npg-alps.net
Kamikochi Official Website (former): http://www.kamikochi.or.jp