It's always around this time that visitors to Kamikōchi are blessed with the best weather and best views of the year. Really, there is no other season that can offer such amazing scenery. The key is really the clear skies that fall has brings. Take a look at the postcard-perfect shot of the Hotaka Range from Tashiro-shitsugen Wetland. The combination of the blue sky, the mountains, the green forest, and the browning grass makes this my favorite place to view the Hotaka Range.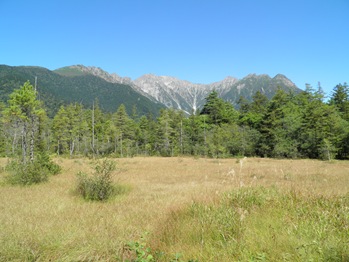 Here's another photo of the Hotaka Range, this time from Taisho-ike Pond. The water in Kamikōchi truly is crystal clear.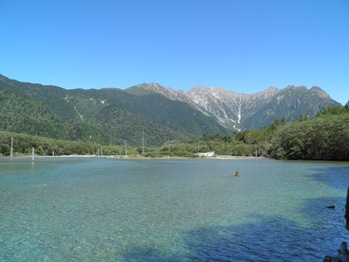 Below, a few tourists line up along the short of Taisho-ike Pond to snap pictures of Mt. Yakedake and the Hotaka Range.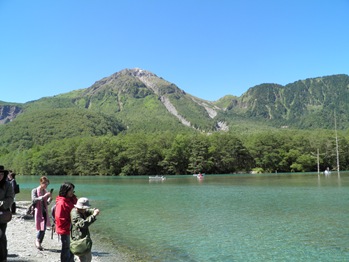 If you look closely, you can even see smoke rising from Mt. Yakedake. Here is a closeup of it venting from the rocky peak.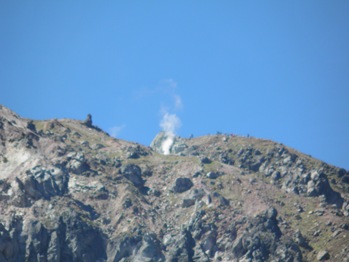 These mallard ducks really have it good. Living in Kamikōchi, swimming in the clear water whenever they feel like it… Lucky they have all that natural insulation, though.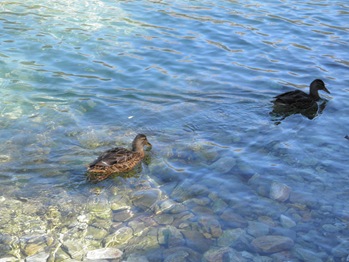 Fall is well under way and it's only a matter of time until the mountains start changing in color. Note that once that happens, tourists will start packing in. So if you want to catch Kamikōchi in perfect weather and without tourists, now is the time for you.
Source of Information:
– Kamikōchi National Park Guide Website (http://npg-alps.net/)