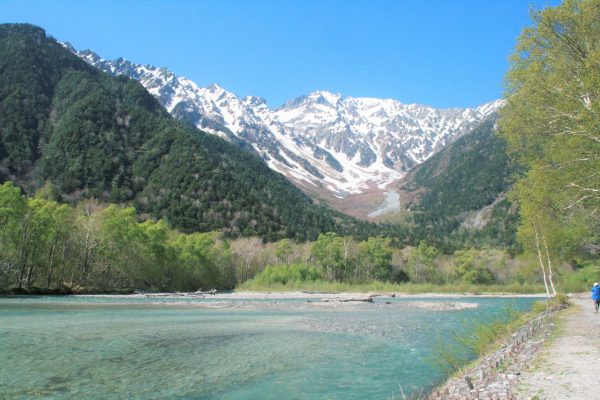 Hello to all of our readers around the world! As I write, the first of June is mere hours away and there's a definite whiff of rain in the air. The weather has shifted back and forth between warm, clear days and cool, overcast ones. And last Monday saw unseasonal, summer-like heat descend on Japanese cities to break temperature records for May.
The most distinctive aspect of late spring is what the Japanese call "Shinryoku": the new greens of trees bedecked with freshly sprouted leaves. With the surrounding mountains still topped majestically with snow, the effect of emerald colored foliage is quite striking.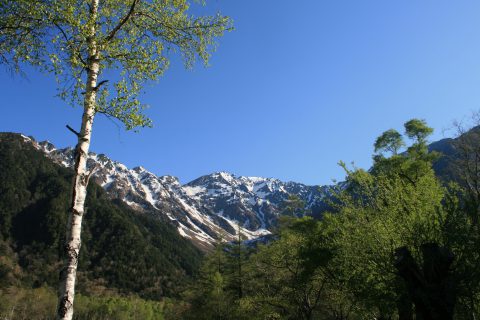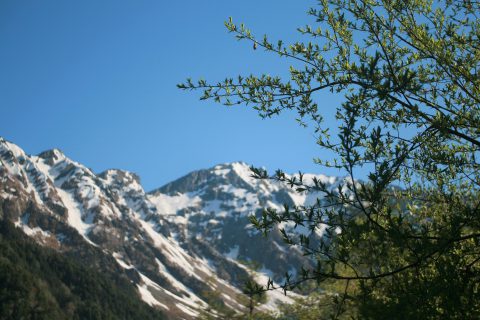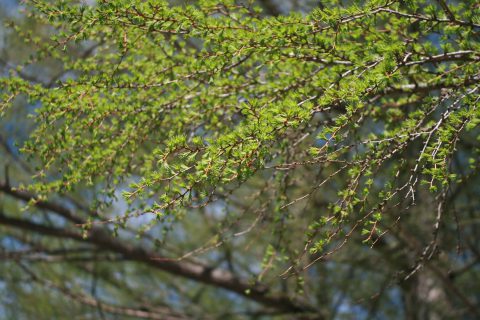 Needless to say, shinryoku is ideally suited to what used to be called "forest bathing" (now re-branded as "forest therapy") the practice of rejuvenating one's spirits by spending some quality time among the trees. And no one knows that better than this little guy: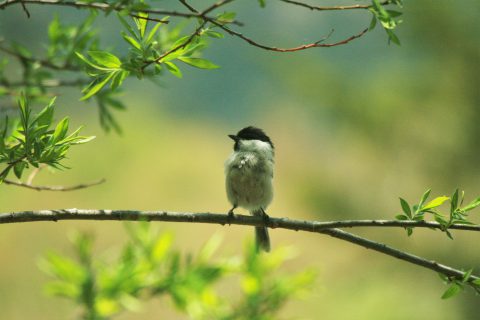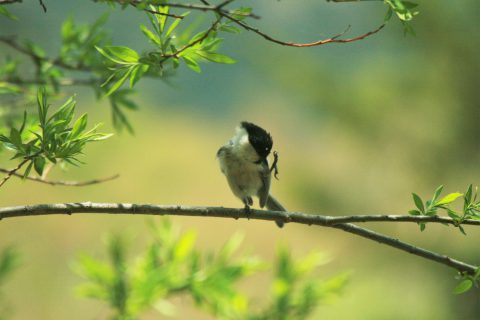 The kogara (or "willow tit" to its mum), is one of many birds you can currently see in Kamikochi, though they are a little harder to spot now that the foliage has started filling out.
As hinted above, the rainy season will soon be upon, further emphasizing the importance of rain jackets and other weather resistant gear. For many, the possibility of rain at some point in their visit is not a deal breaker. However, it's definitely worth checking the weather throughout the week to ensure conditions meet to your expectations. Also, even if there is no sign of rain, it's always best to assume that there will be: no one enjoys getting damp and cold during their hike.
And for sunny days, be sure to apply sunscreen and consider wearing a long sleeved shirt. The UV rays are very strong at that altitude.
Thanks as always to the bloggers at Five Sense, especially Ume and Nanamin who contributed the photos used in today's post. Their Japanese language site remains one of the best resources for up to date images showing conditions inside the park.
Source of Information:
Nature Guide Five Sense, Kamikochi blog: https://fivesense.guide/blog/today/23411/
…