Yesterday, heavy rains resulted in a brief closure of Route 24 which leads into Kamikochi. By noon of the next day, the rain had slackened to the point that the road could be re-opened. But even as the storm clouds moved away, the cool air that they had brought seemed to stay behind. The high at noon was a brisk (by summer standards) 18 degrees Celsius.
Here and there, a singular feature of early autumn may be seen in the form of seasonal flora–the plants and flowers particular to this time of year. The picture above shows a mixture of goldenrod and aster, growing together in a colorful array by the Konashidaira Campground.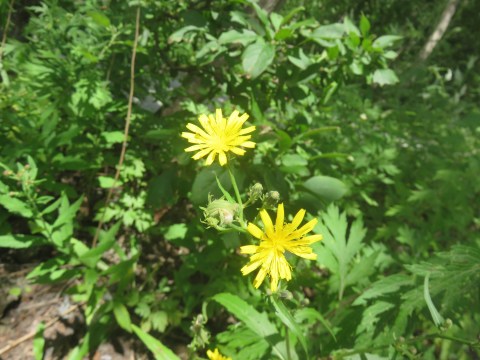 The picture above shows the picris genus of the sunflower family. It is a thorny plant whose Japanese name kouzori, means "razor," in reference to the blade-like shape of the petals.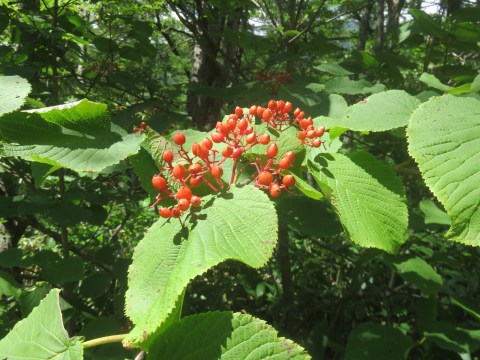 This is also the time of year when the forked viburnum (pictured above) begins to bear fruit in the form of small orange-red berries whose color deepens into near-black as they ripen. When the berries ripen enough attract monkeys and birds in search of a snack, we'll know that autumn has arrived in earnest.
Thanks as always to the fine people at the Five Sense Kamikochi blog for posting the info and images we used to compile today's post. As always, they offer an informative look at the current state of the Park.
Keep checking our Facebook page for updates in the lead-up to the riotously popular autumn foliage season in October.  We'll keep you up to speed on when and where to see the season's loveliest trappings.
Source of Information and Images:
Nature Guide: Five Sense, Kamikochi blog: https://fivesense.guide/blog/today/24860/
…