As of this past weekend, we're seeing a side of Kamikochi quite different from when the park opened a month ago. The dull browns of the post-winter period have been replaced by a rich and vibrant green. A quick glance at these two pictures of Yakedake shows how the scene has changed:
Compare the snow capped peaks of April (L) with the warmer, greener look of spring (R)
And the same is true of this view of the Hotaka Range and Myojin-dake. Notice how the snows that remained in April have mostly melted away and how the colour of the foliage has gone from brown to green.
Naturally, this change in scenery has drawn a lot of new visitors to the park, especially at lower elevations where the snow has all but disappeared:
Visitors of all ages, including a number of students on school trips could be seen around Kamikochi.
Now, let's have a look at some of the plant life currently blooming around Kamikochi.
Here, we see the gentle purple hue of the viola flower (R) and the bistorta flower (L), called "kurin-yukifude" in Japanese for its resemblance to a writing brush:
Gentians can also be seen around the park, though you have to be lucky with the timing to see one in full bloom. And thick clusters of white anemones are everywhere, especially along the path from Kappa Bridge to Yokoo Bridge:
Up top, of course, it's a different story…
I myself just returned from a hike up to the Karasawa huts where the snow still covers the slopes, as seen here: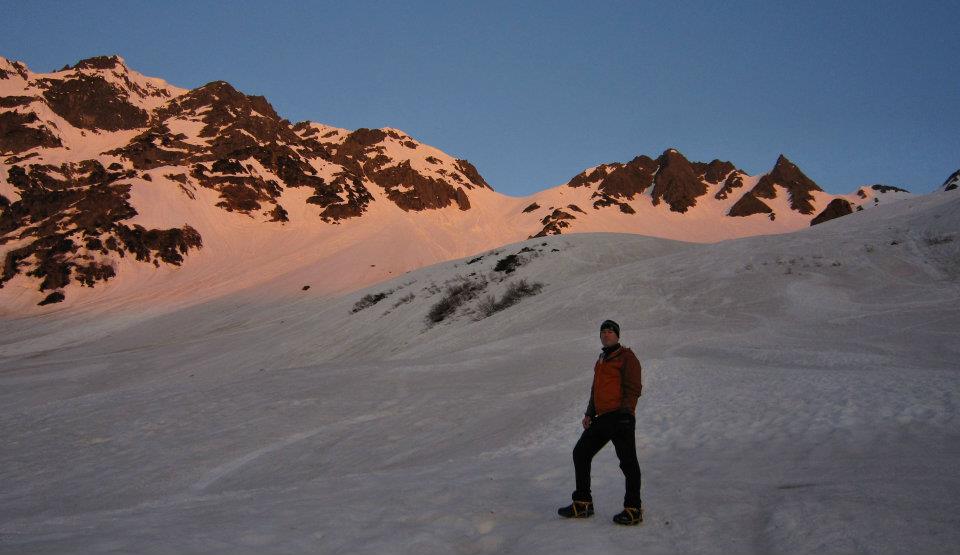 Photo by Tammy Crichton
Further up the trails, warm clothing and appropriate tools are still needed. I had six point crampons on my boots, which were fine for hiking up to the huts on the Karasawa Course, but proved insufficient for the steeper climbs to the peaks. For that, you need heavy duty crampons with long spikes in the front, as well as an ice axe and a helmet.
That said, the temperatures up top were quite mild. We were blessed with near perfect weather, including the bluest skies I have ever seen. By mid-afternoon, I was drinking cold beers on the deck of the Karasawa Goya in light hiking gear. Since I am accustomed to snowy mountain settings in the middle of winter it was a strange but very enjoyable experience.
It's a unique time of year in Kamikochi. You can enjoy spring greenery in the lower portions of the park or the last traces of winter up top.
Having experienced both this past weekend, I can assure you it's well worth the trip!
Source of Information:
– Kamikōchi National Park Guide Website (http://npg-alps.net/)