While in most of Japan, the entering of June brings about hot, muggy weather. But in Kamikōchi, this time brings about the blooming of cherry blossoms and other flowing trees, such as the konashi below. Sitting high at 1500 m, Kamikōchi has the latest hanami (viewing of cherry blossoms and other flowering trees) in Japan. This year's forecast predicts that the blossoms will be viewable from June 10th through 20th, so the season is already upon us.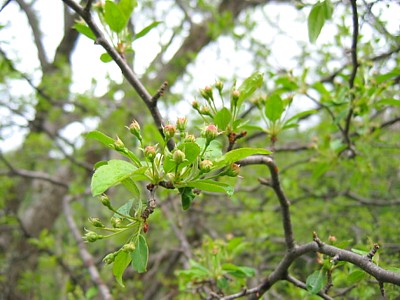 Konashi Tree Blossoming
For those of you who don't know, cherry blossoms are the symbol of spring in Japan. And viewing these and other blossoms is the highlight of the year for many Japanese. People from all over the country travel here and there to see and picnic at the many spots famous for the delicate little flowers. Most people tend to go to these famous places, while places not as well known are often empty. This is where Kamikōchi's isolation becomes a great benefit. A trip to Kamikōchi in this season merits visitors with a quiet hanami experience while deep in the serene beauty of the North Alps. Finding a place in Japan as beautiful and peaceful as Kamikōchi is not an easy task, I can assure you. Just try to find a place comparable to this next picture. I'm sure you'll agree it won't be easy. In Kamikōchi, however, places such as this abound.
Miyama-zakura with Blossoms Forming
To get an idea of what the scenery is like when the blossoms are in full bloom, take a look at these pictures from last year.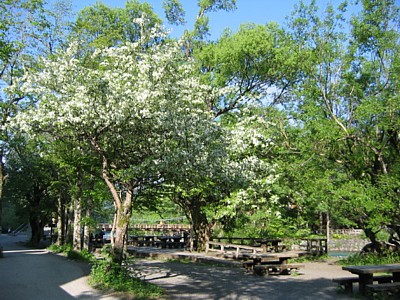 Konashi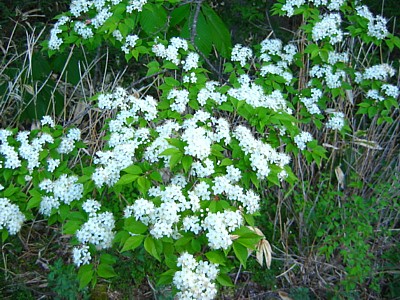 Miyama-zakura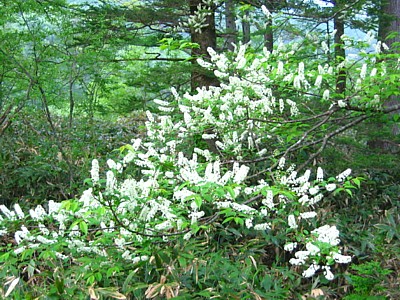 Uwamizu-zakura
If you missed out on cherry blossom viewing in spring or you're excited to see some more, definitely stop by Kamikōchi. The blossoms are only going to last for a short time, so you'd better hurry!
Source of Information:
– Kamikōchi Hotel Shirakaba-sō (http://shirakabaso.com/)