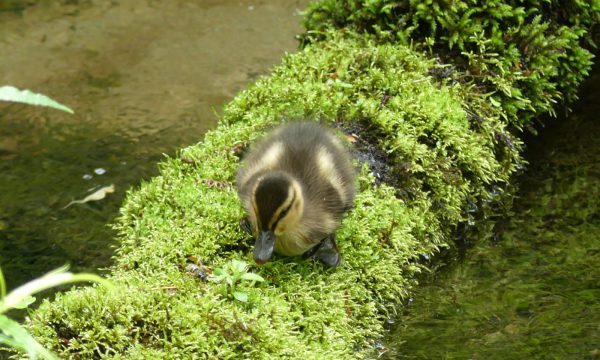 If there's one thing that can reliably snap me out of a bad mood, it's the sight of a fuzzy duckling waddling adorably along a section of moss.  With the rainy season looming but not yet arrived, there have been plenty of sunny days to enjoy lately.  Midday weather has at times climbed into the mid-twenties (Celsius), encouraging humans and animals alike to bask in the warm and mostly clear weather.  It might be near the end of a purple patch, but we plan to savor it for as long as we can.
As it happens, this is also the time of year when birds around Kamikochi are raising their young.  The little mallards you see in these pictures are fresh out of the nest and taking their first tentative strolls around Taisho Pond, much as many prospective visitors aspire to do.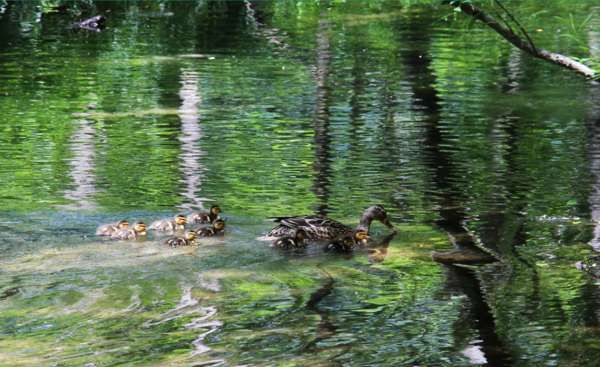 "Be kind to our fine feathered friends, 'cause a duck might be somebody's mother" says the song, and no word a lie: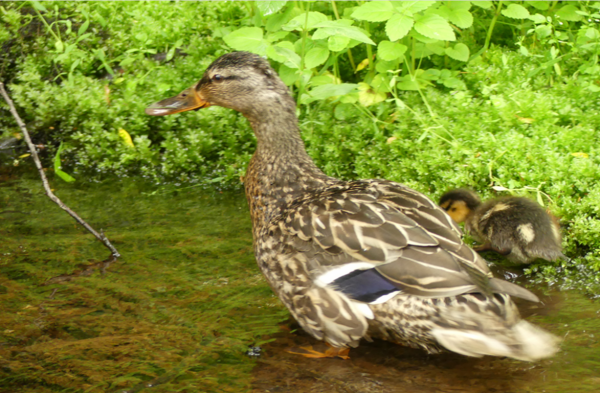 The ducks of Kamikochi certainly cut a distinctive figure in ponds and marshes around the park, but in truth they're part of a much larger menagerie, which includes a vast array of species.  Here's a black faced bunting enjoying an afternoon snack: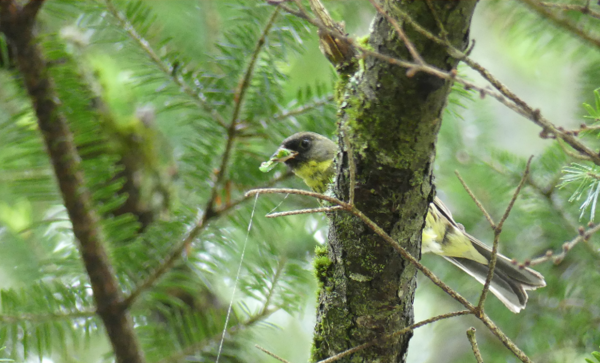 And not content to let the birds hog the limelight, a troop of monkeys could be seen patrolling an otherwise quite path.
Scavengers assemble!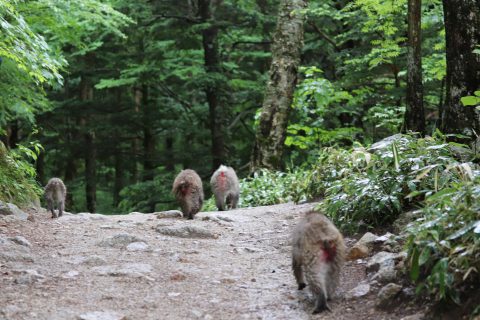 On a serious note, we should take this opportunity to remind visitors to the park that monkeys, while delightful to observe from afar, are best not approached.  This is doubly true of mothers in the company of their young.  They'll get very cross if they perceive a threat and you don't want an enraged primate coming after you.
Weather-wise, things are a bit touch and go.  There have been signs of the encroaching rainy season, so even if it looks sunny, be sure to double check the weather forecasts.  And even if the forecast is clear, you are advised to prepare for rain, especially if you are planning a hike.
That's all  for now.  Be sure and check back to this page for more news and insights about Japan's favorite mountain getaway.  Oh, and last but not least, thanks as always to the good people at NPG for providing most of the information and all of the images used here.  Splendid work as always!
Source of Information and Images:
National Park Guide Kamikochi blog: https://npg-alps.net/blog
…