Anyone who got up early to survey the scene around Kappa Bridge this morning would've been greeted by a sight like the one above. The mist hung so thick in the air that it just about obscured the 3,000m high mountain peaks in the background. There was a chill in the air too, with the morning temperature having dropped to 3 degrees Celsius, 5 degrees colder than the previous morning.
Over the course of the morning, however, the mist gradually thinned out to reveal the famous backdrop of the Hotaka peaks: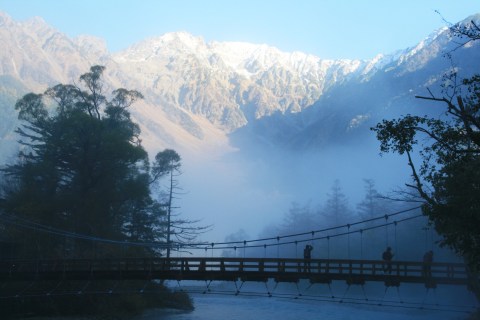 By midday, the mist and clouds had cleared completely: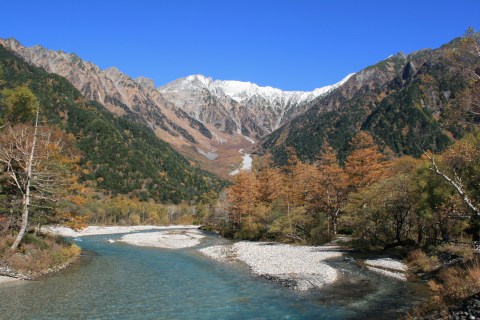 It could be said that there's nothing more quintessentially Kamikochi than the sight of golden karamatsu in the foreground and snowy peaks in the background with the Azusa River winding through the middle of the composition. It's a prime example of what is called 秋晴れ (akibare), the clean, crisp, bracing sensation you get when breathing in the cold air and surveying a grand autumn panorama.
As the sun came out the air also grew warmer, with the midday temperature just one degree shy of yesterday's at 10 degrees.
Karamatsu: Fantastic Larches and Where to Find Them
When people ask (and they often do) where to see the best specimens of Japanese larch in Kamikochi, Five Sense's guide and blogger Ume usually directs them to the Omagari bend in the Azusa River: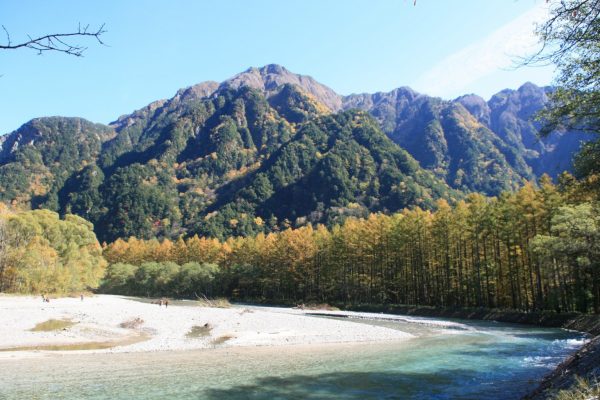 Located downstream from Kappa Bridge and just a five minute walk from the Imperial Hotel, this stretch of river is scenic at any time of year and doubly so when the larches are sporting full autumn regalia. At this point, the trees still have a mixture of green and yellow on them. Some people prefer this to the site of fully yellow larches as there are still no patches of brown at this point and, in that respect, more colorful. (Remember: green is a secondary color while brown is a composite color).
Due to the very straight and narrow quality of the trunks, larches are especially nice to look at from beneath or from a low angle as seen here: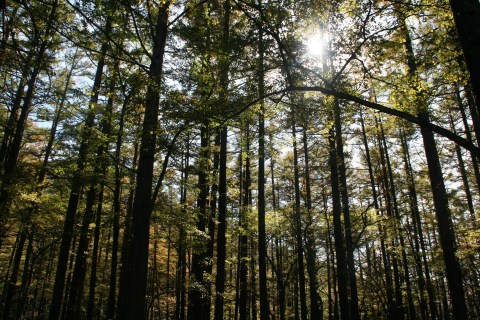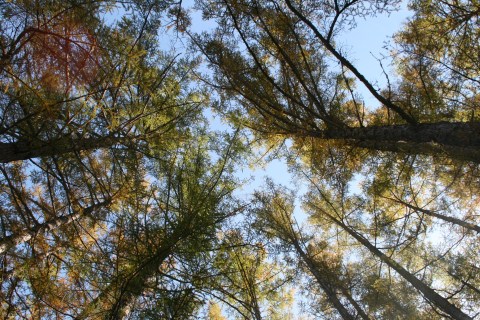 Weather
With tomorrow's forecast calling for a possible mix of rain and clouds, you might consider visiting Kamikochi sometime between Wednesday to Saturday. Rain is not expected on these days, but it remains a possibility. More importantly, now that morning temperatures are edging closer to the zero degree mark, you'll definitely want to prepare warm clothing such as fleeces, jackets, gloves, knit hats, and as always appropriate footwear.
We hope you make it down to enjoy a little or a lot of what might be the prettiest time of the year.
Sources of Information:
Nature Guide: Five Sense, Kamikochi blog: https://fivesense.guide/blog/today/25738/
…