After weeks of talking about how autumn is gradually coming to Kamikochi and the peak period of colorful foliage is just around the corner, we're finally seeing some significant changes in color at higher elevations.  Eager to document these new developments for himself, staff writer William Habington joined a friend for a day hike to Mount Yake, a centerpiece of Kamikochi's landscape and one of the many famous peaks which are easily accessible from the park.  Being an active volcano, Yakedake seems to have a special charm for western visitors.
What they saw up top surpassed all expectations.  Under an intensely blue sky lay a rich pallette of red, yellow, and orange leaves that marked the arrival of "kouyou" season in Kamikochi.  We hope you enjoy this photo-packed report on their trip.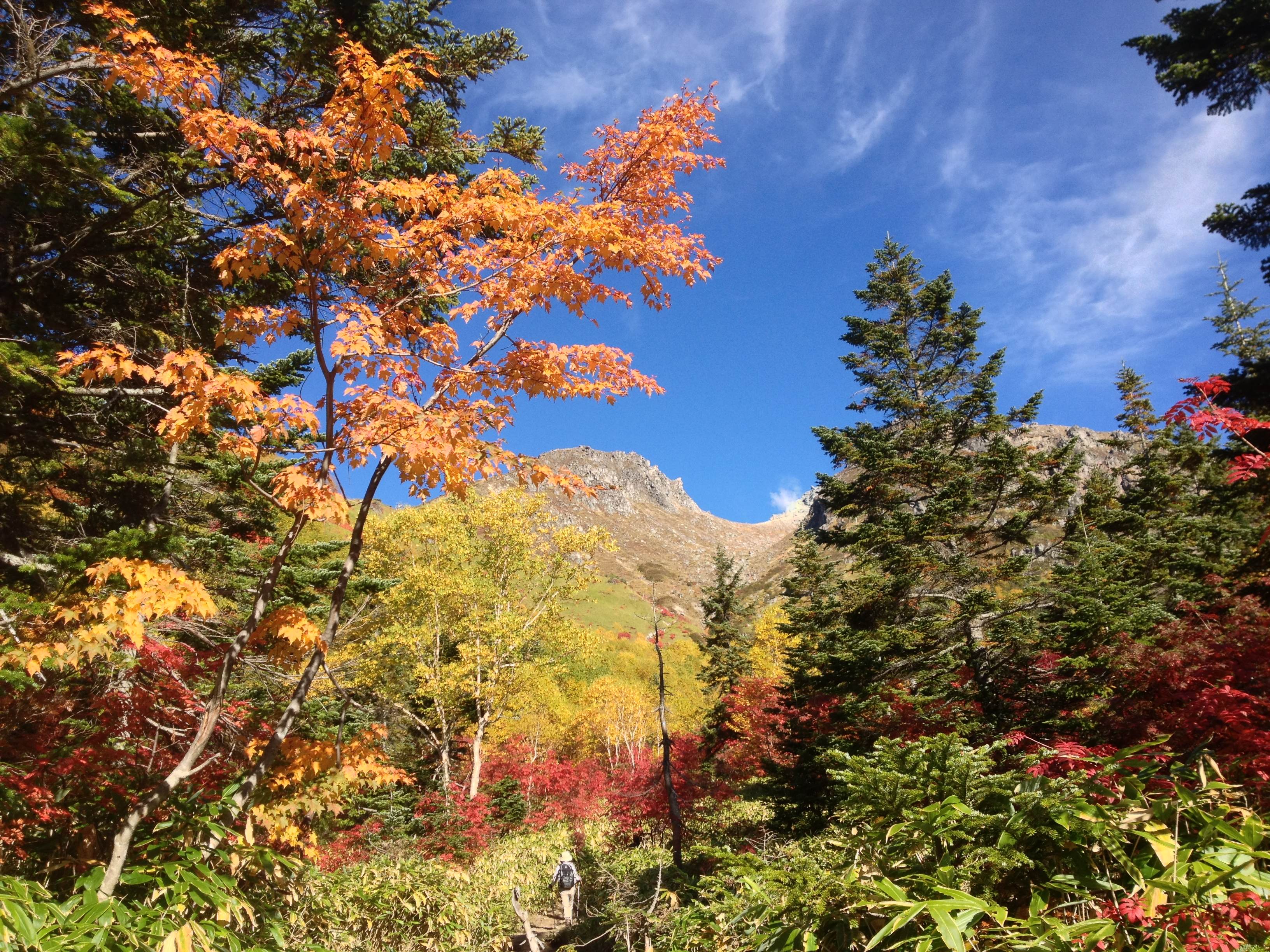 Hey everyone!  William here with a brief account of a trip my friend Joe and I took to Mount Yakedake on October 6th, 2013.  Even if you're reading this years later, it should give a good impression of the wonders that await anyone who ventures up this way in early-to-mid October.  As always, pictures speak louder than words, so feel free to skim ahead to the good stuff.
I. "I hear that active volcanic craters are lovely this time of year."
Our day began just past 5:30am on Sunday.  As we hastily departed Suwa City en route to the Northern Alps, the sight of some cloud formations over the distant mountain tops gave us pause.  Would this be just an average day in the mountains with low-visibility diminishing the overall experience?
No!  Our fears proved unfounded as the clouds had graciously parted by the time we reached the trailhead.  For the first hour or so, we followed a well maintained trail under the shade of still-green leafy trees and towering evergreens.  The real fireworks didn't begin until we stepped into a clearing to see the south peak of Yakedake framed in red and orange leaves.  Wow!
And that was just the beginning.  As we progressed up the trail, every turn gave us a dazzling new perspective on our destination.  I'll let the pictures speak for themselves: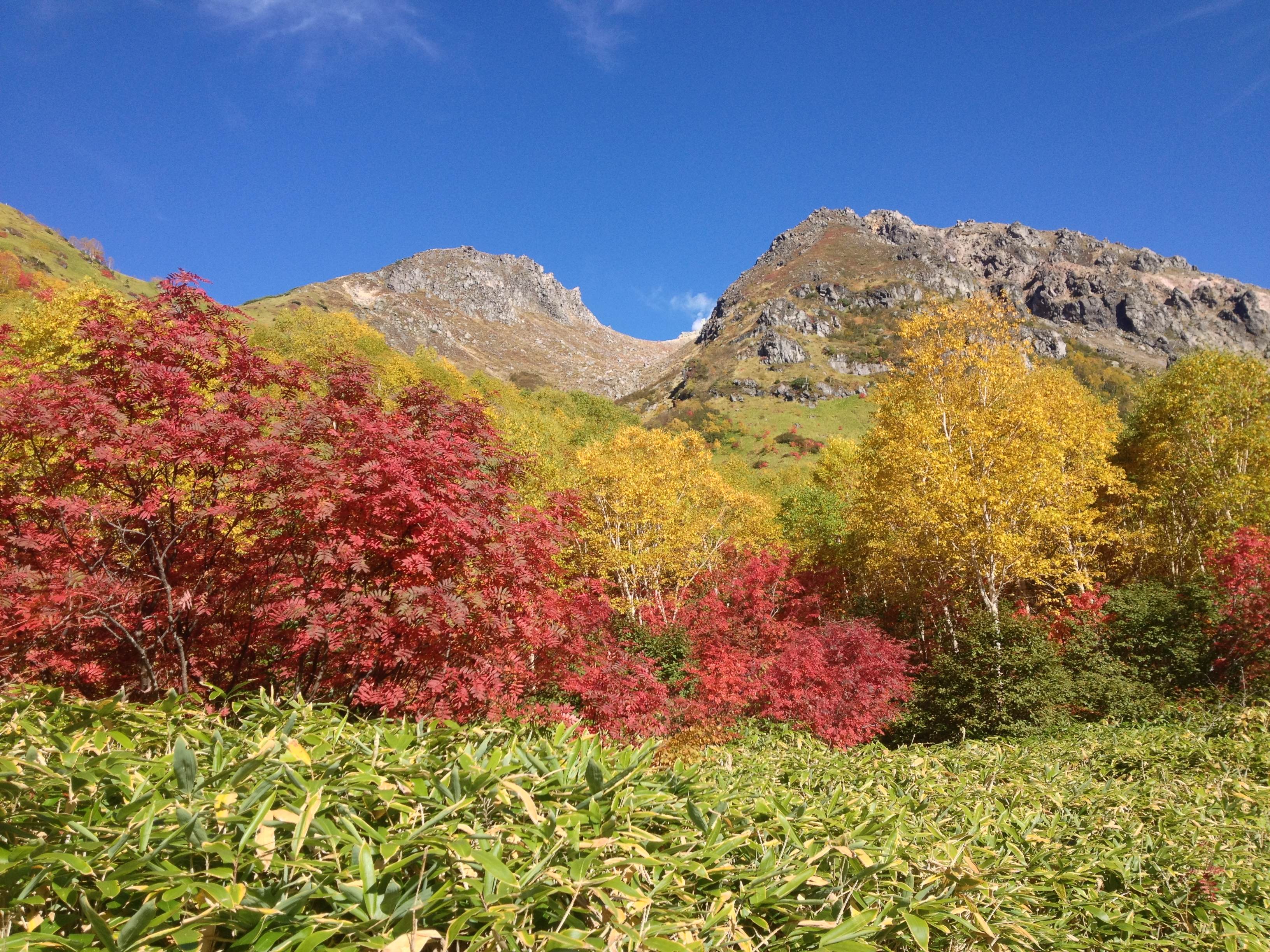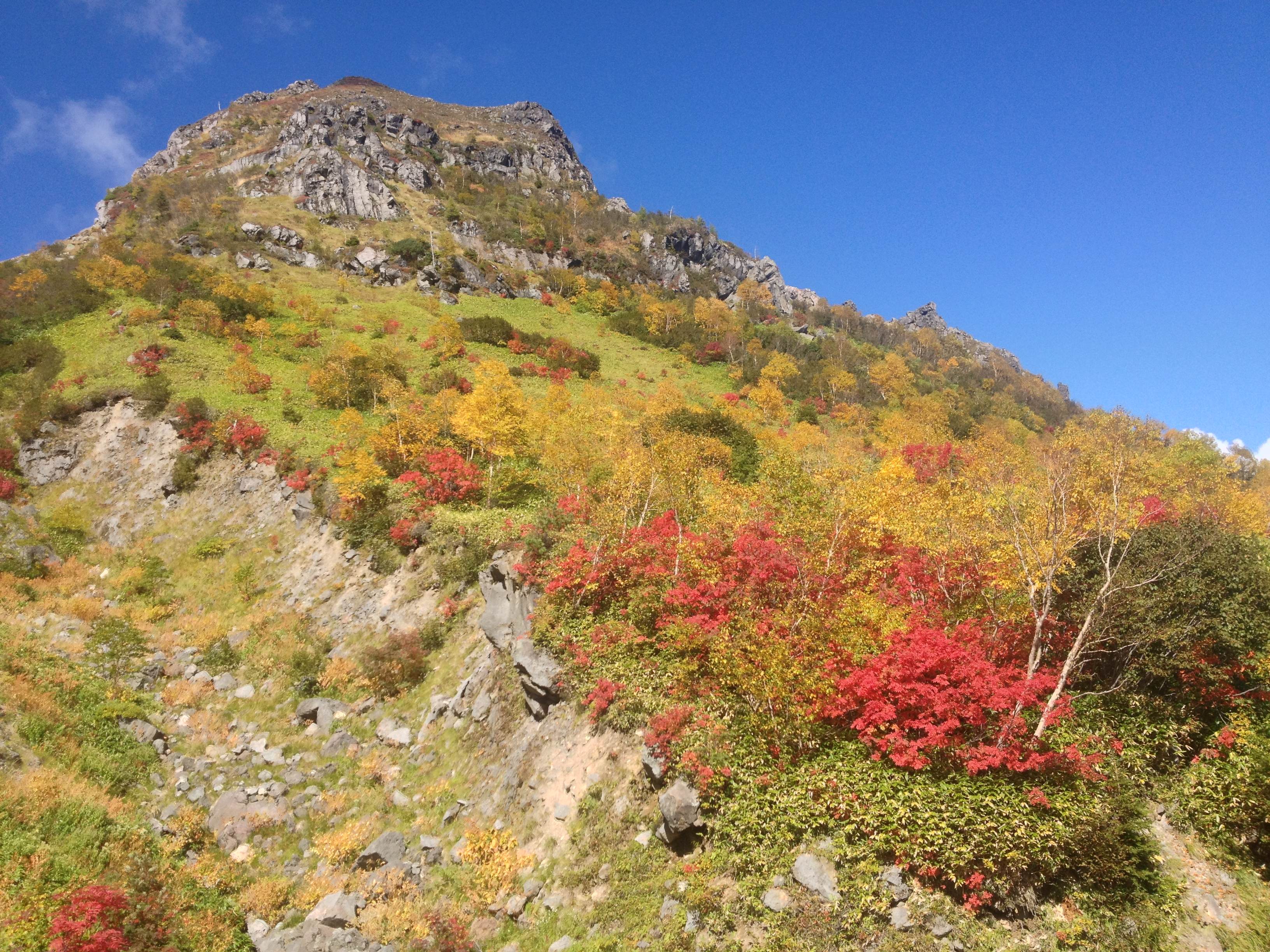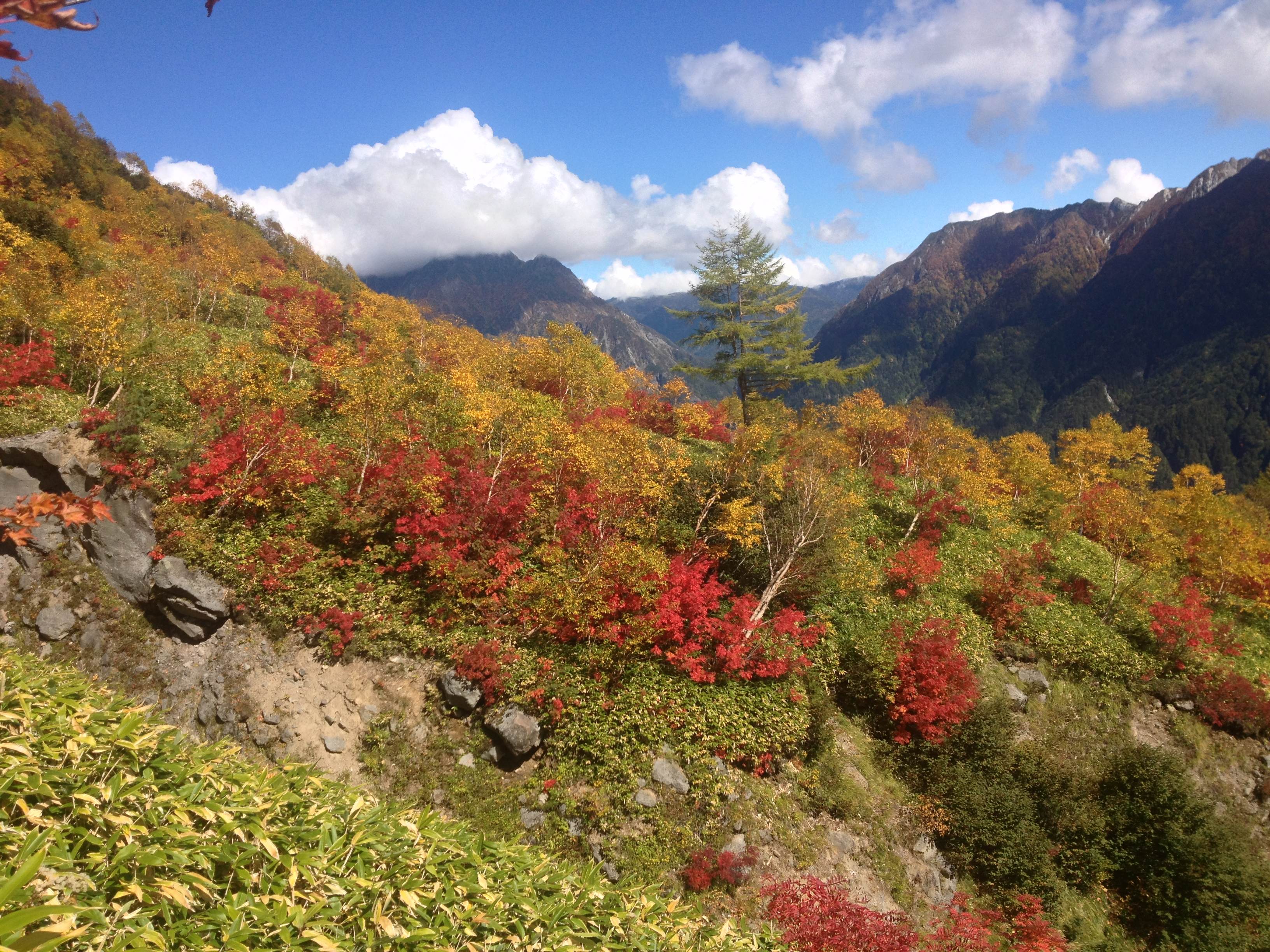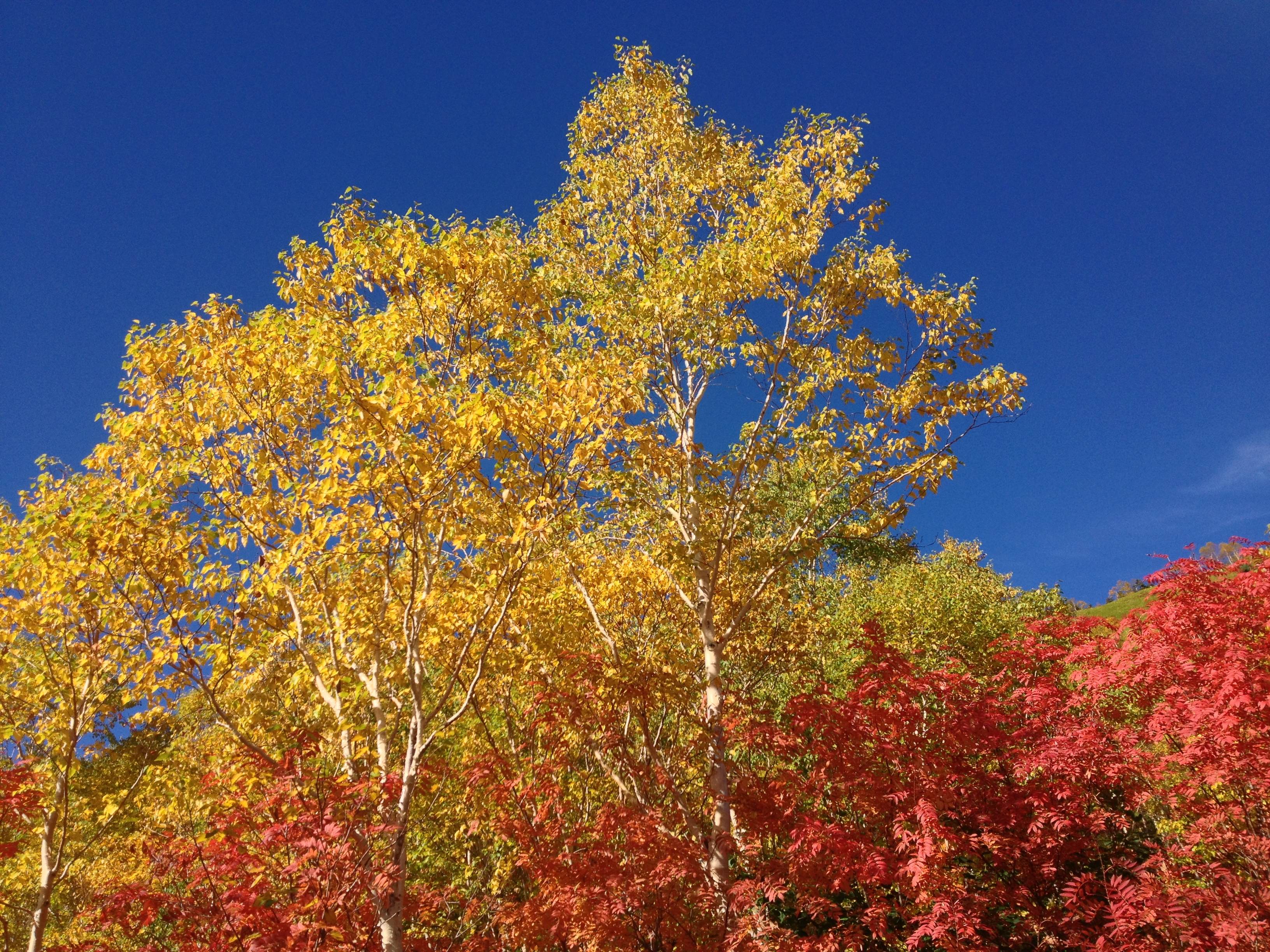 With the aid of smartphone technology, I also snapped a few panorama shots:



These are pretty low-resolution, but you get the picture.  It was pure autumnal splendor as far as the eye could see (and, no doubt, further).
II. Back in the Saddle
By and by, we came to the saddle between the south and north peaks of Mount Yake and were struck by how otherworldy the scene was.  On surveying the scene between the two peaks, I was constantly reminded of the craggy planet surface where Captain Kirk battled the Gorn in the classic "Arena" episode of the original Star Trek series–albeit with an expansive mountaintop setting in the place of a low budget sound stage.

It wasn't all inhospitable, however.  For the curious and sure-footed hiker, the pass has a lot of interesting features to explore, including the pond scene in the above photo. The area is roped off and technically out of bounds, but that essentially means you're entering at your own risk.
The same is true of the less-traveled south peak, which is actually 10m higher than the better-known and often crowded north peak.  On sighting the imposing pinnacles to our left.  I turned to Joe and said, "'I'm taking a run up there.  Snap a few pics for me?"  He nodded his assent and up I went.
Scambling is one of my favorite aspects of mountain walking and I found the short trip to the outcroppings near the south peak highly enjoyable.  My antics may have elicited gasps from Japanese onlookers, but the climb itself was not too difficult.  The absence of chains and ladders requires careful footwork and judiciously maintaining three points of contact in steeper areas, but experienced scamblers and climbers will have no problem with it.  Just remember: turn back if you start to feel it's too much for you and consider leaving your pack at the bottom of the slope.
III.  Kamikochi's "Burning Mountain"
For those unfamiliar with Mount Yake, it has the distinction of being the only active volcano in Japan's Northern Alps and is one of the "Haykumeizan" (Japan's 100 Famous Mountains).  Viewed from Taishoike (the pond to which Yakedake famously gave birth when it erupted back in 1915), it is a formidable and instantly recognizable feature of Kamikochi's horizon.
Looking at it from afar, however, you could easily fail to notice that it is an active volcano.  That all changes when you approach the summit.  Smoke can clearly be seen billowing out of areas of intense activity, where the surrounding rocks are stark white, tinted with a particularly toxic hue of yellow.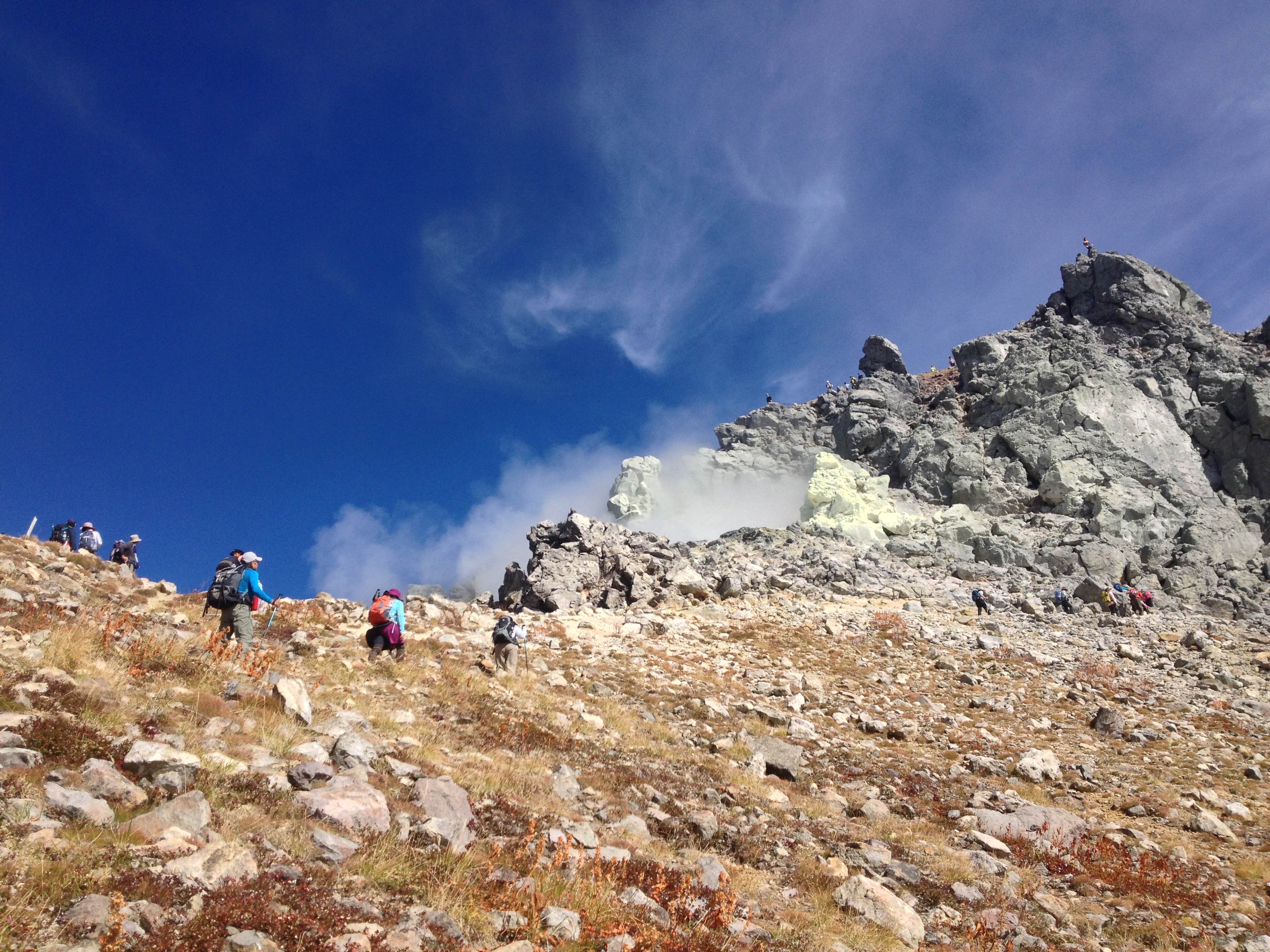 The smoking fount of volcanic activity that gives Yakedake its name can clearly be seen on the right.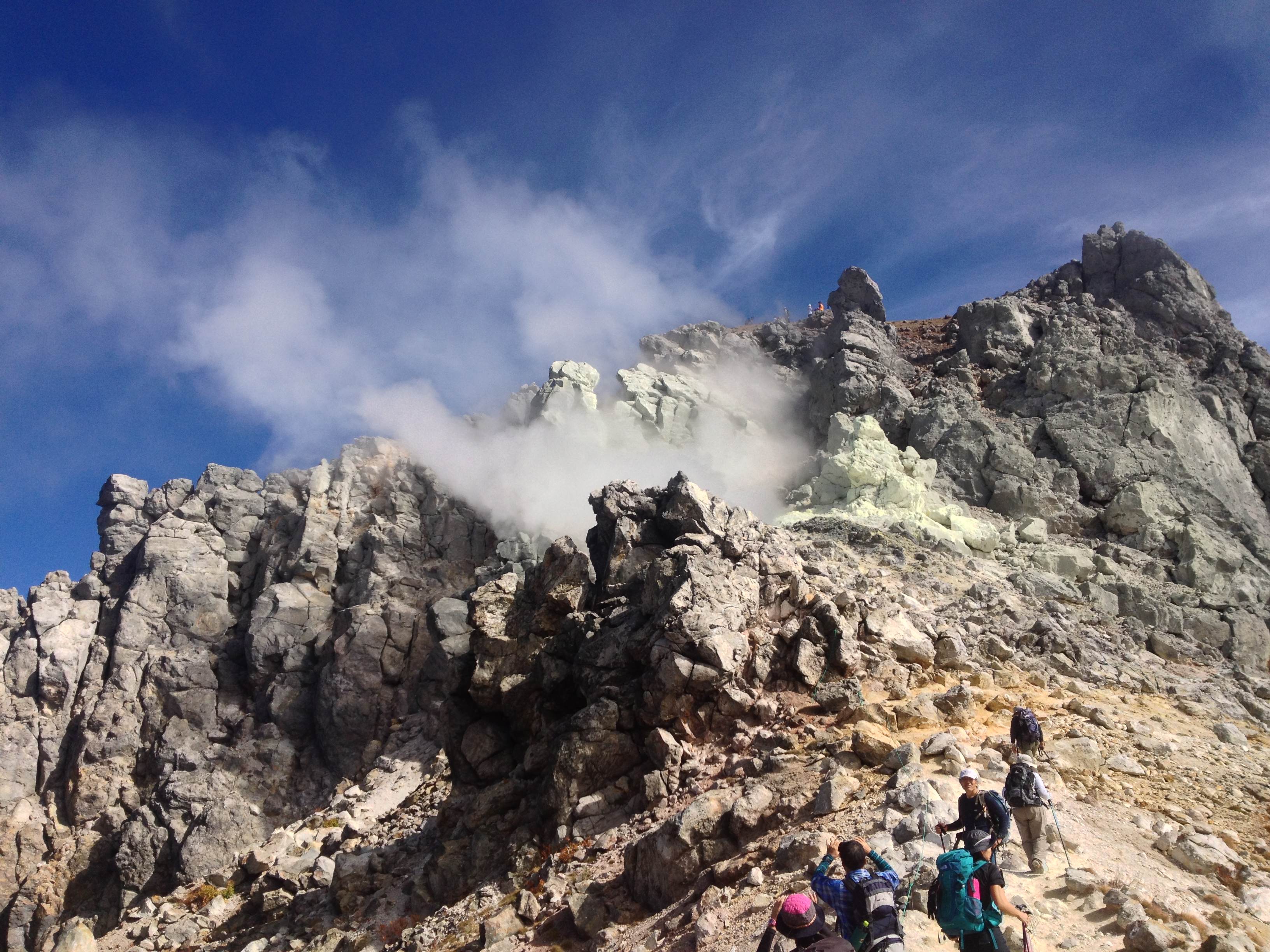 "Take five, Joe."  A closer look at the smoking volcanic area.
While surveying the scene below from the path up to the south peak, I noticed clouds rolling in for the second time in the day, and so made my way back as fast as caution would allow.  We still had the north peak to ascend.
This time around, the paths were teaming with hikers of all ages, from small children to people well past retirement age, all eager to get to the top.  The general rule, when meeting people going in the opposite direction on a mountain path, is for the people heading down to step aside and make way for people going up.  Among Japanese climbers, it is observed with pretty decent regularity, which can in turn make for some slow progress up higher slopes.  The good news is that it's only a short distance from the saddle to the north peak, so even with crowds you shouldn't have long to wait.
IV. Postcards from the North Peak
The feeling up top was quite jubilant, with groups striking poses by the main marker.  I'd say the weather was pretty close to perfect as well, with the air being warm enough for t-shirts even at the peaks and the autumn high pressure system providing deep blue skies.  While we had a nice view of Mount Kasa, however, Yari seemed determined to stay hidden behind clouds.  Next time!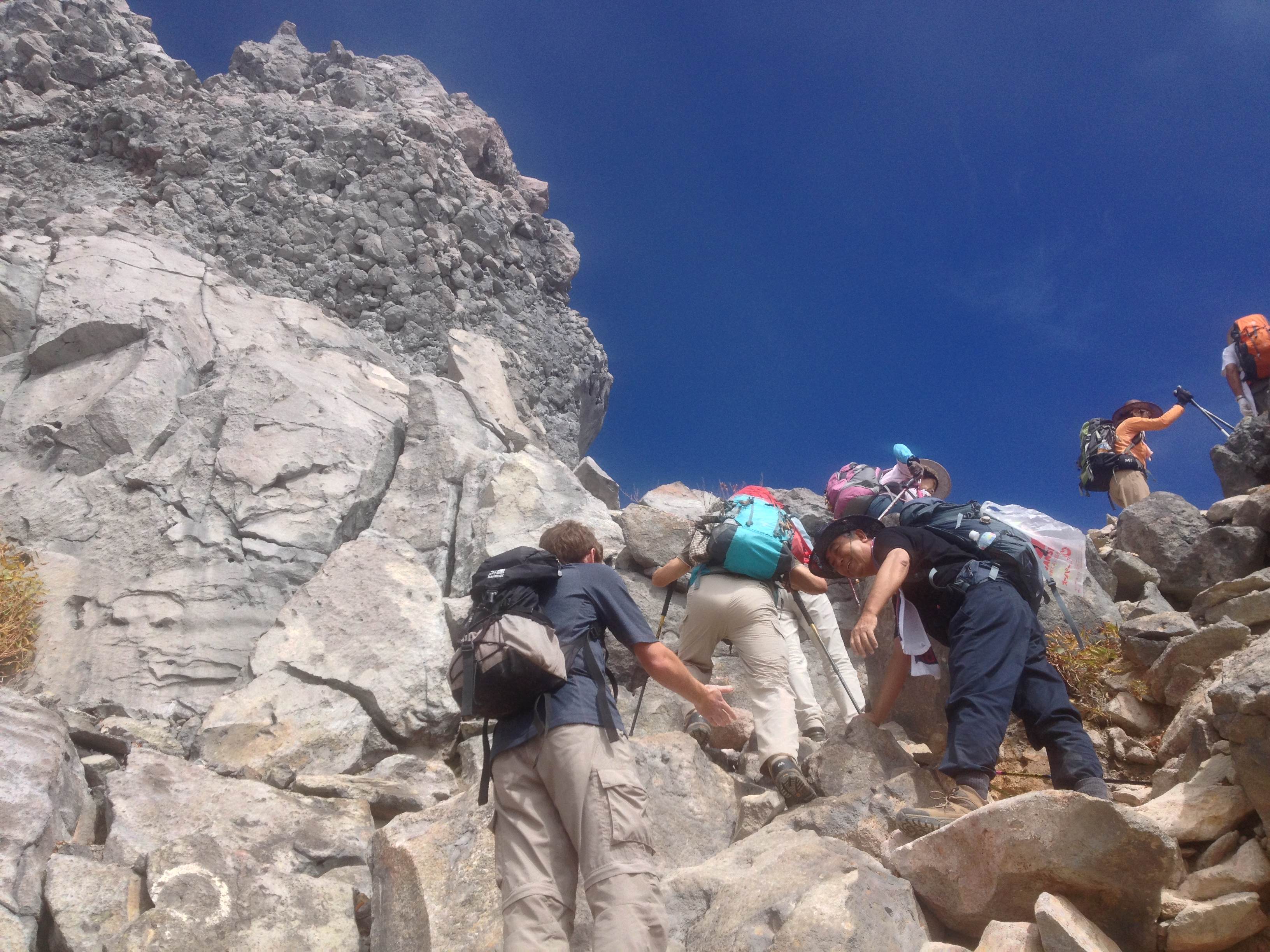 A veteran hiker engages Joe in conversation.  For some reason, people
love to practice their English mid-climb.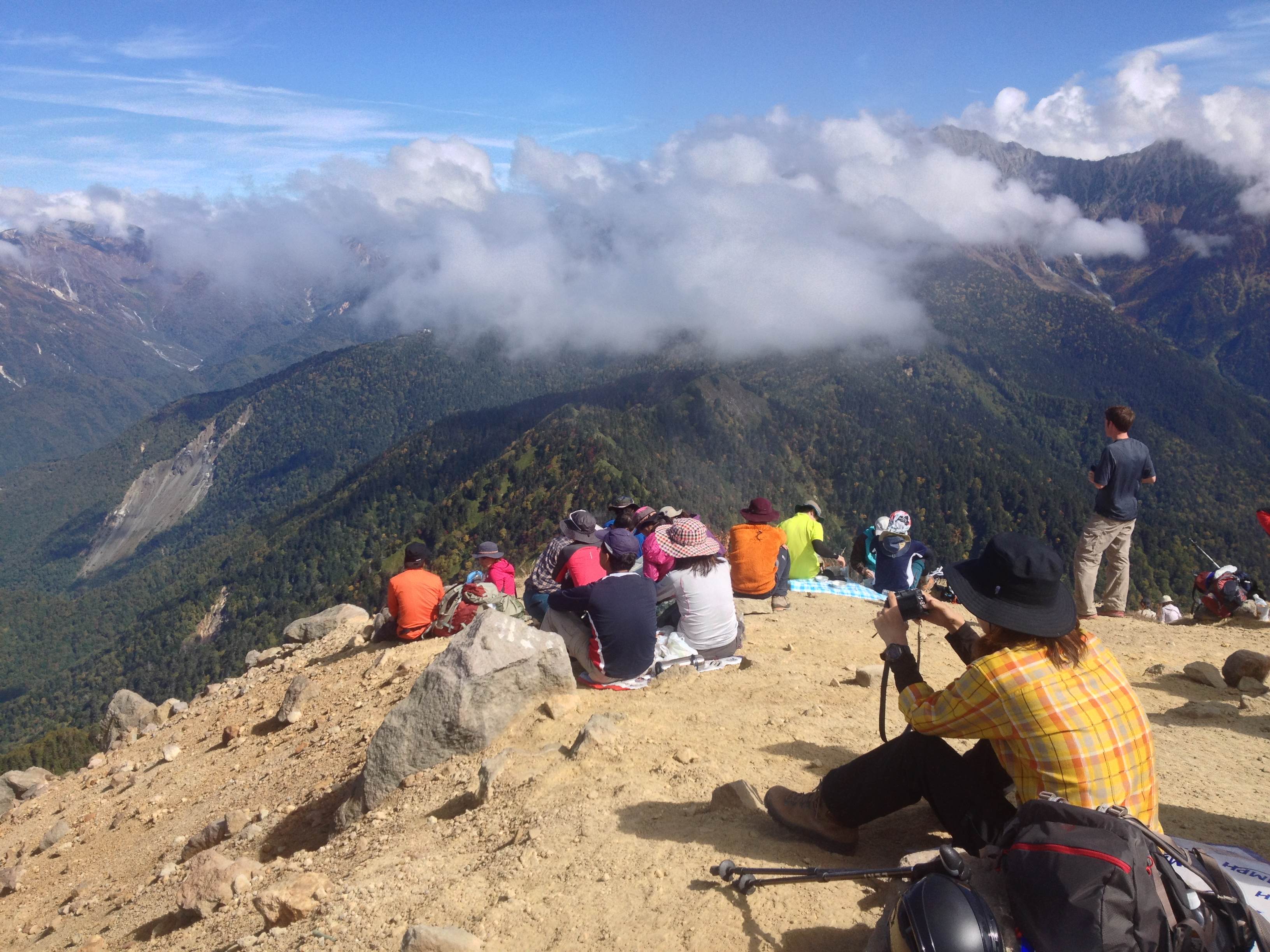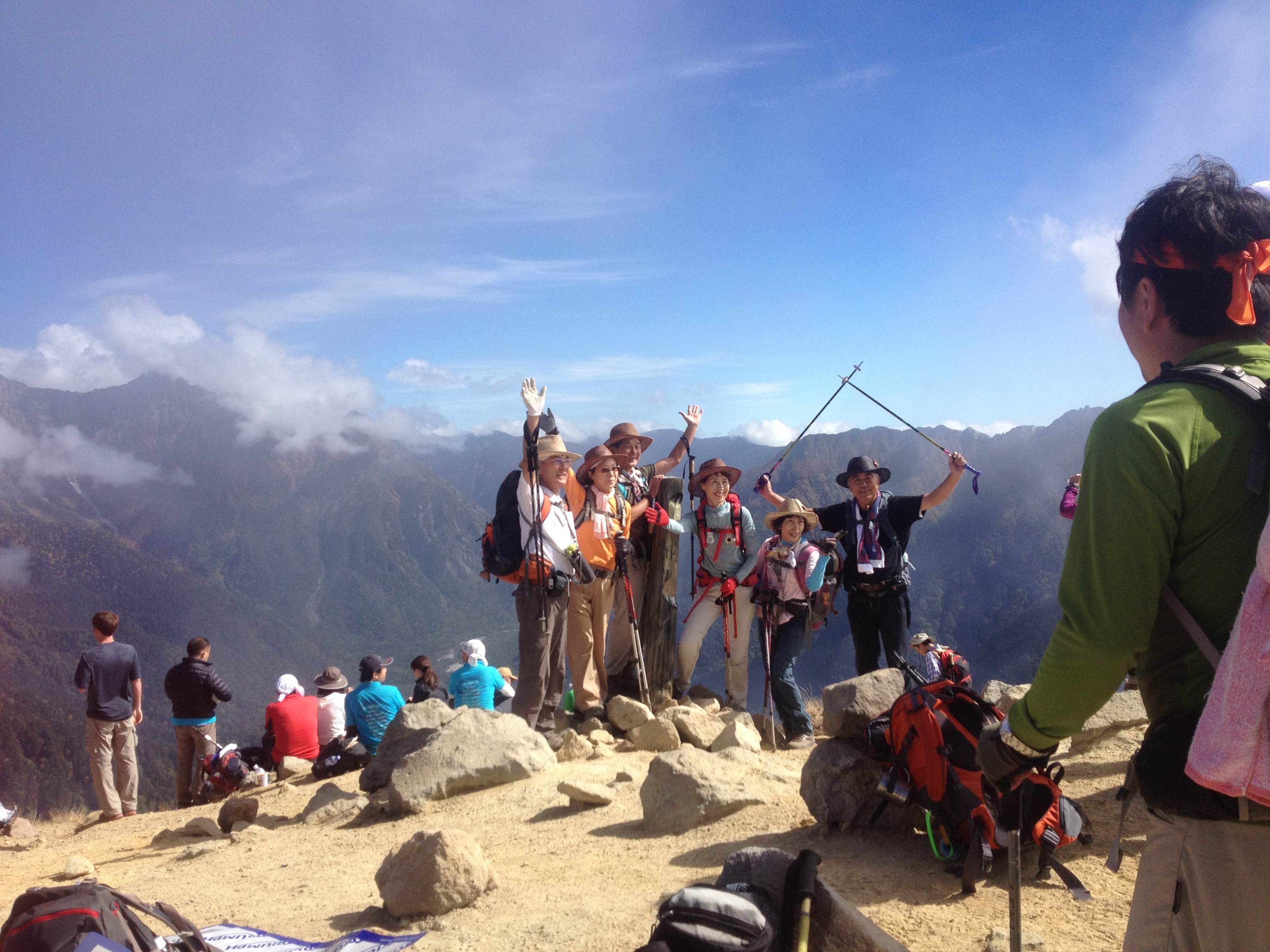 Oh, what a feeling.  Happy hikers at the summit.
It wasn't yet 11am when we headed back down to the saddle, we took our time and snapped a few pictures.  Then, when we finally got round to starting our descent, we got to see all of the lovely autumn vistas that had first greeted us, this time in reverse.  The Yakedake hike is surely one of the best day hikes in the Northern Alps with a minimum of strain and lots of interesting things to see and do up top.  Highly recommended!
V. Planning Your Trip
What you see in the pictures above is a record of things going about as well as they possibly can: the weather was near perfect and far warmer than a typical October day.  There wasn't a drop of rain and there weren't any strong winds or sudden drops in temperature.  I myself am a stickler for regulations, however.  As always, I packed a full set of rain gear as well as a fleece and a couple of thermals.  Good boots are a must and the ones I chose on this day were my light summer hikers, which strike a nice balance between standard summer boots and trail shoes (water-proofed in advance, just in case).  I also had some mid-weight outdoor trousers, though lighter weight ones would have more than sufficed on this day.
As for keeping myself fed and watered, I favor a "hydration system" (actually just a 2L water bag with a flexible hose attached to it) that fits in my pack and an assortment of what the Japanese call 行動食 ("koudoushoku"), essentially high calorie food that can easily be packed for a hike.  Popular choices include "onigiri" (rice balls), energy bars, and simple peanut butter sandwiches, as well as my industrial strength trail mix, made up of nuts and dried fruit usually available for purchase at convenience stores.
Mount Yakedake can be hiked from two major points of entry.  The first is from within Kamikochi: from the bus terminal, head west toward the Nishi-Hotaka trailhead, then cross the river and turn left at the juncture where the Nishi-Hotaka (西穂高) and Yakedake (焼岳) trailheads diverge.  Yakedake, of course, is the one you want for this hike.  From there, it's about a two hour hike to the Yakedake Sansou and a further 1.10 hours to Yake's peaks.  From there, you can return via your original route or take the trail in the opposite direction ending in the Nakanoyu parking lot.  That poses a potential problem though: If you don't have a car waiting there for you it might prove very difficult to get back to where you came from.  Alternatively, you can also begin your hike at the Nakanoyu parking lot, either by parking your own car there or taking a taxi.  If you choose the former, it will probably make sense to return by the same route.
VI.  "Dude, no."
In closing, I'd like to share a message a friend of mine sent me via a social network as I was sitting at my desk writing this article:
"dude are you photoshopping those mountain pics…the blues are crazy blue"
Nope.  The pictures you see here (except for one, taken by Joe) came straight off my mobile phone and have not been tweaked, juked, tinted, filtered, or otherwise molested by Photoshop or any similar program.  The autumn sky is precisely that blue and pictures really don't do it justice.  If you don't believe me, by all means come see it with your own eyes.
The combination of early autumn colors and some of the most interesting terrain I've seen on a mountaintop made Yakedake a highlight in a year that has also included excursions to such legendary locales as the Hachimine traverse, Yatsugatake, and Mount Kita.  Even at a modest 2,455m, Mount Yakedake packs a mighty wallop!