A hearty hello to all of our readers around the world. As I write the sun is beating down outside in a manner more suggestive of summer than autumn. In Kamikochi however the cool air and clear skies of autumn have arrived in earnest. Not much in the way of foliage yet, but I'll get to that in a moment.
This week, we've decided to share some images from a recent post by the Five Sense Kamikochi blog. Intrepid blogger Ume took a brisk walk up to Myojin Pond with it's much admired shrine and bridge and posted some pictures. Just look at the clear water in the photo above.
Here we see a familiar view of Myojin-dake from the bridge that bears its name: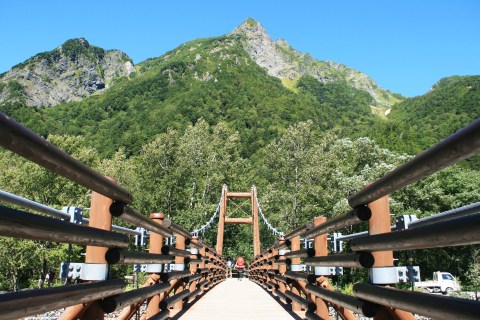 For someone with only limited time to spend in the park, but who wishes to get a nice bit of hiking along levels trails in, the walk from Kappa Bridge to Myojin Pond is highly recommended. Along the way, you can enjoy such sights as the Hotaka peaks and the Azusa River. It takes about two hours to get to the Myojin area from Kappa Bridge and back–though you may want to give yourself a little extra time to snap some pictures and admire the surroundings at your leisure.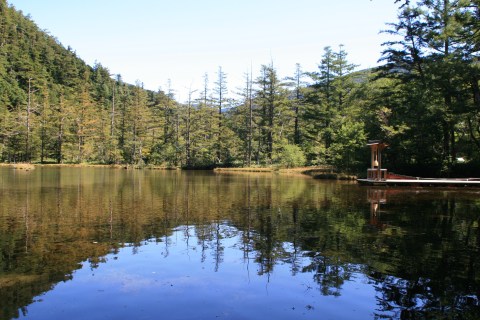 Update on Foliage Conditions in central Kamikochi and the Karasawa Col
And speaking of Myojin Pond, the color-dappled maple pictured above can be found in that area. What you're seeing here is a species of maple with the easy to remember name of acer rufinerve. The species is endemic to Japan and has both male and female varieties with distinguishing features. The above is a fruit-bearing tree which identifies it as the female of the species (to wit, no deadlier than the male).
As mentioned in earlier posts, the peak period for foliage in central Kamikochi is still weeks away. Up in the Karasawa Col however, the leaves are about half-way to peak color. You can see recent images at the Karasawa Hyutte's official page, here. The picture at the top of the page was taken on the 26th and shows 40-50% of peak color. As you scroll down the page, you can see photos from earlier in the month with correspondingly less color.
We'll try to get back to you early next week with updates on conditions in Karasawa. Till then, have a great weekend.
Sources of Information:
Nature Guide: Five Sense, Kamikochi blog: https://fivesense.guide/blog/today/25220/
Karasawa Hyutte homepage: https://www.karasawa-hyutte.com/%E7%B4%85%E8%91%89%E7%8A%B6%E6%B3%81-9-26/