When you mention "autumn colors" (kouyou 紅葉) around the Nagano area, you'll hear the word Karasawa (涸 沢) a few times. I knew it was a place in the sacred highlands of Kamikōchi but not much more than that. As wilderness is often an experience to share, my wife and a couple of good friends joined me for an overnight hike into the magic and colors of one of Kamikōchi's jewels – the Karasawa trail and area.
John Koons writes about an inspiring and colorful autumn hike.
CARES WILL DROP OFF LIKE AUTUMN LEAVES
"Climb the mountains and get their good tidings. Nature's peace will flow into you as sunshine flows into trees. The winds will blow their own freshness into you, and the storms their energy, while cares will drop off like autumn leaves."
–John Muir, naturalist and author
I get anxious. A good anxious.
With the first signs of autumn, I find myself constantly looking up at the hills near my house, waiting, and wondering when the trees will show off their reds, yellows and oranges. I believe, like Muir, that time in the natural world is healing, that there's a flow of peace and a freshness in the breeze. It really is the season that can make "cares drop off like autumn leaves."
My excitement can sometimes bring me to the verge of losing my sanity. There are times when I just can't pretend to be interested in anything going on indoors. Anything! I'd even roll the futon out in my yard if … well, except for the dirt. And the cold. And the neighbors.
In the entranceway, my hiking boots lie about patiently – but ready – and when I glance at them I can almost hear the crunching of the leaves under those well-worn soles. Around the corner, my "hoodie" sweatshirt from the bottom of my seasonal clothes drawer gets a little restless and works its way onto the top of the pile, waiting for the call of duty. And this time, my wife, Tomoko, and I decide it will be Karasawa, one of the natural jewels of Kamikochi.
After my first taste of the sacred highlands of Kamikochi, I was sure about three things: I'd go back, I'd hike up higher into the mountains, and I liked watching monkeys. Okay, no time for monkeying around; this time we'll focus on the first two.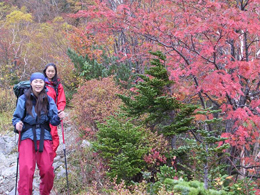 ON OUR WAY
Like a piece of music, one's mind or gossip, Kamikochi is best when shared. My good friend Martin and his wife, Masami, are always looking for outdoor adventures and new trails and so they joined us.
Kamikochi is well-served by bus, train and taxi. From the hub city of Matsumoto, it takes about an hour and a half, and that's just enough time to gather the thoughts. I thought about the weight of my pack, the quality of my rain gear (what honest hiker doesn't have those thoughts while approaching the trailhead?), and especially about my good luck in ending up in a place that has excellent autumn hiking. I thought about Karasawa and what it might reveal to me on this trip. Could I get a little off the beaten track?
ALONG THE RIVER – THE EASY PART
It's a pretty good way – about three hours – walking along the east side of the Azusa River, all the way up to the Yokoo Bridge (elev. 1,600 m). By then, the purr of the river has become an inseparable part of the background soundtrack, and so it becomes eerily quiet when we all turn west, cut into the mountain and start our climb.
I'm not talkative on the trail, and I find that there are three kinds of hikers when it comes to noise and group interaction levels: the quiet, the simple communicators and … the ah … yakkers. I prefer the first, appreciate the second and set up snare traps for the third. Luckily, Martin and Masami are closer to quiet types on the trail. We share moments and thoughts but we're all comfortable with silent periods, those times when the scene isn't enhanced by narration. And, with just the right balance, the brilliance of the leaves fills our senses as spoken words become scarce. "Wow! Don't you just love the colors, and this day, and the silence," I shout out to no one in particular.
THE CLIMB
The Karasawa Trail is tight and rugged when it first tugs you away from the river, but then it opens up to the wonderful high-elevation Yokoo valley. It's a step up and up and up, and right and left and then it dramatically opens into a broad mid-mountain valley surrounded on three sides by "the Karasawa wall". The elevation requires a pretty good back head tilt to view the top of it, and when I look way up, I can only imagine what it takes to get up there. And how it must feel to BE up there and walking that peaked ridge, seemingly so close to the edge, so close to the near-vertical granite faces. Further up the valley, the plunge down from the edge of the wall ends up, well, right at the Karasawa Hut, which will be our high altitude home-away-from-home for the night.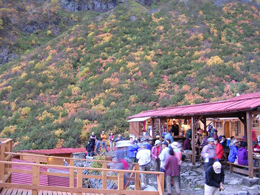 KARASAWA HUT
On the approach to the lodge, in the high sloping meadow, we take a break and it's here, close to our destination, that we can kick back, slow down and really appreciate the alpine panorama. There are great clusters of birch trees here and they shake their leaves at us and welcome us into their natural domain, this wild place where connections and memories are created through observation and direct experience, far away from emails, uploads and tweets.
Kamikochi area hikes are popular and the Karasawa Hut on this particular late afternoon is busy. It's the height of fall colors after all, and the lodge's placement right in the middle of paradise makes it somewhat of an attraction. We're all a little stunned by the mix of scenic beauty, mingling hikers and cameras clicking away, and our momentum soon carries us onto the impressive veranda.
A LITTLE HISTORY
Karasawa hiking is a little different. Though there is a Karasawa peak, the endpoint for many hikers is the top of the valley, in the campground or at one of the two mountain lodges: Karasawa Hut (涸沢ヒュッテ, sleeping capacity 180, "Tasty spring water is available for free,"according to their website) or Karasawa Goya (涸沢小屋, capacity 100). They're at 2,300 meters and provide comfort, meals and warmth for nearly 300 people (and a few more in a pinch!). From the hut area to the nearby skyscraping peaks –Mt. Oku-Hotakadake (3,100 m.), Mt. Kitahotaka (3,190 m.)) –it's roughly a three-hour climb. And of course, the motivationally-challenged can bypass that ascent, and opt for the less ambitious plan of visually exploring the alpine wonderland from the comfort of the veranda.
We liked the veranda – Martin, Masami, Tomoko and I – and after 30 minutes or so, I wasn't sure we actually could tear ourselves away from the outdoor beauty, and the quickly-emptying hot drinks. But a hiker's day ends early, and sunset began the slow slide towards dinner and sleep.
Now, where else can an outdoorsy type find this kind of autumn splendor and the chance to share a futon with a stranger? The mountain lodges in these parts are clean, comfortable, well-placed and well-run. That's why they're popular. It's a good place to make friends, and practice Japanese. (FYI: "Could you give me a little warning before you try to turn over?" is "Muki wo kaeru maeni, shirasete moraemasuka?" (向きを変える前に、知らせてもらえますか?) in Japanese, and "Could you please put your feet on the other side?" is "Anatano ashi wo hantaigawa ni idoushite moraemasuka?" (あなたの足を反対側に移動してもらえますか?)
OUT OF THE FUTON AND ONTO THE TRAIL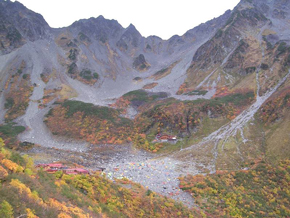 What is that?
It was morning – just barely – and I was amazed (and a little jealous) by what I saw at first glance from the veranda, my eyes fixed on the wall of peaks. I noticed little lights, moving slowly, but steadily along that most rugged of rock faces. As steep and impossible as it looked, there were actually trails up the steepest terrain. Eager hikers had left our lodge at something like "oh dark thirty" and were making their way up. To them, my hiking brethren who chose a more difficult journey than ours, I whispered a "ganbare" (がんばれgood luck!)
Our group of four chose to descend on a different route, the Panorama Course, which would give us some new views and a chance to find that "off the beaten track" moment. After some trail congestion, I soon befriend the Panorama trail. Regularly glancing back, I see last night's hut slowly fade away into the distance as we climb out of the friendly Karasawa meadows . From high up, large swaths of the valley below expand into our view, and it's soon a tide of autumn reds, yellows and oranges swirling around the Karasawa huts. It's a view I won't forget, with the lodge gradually getting smaller and smaller, seeming to tuck itself just into the bottom of the granite wall. I was filling my memory card and falling behind.
UP THERE!
Martin and I both saw it at the same time. It was an outcrop with a distinctive pinnacle formation, and when it came into view high above us, it was an immediate "must do." We kept our eager eyes on it, and quickly found the side trail and a sign marked, "Byōbu no atama" (屏風の頭, head or top of the folding screen or partition)). Hmmmmmm … a curious choice of name. And off we went on our 45-minute scramble.
ON TOP
We got to the high point quickly and stared in awe at the stunning 360-degree view, the Northern Alps' most prominent ridges and craggy peaks forming great walls and valleys, all of it calling you out and keeping you in.
Silence.
Atop the ridge and atop the world, this head-of-the-folding-screen moment was treasured then and now. At first, we were sure we were alone, but we soon noticed a man standing on a nearby pinnacle, camera on tripod, also recording the vast panorama. He appeared to be floating on a narrow column of rock, and I think I saw him look over to us with probably the same thoughts in his head. We had each found a worthy spot today. It really was all downhill from here.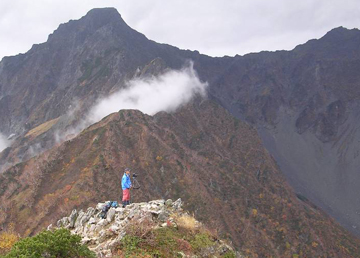 From that pinnacle of our journey, we managed the steep switchbacks that brought us about 1,000 meters lower and back to the Kamikochi valley and the Azusa riverbed. Once there, the easy two hour stroll along the river leading to the Visitor's Center was a welcome break for the knees and a chance to recap our weekend adventure.
In the days and weeks following our hike, I looked at those colorful hills outside my house; I looked with a little less anxiety, and more of an appreciative and peaceful mental state. The colors of Karasawa, and the moments on the ridge top – where I felt my cares "drop off like autumn leaves" – were the lasting memories of that season.
---
ADDITIONAL INFORMATION
– In Karasawa, autumn colors can be seen in late September and October.
– During the foliage season, temperatures range from 20˚C down to 0˚C.
– As for all mountain hiking, warm clothes (ie. fleece) and reliable rain gear is essential.
– Meals are available at the lodges.