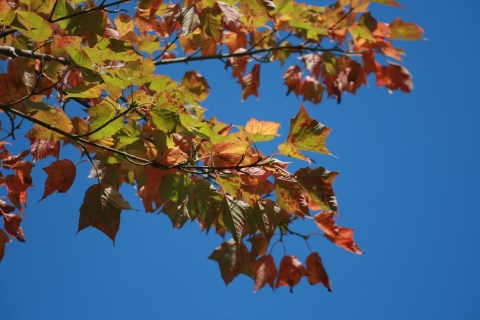 Autumn rolls on.
Looking up at Mt. Myojin from the Kappa Bridge area, we can already see large patches of yellow and orange leaves near the top: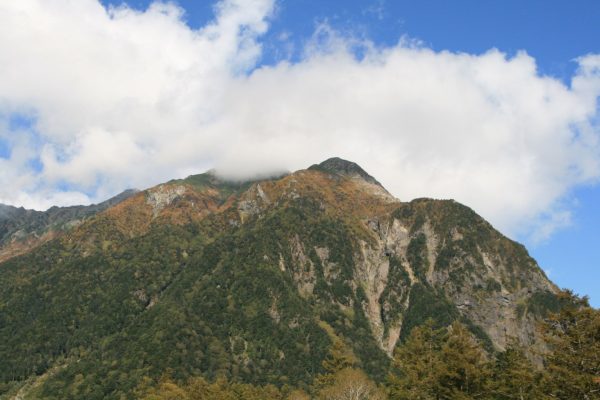 Meanwhile, the upper reaches of the Karasawa Col are now displaying brilliant colors, while the lower area around the two Karasawa mountain huts gets more colorful by the day. You can see images taken yesterday on the Karasawa Hyutte website.
Down in central Kamikochi the foliage is showing nowhere near the level of color seen at higher altitudes. However, it is in the nature of trees that certain species even within the same families behave differently from others.
As you walk along the tree-lined paths of Kamikochi, your eyes may be drawn to the acer rufinerve, also know as "redvein maple" or "Honshu maple" (the latter in reference to the main island of Japan to which the tree is endemic). This species of maple goes through its autumn color cycle earlier than others as you can see from this recent photo: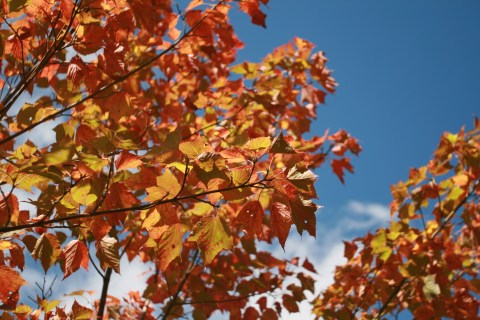 For comparison, look at this photo (from the same day) of an acer micranthum (or Komine maple):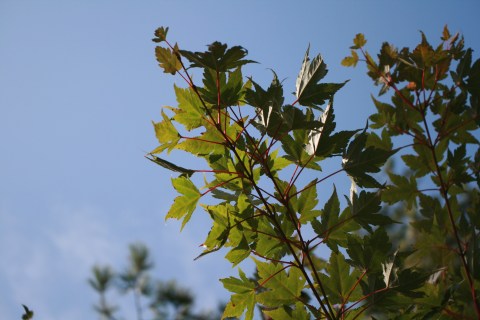 Yup, about as much red as you'd expect to see on a green apple. The Komine maple will start to change color later in the month.
That's all for today's update, we'll be back on Friday with more recent images and reports from the front lines of the autumn foliage season. A big thanks to Five Sense blogger Ume for posting the info used in this blog as well as to the staff at Karasawa Hyutte for providing frequent and detailed reports of conditions in Karasawa.
Sources of Information:
Nature Guide: Five Sense, Kamikochi blog: https://fivesense.guide/blog/today/25415/
Karasawa Hyutte homepage: https://www.karasawa-hyutte.com/
…
…