---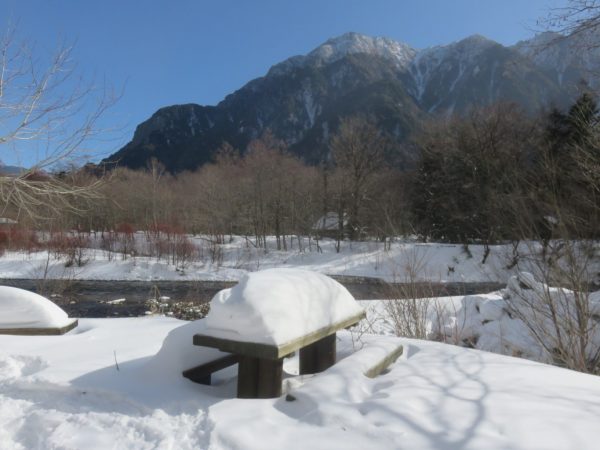 As we near the end of 2019, people all around Japan are preparing for one of the year's central events: O-Shogatsu.  Shrine visits, large scale house cleaning projects, and lavish meals with the family are very much the order of the day now. I myself am kicking things off early this weekend by roasting a Christmas turkey for my family in Suwa City.
In Kamikochi, however, the boisterous human activity of the warmer months has given way to the peaceful inactivity of winter.  Now that regular access to the park has been shut down, the usual crowds are nowhere to be seen, with only a few adventurous hikers entering via the Kama Tunnel on foot to experience Kamikochi in winter.
To face the many dangers of winter with confidence, hikers and climbers must be experienced, well-equipped, and ready for anything.     Does that sound like you?  If you're not sure, then the answer is probably "no."  But, just for good measure, we are dedicating this week's blog entry to a quick rundown of essential safety rules for hiking Kamikochi in winter.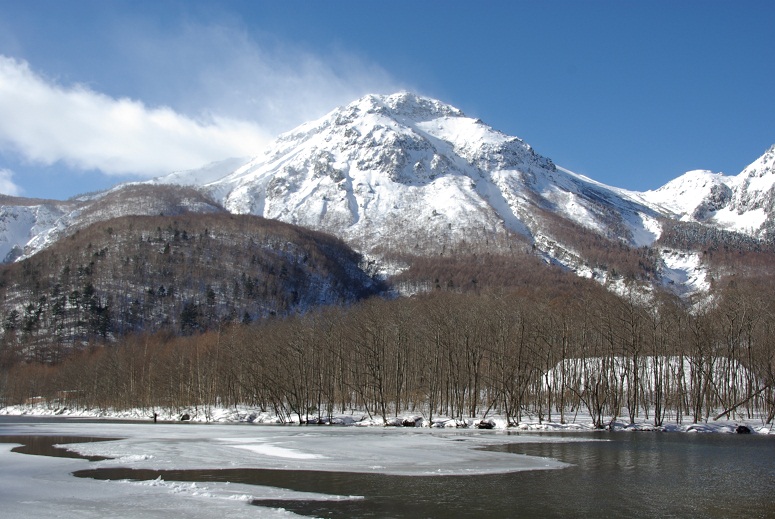 OK, so here in brief is what you need to do.  Remember, what we're giving you here is just a list of essential points.  Whole volumes could be (indeed, have been) written on the topic of winter safety, but these things are indispensable.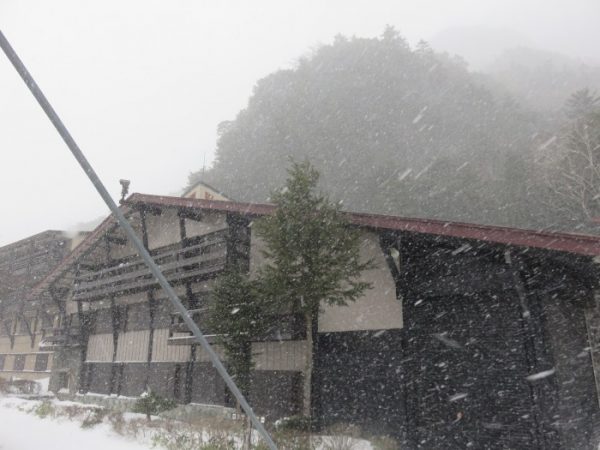 Hiking Kamikochi in the winter means taking responsibility for your own safety.  We ask you to respect the following rules;
1.  Fill out and submit a plan/itinerary to local authorities.
A typical "tozan keikaku" looks like this. Print it and fill it out either in English or Japanese.
Submit it in the postbox at the trailhead.
(Please note: Some trailheads may not have a postbox.)
Send by Post
Post to:Nagano Prefecture Mountain & Highland Tourism Division
692-2 Habashita, Minami-Nagano, Nagano City, Nagano Prefecture 380-8570 JAPAN
FAX Submission
You can send your itinerary by FAX from convenience stores and hotels using this number: 03-6862-5035.
Web Submission – through the mountain and nature network site "Compass"
http://www.mt-compass.com/ (Japanese)
(UPDATE: A bilingual version of the itinerary can be found here. This Link was active as of 2019/12/20.)
2.  You must be aware of all of the potential dangers of hiking Kamikochi in winter, including avalanches, blizzards, falling rocks, and sudden changes in weather.  And you must have all of the necessary tools for winter hiking (and climbing, if you're heading to higher ground).  If you have to ask what that is, then you are probably in need of more research and experience in this area and shouldn't be heading out anytime soon.
3.  Entering the marshland areas of the park is strictly prohibited.
4.  Use the designated "winter toilets" (冬期トイレ) whenever you need to use the toilet.  They can be found in the Taisho Pond area, at the Kamikochi Bus Terminal, and in Konashi-daira.
5.  Set up your tents in the designated camping area in Konashi-daira, and NOT around hotels, visitor centers, etc.
6.  Be sure to bring all of your garbage with you when leaving your campsite.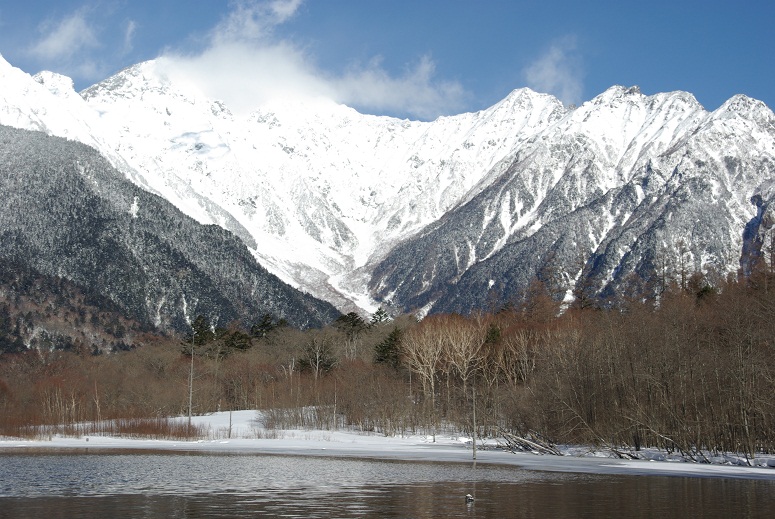 Always remember that, with the park's facilties shut down for winter, there will be no one around to help if you get into trouble.  Taking responsibility for your own safety doesn't just mean being willing to travel at your own risk; you must also be capable of doing so with confidence.  Awareness, preparation, capability (including mental and physical fortitude) are the foundations of that real confidence that allows to to tackle challenging terrain safely.
Doing it the Easy Way:
Before we wrap things up, we'll share two further items of interest, beginning with the exciting snow activities offered through our sister site, alpinewonderland.com. Have a look at their site for info on a number of winter hiking excursions, including a short snowshoe tour of Kamikochi. Signing up like this will take a lot of the troublesome guesswork and uncertainty out of the planning process while also providing the assurance of being in the hands of experienced pros.
If you insist on going it alone, here's a field report I posted back in 2014 about my own experience hiking in January with friends.
Now that we've got the serious business of winter safety out of the way, we  would like to wish you all a warm and pleasant new year, wherever you might find yourself this season.  2019 was a spectacular year for us, and we're expecting even more from 2020!
As always, feel free to visit our Facebook page (https://www.facebook.com/kamikochi/) and leave us any questions or comments you might have.  That's all for 2019.  Thanks to everyone who was there to enjoy it with us!
Sources of information:
Nagano Ministry of the Environment Website: http://chubu.env.go.jp/nagano
Natural Parks Foundation Website: http://www.bes.or.jp
Taisho-ike Hotel Website: http://www.taisyoike.co.jp
Birthplace of the Japanese Alps homepage: https://alpinewonderland.com/