Flowers are starting to bloom, signaling the arrival of one of the best times of year here at Kamikochi.
With blue skies above and colorful flora starting to appear, it's just the time and place to enjoy spring in the great outdoors.
Here we see some potentilla flowers:
And here are some soft wildflowers found in front of the Myojin-kan.
Once visible only in isolated patches, these flowers are now showing up all over the park.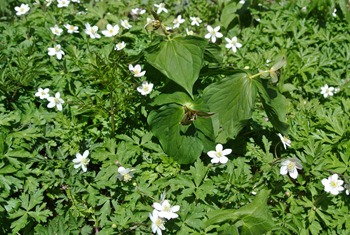 And then there are the "Takane Zakura" a wilder relative of the cherry blossom tree which grows in the cooler areas of Honshu.
That means that we'll soon be able to enjoy blossom-viewing here, long after the end of cherry blossom season around Japan.
Needless to say, the mountains stand out gloriously against the clear blue skies, as seen in this photo of the Hotaka Range.
As always, we'd like to remind hikers that, as there is still snow on the ground (especially at higher elevations), you should prepare accordingly.
If you're hiking out toward the mountain huts, pack warm clothing and crampons with at least six spikes.
The footing on snowy inclines can be tricky for less experienced climbers.
Remember to pack some sunscreen, especially in areas where snow remains on the ground, allowing the sunlight to reflect back up at you.
If the majestic peaks and brisk mountain breezes are calling your name, it's as good a time as any to hit the trails.
Source of Information:
– Kamikōchi National Park Guide Website (http://npg-alps.net/)