Maybe it's just me getting old, but it seems like this year has just been flying right by. Now, almost three months after the opening of Kamikōchi this year, summer is upon us. I don't really know when it happened, but the white that I remembered going on and on about has almost disappeared. If you don't remember or haven't read my blogs from earlier this year, take a look at this picture. Here you'll see the snowy scenery of Mt. Hotaka-dake this past April.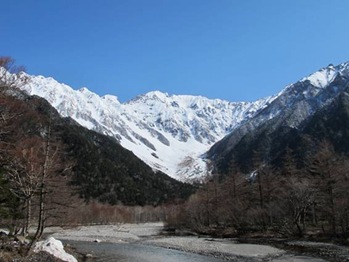 What beauty… And with the coming of May, spring in Kamikōchi was in the works. Below, you can see the rising snowline triggered by the warmer temperatures. This onset of spring triggered trees and plants to come out of their winter dormancy with the snowmelt fueling the new green.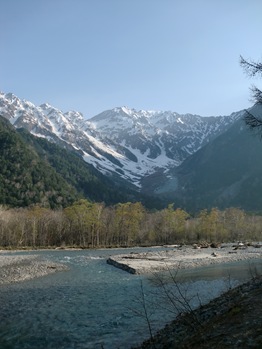 Entering June, and thus rainy season, the even more vibrant green pretty much completely replaced the brown and white scenery of earlier months as seen in the picture below taken at Tashiro-ike.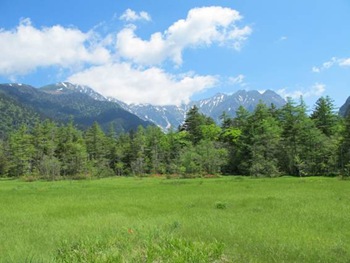 The next picture, taken this month, is about the last of rainy season that we'll see until next year.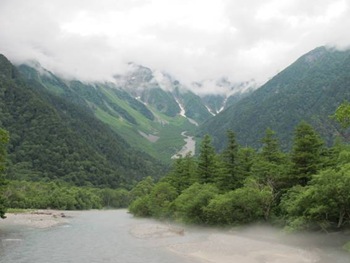 Now having approached the end of rainy season, the skies have cleared up and temperatures are soaring nationwide. With daily highs of 33-35C in most of the country, the real draw of Kamikōchi is here. The cool summers and excellent summer scenery… What will Mt. Hotaka-dake look like next?
Anyway, an important point to think about, before coming to snap your own pictures of the mountains, is that summer vacation is just around the corner, Japanese tourists are going to be coming by the busload (meant figuratively and literally, as tourists can really only come by bus or taxi). Here's a tip. Visit on a weekday when tourist numbers are a lot lower. See you soon!
Source of Information:
– Kamikōchi National Park Guide Website (http://npg-alps.net/)