Aside from the current typhoon, the sky has slowly been starting to clear up with thin and wispy clouds. And, lately the colors of sunrise and sunset are gradually increasing in depth as you can see in this picture of Mt. Yakedake dyed red by the morning sun. These are just two signs of fall on its way.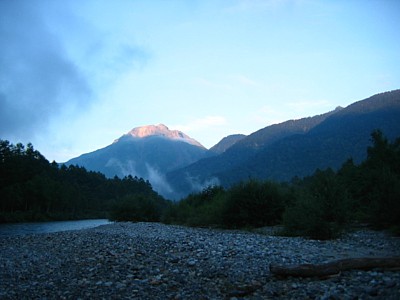 Below we can see Kamikōchi's trademark view, the Hotaka Range over the Azusa-gawa River, in its full glory. The beauty of a clear blue sky in the mountains is truly amazing. Views like this should continue on for another two months or so, although with the greenery fading into beautiful shades of yellow, orange, and red. I know I'm not alone when I say this, but between now and November is the best time of year to be in Kamikōchi.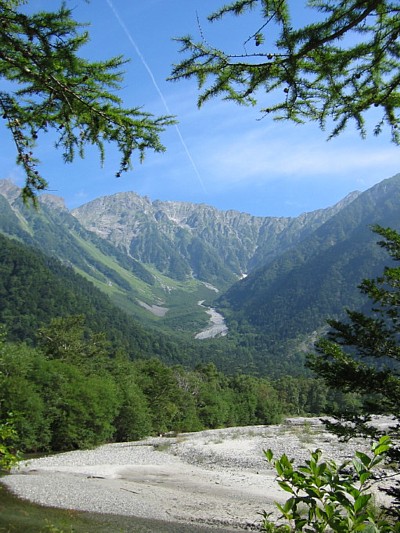 With daytime temperatures cooling down and the weather clearing up, basking in the sun is becoming better and better with each passing day now.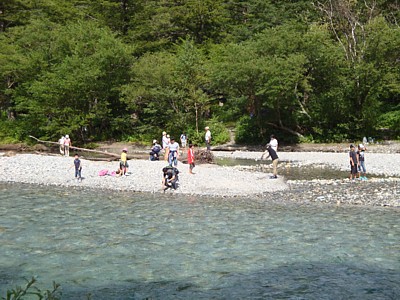 Here is the third and most tell-tale sign of fall approaching. Fallen leaves… I can't really explain how much I like these dried up beauties. The crunching sound as you walk upon them and their scent filling the air… Let's just say that they make me feel like a child again. Raking up leaves into huge piles and doing flying jumps into them… It all takes me back…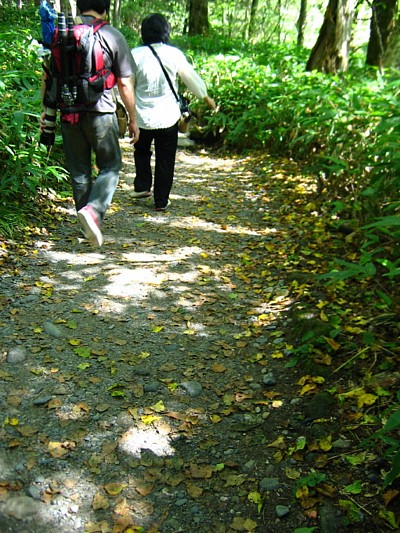 The wait for fall is almost over now, so get yourself ready!
Source of Information:
– Kamikōchi Hotel Shirakaba-sō (http://shirakabaso.com/)