Most visitors tend to visit Kamikōchi in summer and autumn, but what about spring? Spring is the season when nature wakes from its winter sleep, and Kamikōchi is no different. The stunning snow-covered mountain scenery and fresh mountain air of spring are worth a visit alone. But combined with the lesser known opportunities unique to spring, one could say spring is one of the best times to experience Kamikōchi.
Spring Comes When Exactly?
Due to the elevation, seasons start much later and finish much earlier in Kamikōchi than in other areas. The official start of spring is marked by the Kamikōchi Opening Ceremony (Kaizan-sai), held at the end of April. This season continues until the end of June.
The weather at this time of year can be especially unpredictable. Typical of high mountain areas, spring weather in Kamikōchi comes in all sorts. There are sunny and warm days, cloudy and cool days, and days with rain or even snow. There are two factors that should be considered regardless of the temperature. The sun is quite intense at this altitude and can quickly warm you up on a cold day or give you a nice sunburn to remember. Also, wind in the mountains is usually stronger than in the cities, and even on a nice, sunny day, a quick change in winds can make you wish you packed a warmer jacket.
Breathtaking Scenery
As you approach Kamikōchi, the first thing to stand out is the remaining snow. While the snowy landscape of Kamikōchi in winter is amazing, there is no time more comfortable than spring to experience it. High above the Kamikōchi basin, the volcanic Mt. Yakedake and the stunning Mt. Hotakadake stand proud under the white blankets of snow through May and some of June (best seen from Taishō-ike Pond, Tashiro-ike Pond, and Kappa-bashi Bridge). In the basin, snow generally melts away by the beginning of May making walking relatively easy. There is still much snow to be found on trails and ravines leading higher up, however. In addition, the clear water and superb views from the Azusa-gawa River, Taishō-ike Pond, and Myōjin-ike Pond make these spots excellent places for a walk.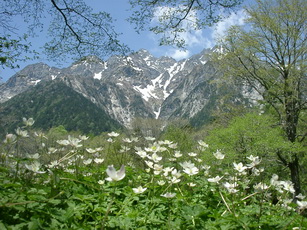 And with the melting of the snow come the budding of trees, blossoming of flowers, and appearance of ground plants. In mid May, karamatsu (Japanese larch) and keshō-yanagi (a northeast Asian willow – found only in Nagano's high-altitudes and Hokkaido in Japan) trees being to bud. These can been seen in several spots along the Azusa-gawa River. Also, turning green with new life throughout the forest floor is sasa (Japanese bamboo grass). A bit less obvious to the casual glance are nirinsō a small plant with two white flowering stems), which basically becomes a flower garden at Tokusawa. Before flowering, it appears to be almost identical to the extremely poisonous torikabuto. After flowering, though, it cannot be mistaken with the purple-flowered torikabuto. Still even harder to find, but definitely one of the more interesting plants to look at is the benichawan-take (a scarlet-colored mushroom). It can be found between Myōjin-ike Pond and Tokusawa poking itself out of the ground just after the snow melts.
Unparalleled Chances to See Wildlife
When Kamikōchi wakes from its winter sleep, nature shows a great number of marvels. Aside from the amazing views you can take in, animals, fish, and insects can be found all around. Large birds such as tobi (black kite) can be seen flying about. Kamoshika (Japanese serow) and Asiatic black bears can also be spotted sometimes. Though, these animals are generally found at higher altitudes, especially as the weather gets warmer. Fish such as trout and iwana (char) can be found swimming in the cool waters. June brings out the butterflies.
Many kinds of small birds can be observed around the Kamikōchi basin in May and June. Of all seasons, spring provides the best chances to see birds in Kamikōchi because as the weather gets warmer, they fly to higher altitudes. Misosazai (winter wren), kikuitadaki (goldcrest), ruribitaki (red-flanked bluetail), and aoji (black-faced bunting) are just a few kinds that make Kamikōchi their home. Anyone keen on birdwatching should definitely come early in the year!
snow monkeys was originally made to refer to the wild monkeys of Kamikōchi. It quite often refers to non-wild monkeys in other places around Japan, but the 'real' snow monkeys of Japan can be found in Kamikōchi. While they are truly interesting animals, it should be noted that the monkeys of Kamikōchi are wild and that direct contact and feeding of the monkeys is strictly prohibited. The Japanese macaque monkeys that inhabit Kamikōchi are undoubtedly the most popular animal to be found. As these monkeys live in Kamikōchi year-round, simply walking around the Kamikōchi basin is almost guaranteed to merit you sights of several monkeys living their daily lives. Unknown to most, the term
Chances to Really Get Out to Nature
Kamikōchi offers plenty of walking trails that take you to all the popular sites along the Azusa-gawa River. For general walking, the Kappa-bashi Bridge, Taishō-ike Pond, Tashiro-ike Pond, Myōjin-ike Pond, and Weston Memorial areas are the most popular.
Aside from the general walking trails, there are hiking trails that lead higher up to Mt. Hotakadake, Mt. Yakedake, Mt. Yarigatake, and other mountains. In Kamikōchi, the mountain climbing season does not officially start until early July, but climbers can be seen earlier in the season, especially on the Mt. Hotakadake route. Climbing partway up this route offers particularly rewarding views of the Kamikōchi basin, views that most visitors never have the chance to experience. For those wishing to climb in spring, a minimum of crampons is necessary. To go higher up, an axe and winter climbing experience are recommended. It should be noted that avalanches are nothing out of the ordinary, so be prepared.
So when you plan your trip to Kamikōchi in the spring, make sure to check the weather forecast and pack a little extra in case of a quick weather change. Waterproof hiking boots as well as a rain coat and pants are recommended. Remember that there may still be snow remaining in early May and that should you want to really get into the mountains, you should be prepared and experienced. Oh, one more thing… Don't forget that expensive camera. You're definitely going to want to snap a few pictures.
Links: For a video introduction to Kamikōchi, please click here or here.