Hello to all of our readers. As I write, Nagano Prefecture is in the midst of a bit of a heatwave. Day after day, the mercury climbs toward the 36 degree Celsius mark with a thunderstorm occasionally swooping in in late afternoon to cool things down. In Kamikochi however, morning temperatures under 20 degrees and afternoon temperatures of around 25 mark the peak of summer heat. While the sun can feel scorching at times, the cool breeze and alpine air keep things comfortable.
It's the time when hydrangeas bloom and visitors arrive in droves. As you move away from Kappa Bridge, the sounds of mirthful laughter gradually give way to birdsong and the faint buzzing of dragonflies. The Azusa river rolls placidly through the valley as the peaks of the Northern Alps tower on the horizon. Summer in Japan seldom feels so pleasant.
With the Bon holiday is just around the corner, it's the hottest time of the tear around Japan. People associate early to mid-August with vibrant festivals, cool yukata, and watching fireworks on summer nights with the daytime heat still lingering in the air. Kamikochi doesn't offer fireworks except for the ones provided by nature: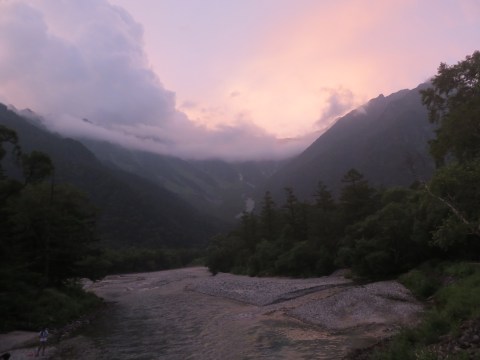 Another less desirable form of natural pyrotechnics comes in the thunderstorms which take place with surprising regularity in the summer time. A friend of mine has gone as far as to claim that you can set your watch by the time in late afternoon when thunder starts crackling around the peaks. That may be a slight exaggeration, but it's a good reason to begin and end any mountain walking activities as early as possible. Do your best to get of the ridge line by midday or shortly after.
Also, please note that the UV levels in the Northern Alps are very high in summer and liable to cause bad sunburns. I myself went full lobster after failing to apply sunscreen carefully while hiking the Tateyama peaks last Thursday and am still in some discomfort now. Wear a hat and take precautions to protect any exposed skin.
Thanks as always to the guides at Five Sense for providing the info and images used in today's blog. Momo and Sakura deserve name checks this time around.
We hope you are enjoying the summer wherever you are in the world and recommend a trip to Kamikochi if you fancy something a bit cooler.
Source of Information and Images:
Nature Guide Five Sense Kamikochi blog: https://fivesense.guide/blog
…