---
Now that the spring is here, we can expect a gradual shift in the scenery around Kamikochi. The late snows are now behind us and green is here to stay, so as we move toward summer, expect that green to creep up toward the mountain tops as well. For the moment, however, there's enough snow on the mountains to create a nice balance between green down below and white up top, which is a trademark of Kamikochi in the springtime.
And with the changing of the seasons, the sun is also rising a lot earlier these days. These photos were taken last week at around four in the morning:
As anyone who's seen a sunrise on a clear day here can tell you, the effect of the morning sun painting the mountaintops orange is quite mesmerizing. It's one of many reasons we cite for staying the night in the park and getting the most out of your experience.
Another thing we see with the advent of warmer weather is that going off the well-beaten trails of Kamikochi proper toward higher grounds is something many people (not just hardened winter climbers) can enjoy. With the right gear, it's possible to extend to extend you hikes into the mountain trails and see such famous sights as Mount Norikura and the Hotaka Range–both listed among Japan's 100 most famous mountains–from a different perspective.
Norikura (L) and the Hotaka Range (R)
If you do plan on on traversing some snowy trails, please be aware that at some point crampons ("aizen" in Japanese) become necessary. Ultra-simple four point sets can be rented at various locations in the park, but to get to some places, like the Karasawa Col, it's advisable to have at least eight spikes, as with the ones seen below. And make sure you get someone to show you how to fasten them correctly or you could wind up having the same problems I had.
8 point crampons (improperly fastened)
For more advanced climbing, you need bigger sturdier crampons with ten to twelve spikes, including agressive, forward facing ones in front: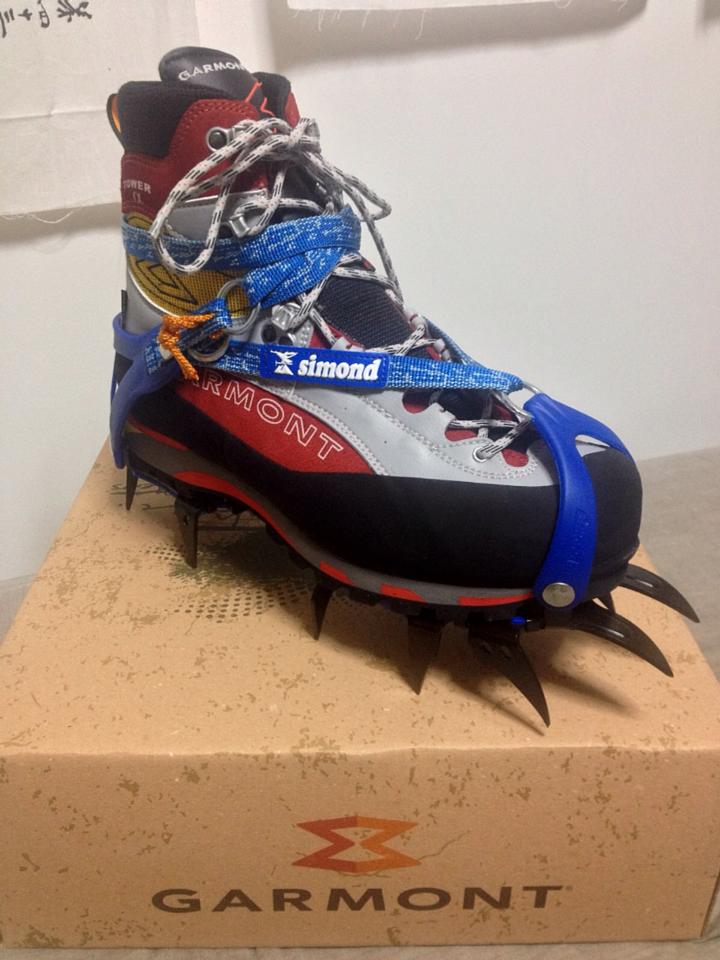 12 point crampons
There are many other items of recommended gear for trudging upward through the snow: gaiters, walking poles, and if possible and ice axe for self-arrest. The most important thing, however, is that anyone who is new to this stuff should definitely go with someone who knows what they are doing. I can't stress that enough. And if you have any doubts about your physical condition or stamina, it's better to be safe than sorry and stick to lower ground.
Wherever your springtime journeying takes you, we encourage you to get the most out of your trip to Kamikochi. Check the weather, pack all the appropriate gear and get ready for an unforgettable time in the great outdoors!
As always, we invite you to visit our Facebook page with and comments, questions, or concerns you might have (or even if you just want to say hello): https://www.facebook.com/kamikochi
Source of Information:
Shirakabaso Hotel website: http://shirakabaso.com/
..