With rain and gloom casting an unwelcome shadow over Kamikochi this past week, it was refreshing to see blue skies over Kappa Bridge today.  And for those fortunate enough to have made it down, an early glimpse at peak colors was the reward.
Many trees around the main stretch of Kamikochi are now displaying a range of colors, including mixes of green, yellow, orange, and even red.
We have had many many requests for up to date photos lately and well as questions about whether the park has reached the peak of autumn foliage yet.  The answer is a little complicated.  While various species of maple like the ones seen in the above photos are now showing bold autumn colors, the karamatsu (Japanese larch) peak nearer to the end of the month.  In short, you can be certain of seeing some autumn colors from now until mid-November, but from different kinds of trees.  As maple leaves fall from their branches, they will add to the mosaic of colors on the paths of Kamikochi.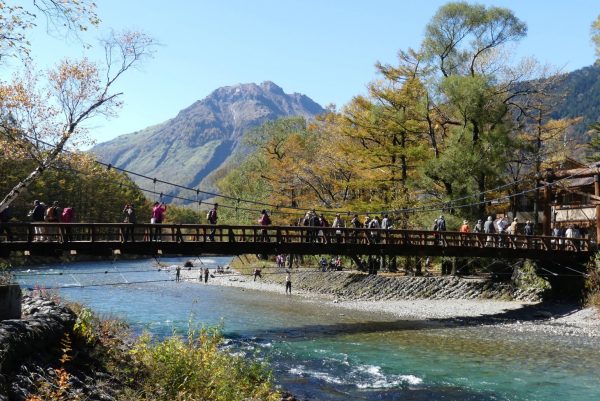 Of course, there's more to Kamikochi in autumn than just leaves.  On clear days, mountains present a magnificent spectacle and as we near the end of the season, they will also receive a dusting of snow on their peaks.
ADVISORY:
Kamikochi has had lengthy periods of rain and chilly weather of late.  At a time when even nearby Matsumoto can feel cold at nighttime, staying warm in the mountains is an important consideration.  Your best defenses against rain and cold are A) planning your visit for a warm, clear day, and B) preparing warm, weather-resistant clothing.  Better to have it and not need it than need it and not have it.  If you are planning a hike, these things become much more important.
Now that this "mini-blog" had stretched into a full-blown blog, I will close by thanking the good people at the NPG Kamikochi blog for their info and wonderful pictures.  We really REALLY couldn't do this without you.
And to all our readers, we wish you an enjoyable, safe, and dry visit to the park.
Source of Information and Images:
National Park Guide Kamikochi Blog: https://npg-alps.net