Overview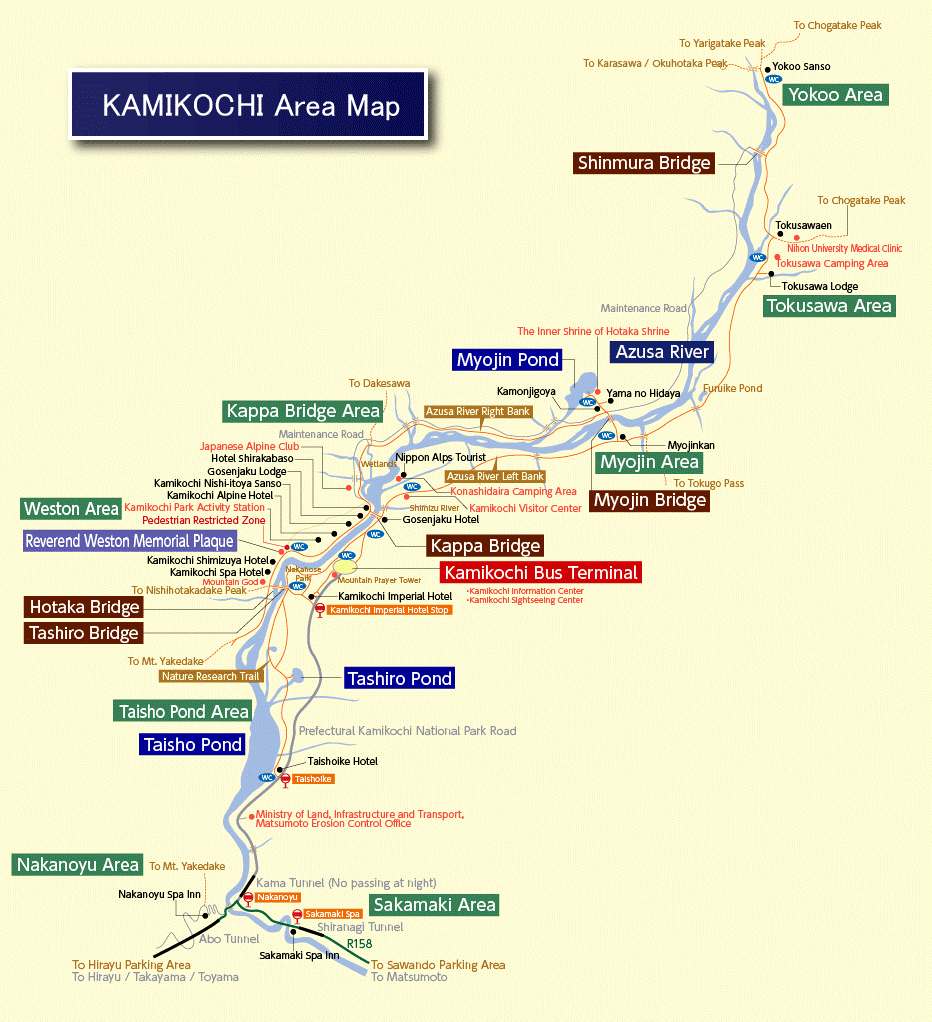 So you want to do some proper mountain excursions from Kamikochi? Well, you've come to the right place. Kamikochi offers all kinds of hiking and mountaineering options for all levels, from beginner to seasoned rock climbers.
When trekking into the mountains, you are required to fill out a trekking itinerary, which can be filled out online or downloaded as a PDF and printed out on the Go!Nagano website.
Remember, many of the following courses are not day trips, requiring you to stay one or even two nights, either at a mountain hut or in a tent. So make sure you are prepared! It is sometimes also possible to combine courses to have a different descent than ascent, but you need to be familiar with the geography and terrain. Before beginning with our discussion of specific locations and difficulty levels, let's take a moment to review the weather patterns over the course of the season: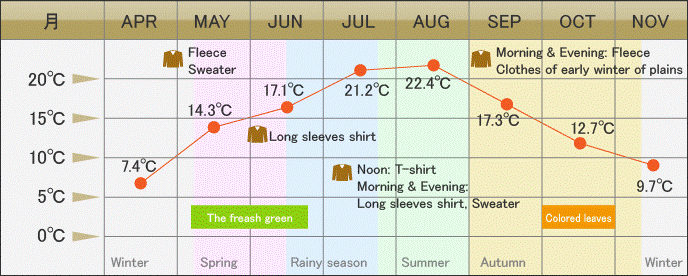 Recommended Routes
Note
Please see the safety guidelines and difficulty rankings below before hiking. We also recommend you check out this detailed blog article that goes into further detail about mountain safety. When you are going to be in the mountains, it never hurts to over prepare. Japan has been seeing record numbers of people needing to be rescued.
---
Tokusawa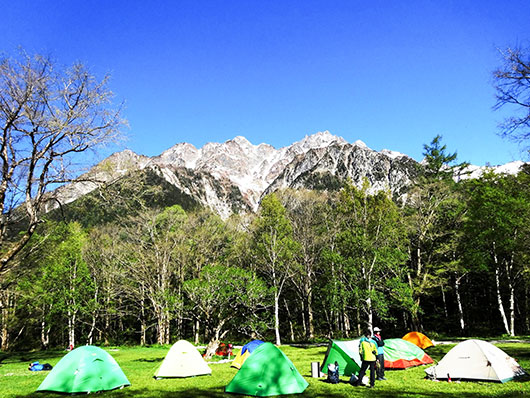 Great elm trees dot the alpine meadow of this area, which was formerly used for pastureland. It is known to Japanese climbers as the backdrop to Inoue's famous 1957 novel "Ice Wall." The eastern rock wall of Mt. Mae-Hotakadake rises majestically above. Tokusawa is both a waypoint on a leisurely trek from the Bus Terminal and a hub for hiking out to popular locations like the Tokugo Pass and Mt. Chogatake.

Difficulty Level: A
---
Yokoo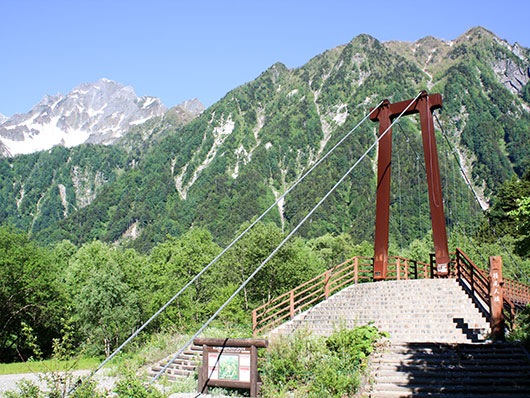 This is not an actual climb but a relatively flat area within Kamikochi. Along this route are a few places from where you can start an actual climb, so please use it as a reference for all the rest of the courses!
According to the schedule, it takes about 3 hrs 20 min to get from the Kamikochi Bus Terminal to Myojin, Tokusawa, and Yokoo, but you often are advised to stay the night in a tent or at a hut or lodge at the location before climbing up the next day. So, if you arrive early, you could take your leisure at walking the course.

Difficulty Level: A
---
Climbing Mt. Chogatake

This second course will be taking you zigzagging through to woods to the top of Mt. Chogatake. Although it can be approached from just beyond the Yokoo Lodge, you save a lot of time by embarking from Tokusawa. Follow the signs from there to your eventual destination at the peak of Chogatake.
Notes:
– This route can be done as a day hike from Kamikochi by someone who camps at Tokusawa the night before. Most, however, prefer to stay at the mountain hut near the peak.
– The Chogatake hike can be extended into the so-called "Omote Ginza" hike, which stretches between Kamikochi and the Nakabusa Onsen trailhead up north. The major peaks are the popular Tsubakuro, Jonen, and Chogatake and several days are required to do the entire hike.
– On this route are no water sources, so make sure you bring enough with you from Tokusawa!

Difficulty Level: B
---
Yokoo to Mt. Chogatake Course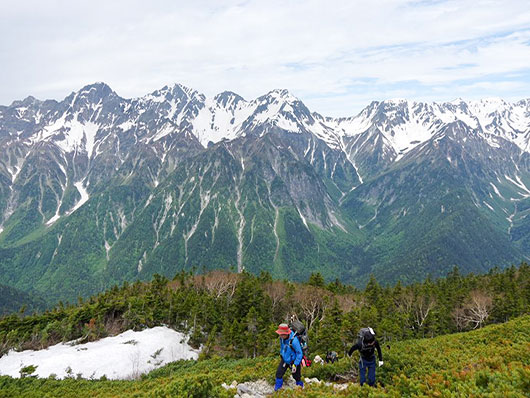 The next course has the same destination as the previous one but instead of Tokusawa, you depart from Yokoo (refer to the first course). The final part of this course will take you over a ridgeline, which means a great view, but also a lot of wind, so please be careful!

Difficulty Level: B
---
Climbing Mt. Jonen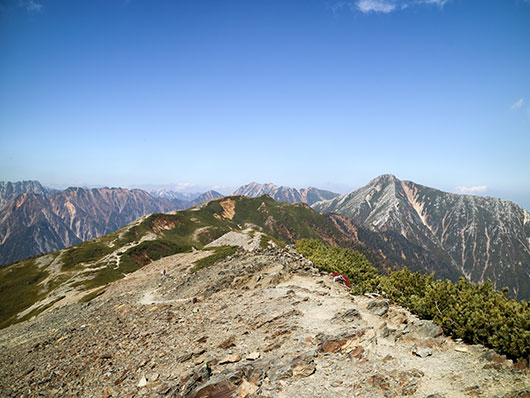 The next course is actually a continuation for of the Chogatake hike for those with enough time and energy to tackle two peaks. It takes you further and gets you to Mt. Jonen via ridgeline walking while also boasting great views of Mt. Yari, the Hotaka range and other iconic peaks.
Notes:
– On reaching Jonen, you can either go back the way you came or descend to the Ichinosawa trailhead in Azumino City where you can take a cab to Hotaka Station and then return to Matsumoto via train.
– As with the Chogatake hike described above, please ensure that you have enough water to last you from Tokusawa to the first mountain hut up top.
– This hike is part of the longer Omote Ginza course (see above), which is rated Difficulty Level C when done in its entirety.

Difficulty Level: C from Kamikochi (B when done as a return hike from Ichinosawa in Azumino City).
---
Climbing Mt. Oku-Hotakadake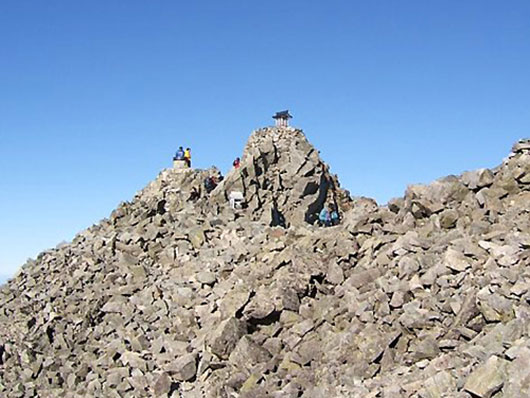 Here is where the harder climbs start. It is not advisable to do this as your first climb, unless you have a good mountain guide with you. This hike will take you to the top of Japan's third highest mountain Oku-Hotakadake and takes at least seven hours one way, so it should not be attempted as a day hike.
Notes:
– As with all Kamikochi hikes, there are numerous ways to approach Okuhotaka, including a straight climb up from the Karasawa Col, a traverse of the ridgeline between Mt. Kita-Hotakadake and Mt. Karasawadake, continuing on to Mt. Oku-Hotakadake, a circular route from Dakesawa to Mt. Mae-Hotakadake and down through the Karasawa Col, and lastly as the end of a hike from Mt. Yari or a week-long hike from Mt. Tateyama to Kamikochi (this includes crossing the dangerous Dai-Kiretto).
– You should count on two days of lodging for a Kamikochi-based Oku-Hotakadake hike.

Difficulty Level: C (from Kamikochi)
---
Climbing Mt. Mae-Hotakadake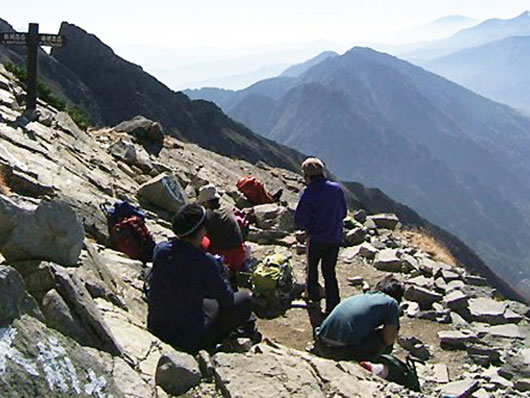 This next climb is for Mt. Mae-Hotakadake, another mountain in the Hotaka mountain range. It can be attempted as a round trip via Dakesawa, but please be aware that many of the Mae-Hotakadake hikes include some very dangerous and exposed areas. Plan your route with care and be aware that a heavy pack is a hazardous liability in some of these areas.

Difficulty Level: variable depending on course, but between C and D
---
Climbing Mt. Yari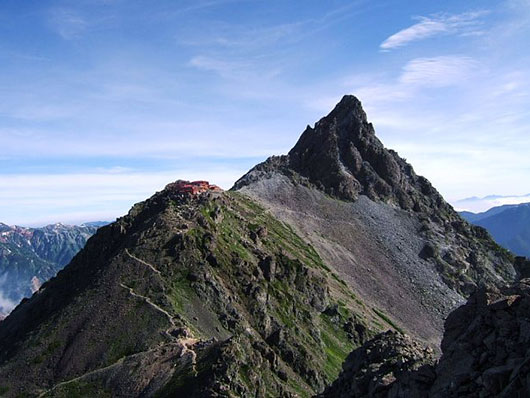 Mt. Yari can be done either as part of a longer hike from the Tateyama range or as a long overnight hike from Yokoo. You also have the option of either doing a round trip between Yokoo and Mt. Yari over two days or following a loop course from Yokoo to Mt. Yari, then across the Dai-Kiretto and back down to Kamikochi via Karasawa. Please be aware that any version of this hike is tiring and including the Dai-Kiretto in your plans will involve crossing a very dangerous stretch of ridge.

Difficulty Level: C (or E if the Dai-Kiretto Ridge is crossed)
---
Climbing Mt. Yakedake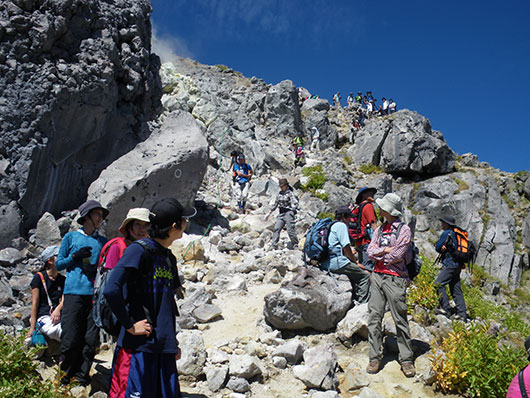 The hike to Kamikochi's only volcanic summit can be done as a daytrip and may be approached either from the Nakanoyu trailhead or from Kamikochi. It is not considered difficult, but you can expect some ladders if approaching from Kamikochi. Good for physically fit beginners or for those who can't spare the time for an overnight stay.

Difficulty Level: B
Safety Guidelines
MOUNTAIN DIFFICULTY RANKINGS EXPLAINED
Overview
This portion of the article has been compiled to clarify the different levels of challenge posed by mountain hikes in and around Kamikochi. We have drawn on official sources to assign each hike a simple numerical value so that beginners may narrow down their options and veterans can fine-tune their gear loadouts.
The author wishes to acknowledge a substantial debt to Mr. Sjaak Mintjens who contributed a piece on trekking in Kamikochi during his time at the site. Mr. Mintjens piece served as a primary source for this article and some passages from it have been preserved here. We have decided to discard the three-star system he used in favor of the official system described below.
A Word on Rankings
There are currently many systems used throughout the world to rank the difficulty of hiking and mountain walking. Typically, they feature a scale of five or so levels of difficulty ranging from easiest to hardest and often use color schemes.
The Ranking used here is that of the Nagano Prefecture Comprehensive Mountaineering Center (長野県総合山岳センター), which offers five levels of hiking difficulty based on the experience and fitness level of prospective hikers:
A) Beginner – The course has well maintained trails. Even if you slip, serious falls are unlikely. Anyone with a degree of trekking experience should have no trouble with this.
B) Beginner – The terrain might include marshes, cliffs, and (depending on conditions) might require glacier walking. Steep ascents and descents are a possibility and falls might result in serious injury. Experience with Level A is needed.
C) Intermediate – Trails are fitted with ladders and chains to assist progress and in places, snowy patches and even rivers may need to be crossed. Experience with Level B hiking is desirable and the upper body strength needed to use ladders and chains is a must.
D) Expert – The course includes steep rocky areas and difficult to traverse terrain as well as ladders and chains. Snowy patches and rivers may need to be crossed. You must use your hands to ascend and descend in difficult areas making upper body strength crucial to safe climbing. Many areas pose a high risk for serious falls. Experience with Level C hiking is desirable and hikers must have the balance and technique needed to scramble up rocky slopes and traverse glaciers.
E) Expert – The course requires constant alertness and care to traverse due to many steep, rocky areas. Exposed trails make fatal accidents a constant danger. Experience with Level D hiking is necessary. In addition to the balance and technique needed for scrambling and glacier walking, hikers must exercise a high level of judgement based on experience. Some may wish to use ropes to ensure safety.
Here, for the sake of reference, are several Kamikochi-area peaks ranked in terms of this system:
| Name | Fitness Level | Difficulty | Highest Point | Distance | Estimated Time |
| --- | --- | --- | --- | --- | --- |
| Mt. Yakedake | 2 | B | 2,444 m | 6.4 km | 5.5 hrs |
| Mt. Chogatake | 5, 6 | C | 2,857 m | Various | Various |
| Mt. Nishi-Hotaka | 5 | D | 2,909 m | 13.2 km | 12.2 hrs |
| Mt. Kita-Hotakadake | 7 | D | 3,106 m | 34.7 km | 16 hrs |
| Mt. Yari | 8 | C | 3,180 m | 39.1 km | 20 hrs |
| Dai-Kiretto | 9 | E | 3,106 m | 25.2 km | 25.2 hrs |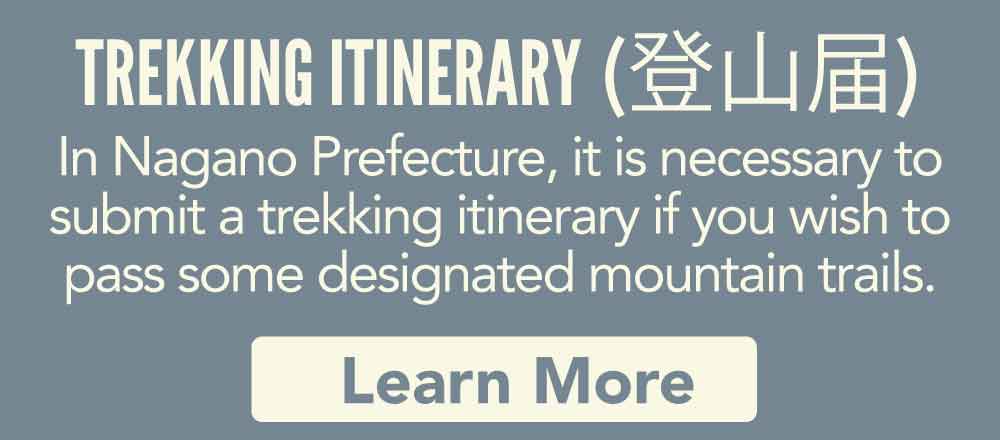 Expert Opinion
MOUNTAIN SAFETY INFORMATION
By: Michael Barbic
Before you head out to climb Mt. Yari – the Japanese Matterhorn, the picture-perfect peaks of Mt. Hotakadake, or Mt. Yakedake – the mysterious volcano that fumes in the background, ask yourself one question. "Am I fully prepared for all the things I'm planning to do?" I'm sure many of you can honestly answer yes without hesitation, but I'm sure there are some of you who can't say the same.
"So, what do I need?" you may ask. Well, depending on what you plan to be doing, answers vary. Of course, you need gear, but more importantly, you need knowledge. And, when trekking into the mountains, you are required to fill out a trekking itinerary, which can be filled out online or downloaded as a PDF and printed out on the Go!Nagano website.
Proper Knowledge is the Key to Safety
If you take the time to look at hiking- and mountaineering-related accidents, you'll find that most are caused by a lack of proper knowledge of the area and judgement of conditions. Some accidents are unpreventable, but the vast majority can be easily prevented by going into the mountains prepared. Sound like some boring class from high school? Well, sometimes there is a need to study and do a little research. It's not rocket science. There are really just a few simple things to think about and remember.
Know Yourself
How fit are you? What can you reasonably do in a day and what is pushing the limits? Do you have any illnesses that would affect you during extreme exercise or in extreme conditions? You should already know the answers to these questions.
Know the Place You Are Going
I'm not saying you should be able to give guided tours of the place, just take some time to read some pamphlets, books, and maps of the area. Our website offers a lot of information to help in your journey. Also, plan your route. If you were hiking some peaks up at 3000 m and suddenly the clouds dropped down reducing visibility to less than 10 meters, would you be able to make it to a mountain hut or campground? Carry a compass and a decent map and get familiar with their use. It's really not that difficult.
Don't forget to be aware of the possible dangers a place poses. Often, but not always, these are brought about by weather and seasonal changes. With bad luck, falling rocks, avalanches, and landslides can destroy even a trained party, so caution is necessary.
One thing that you should be aware of about Kamikōchi is that the tree line continues up to about 2500 meters. While from the basin everything looks green, going above the tree line will take you into a craggy world of rocks and cliffs. Another is that climbing up on the craggy peaks and traverses can be extremely dangerous depending on conditions. Two courses of note are the paths between Mt. Oku-Hotakadake and Mt. Yari (also known as the Dai-Kiretto) and the ridgeline between Mt. Oku-Hotakadake and Mt. Nishi-Hotakadake. These paths can be dangerous even in good weather and should be treaded carefully. In times of wind, rain, and snow, be extra careful. Every year, there are quite a few people who lose their lives by falling from these courses and others.
Check the Weather
Don't forget to check the weather forecast before you leave. And remember not to underestimate weather in the mountains. The altitude difference brings with it a drop in temperature, but aside from that, mountain weather is extremely variable and often times different from the closest city weather report. Weather in Matsumoto, Takayama, and Kamikōchi is a world apart.
Checking before you get to Kamikōchi is a good idea, but after you arrive in Kamikōchi and before you go off climbing, be sure to check again. Note that weather reports are not definitive. Especially high in the mountains, the weather is anything but predictable. Often times, the weather reports are incorrect, so be sure to factor this into your plans.
In addition, foreign tourists not used to the weather in central Japan often find themselves in trouble in Kamikōchi. Why? Well, here it is much wetter than other countries. The rain can be intense and continue for days, more so in Kamikōchi than in the surrounding cities. Getting wet and hit by the wind, especially higher up, it is quite easy to find yourself on the verge of hypothermia.
Time…
Time in the mountains is really important. As a general rule, start early, finish early. With an early morning start, you can generally make it to your destination by noon or early afternoon giving you time to relax, set up your tent, cook dinner, take pictures, or go for a little scenic hike. In the mountains, and especially the Japan Alps, weather changes quickly. Often times, the weather changes dramatically in the afternoon with lightning and clouds pulling in. You don't want to be struggling to your destination in this kind of weather.
It is not only this, though. It is Japanese custom to arrive early at mountain huts, go to sleep early, wake up early, and leave early. Japanese people know this and usually respect this 'rule', but often times foreign visitors do not. While it may not be written in English (or written at all for that matter), showing up after dark, or even after the lights have already gone out, is considered extremely rude to the Japanese. Yes, I understand how this can be annoying at times (and that the times seem way too early), but that's the way things run in the Japanese mountaineering world – and Kamikōchi is no different. As a visitor, you should try to accustom yourself.
A Little in the Way of Aid and Prevention
There is one simple thing you can do to help yourself before you find yourself in trouble. That is filling out a mountain climbing card and putting it in the box at the start of the trailhead. Should you not turn up where and when you are supposed to, rangers and other rescue staff will know where to look for you should the need arise.
A Person's Gear Tells Their Personality
When you are preparing for a trip, what is the first thing you think of? For most people, it's gear. Take a look around at your fellow hikers and check out their gear. Gear can tell you a lot about a person. Is the person tidy or a bit sloppy? Does he actually use his gear or is it just there to look cool? Is he over-prepared, under-prepared, or have just the right stuff? These things aren't definitive, but gear doesn't lie. A person's gear tells their personality. At least I believe so…
Although Japan is an extremely unique country, amongst themselves, Japanese people are often quite similar. Rather than trying to stand out, they prefer to fit in. Not necessarily good or bad, it's just that most people and things in Japan seem to follow this trend. Being the safest country I have ever been to (sometimes too safe if there is such a thing), Japanese people as a whole seem to like preparing and can really relate with the old saying, "Better safe than sorry."
While often over-prepared, Japanese hikers usually turn up with all the right gear they need, just over-outfitted and overburdened. Foreign hikers, on the other hand, really do come in all types, ranging from those as safety-conscious as the Japanese to others who think everything will be all right. Honestly, I can say that I'm somewhere in the middle to latter end, though I'm making efforts to be a little more safe in my adventures. Anyway, it's this latter type of person that can often be seen running into trouble when things don't quite go as planned.
So, What Kind of Gear Do We Actually Need?
Aside from your clothing, here's a simple list of necessary gear for your trip. Note that this list is not complete, rather it's a good start.
♦ Clothes
Avoid cotton clothes, especially jeans. When cotton gets wet, it takes forever to dry and will steal your body's warmth in a hurry, leaving you with a cold or worse.
♦ Socks
Well-padded hiking socks will protect your feet from blisters and rubbing.
♦ Boots
Wear strong-soled boots with good ankle support.
♦ Crampons/Gaiters
Keep your feet dry in winter, spring, and early summer.
♦ Fleece
You will be thankful for bringing a warm fleece when weather gets windy and rainy and for those cool nights.
♦ Raingear
Tear resistant Gore-Tex is really worth the investment. Cheap rain gear will work in a pinch (or for a day or two if you're lucky) but will inevitably fail or not keep you totally dry, especially during downpours and on windy days. One of the most often encountered problems in Kamikōchi is that people think cheap ponchos will keep them dry or dry enough. Too often, these people get done in by the blowing rain and by sweat unable to escape their rainwear and find themselves freezing.
♦ Backpack
It's going to be on your back all day. Get a comfortable one that fits.
♦ Knife
Indispensable.
Caution! About the Swords and Firearms Control Law in Japan
In Japan, it is forbidden to possess any knife with a blade longer than 15 centimeters or about 5.9 inches in law. It is also legally regulated to have any knife which blade is more than 5.5 centimeters or about 2.1 inches. Please be aware of the legal difference that you bring your belongings to different country with you.
♦ Matches/Lighter
Should you need to call for help or find yourself stuck in the mountains and freezing, these could save your life.
♦ Whistle
Ever try to shout louder than the pouring rain or a roaring waterfall? In conditions like that, you're likely to not even hear yourself. A whistle is another one of those lifesavers.
♦ First-aid Kit
This one can also save your life. Even if it's not an emergency, this little guy can make your trip a whole lot better. Just think of painful blisters on your feet.
♦ Needle & Thread
Ever had your backpack fall apart or items of clothing rip and continue to rip? Well, it happens. Trust me, you don't want to be there.
♦ Ziploc Bags
Keep the small things you don't want to get wet in a few Ziploc bags. You will thank yourself after you get caught in a torrential downpour or trip and fall in a puddle or stream.
♦ Food & Water
Be sure to have foods high in calories to keep you powered and, for summer, foods high in salt and sugar. Also, be sure to drink plenty of water. A lack of water will help you on the road to heat stroke and other bad things.
There are several sports stores in Matsumoto City that sell mountain-related gear. Two of the easiest to get to are ICI Sports in downtown Matsumoto and, a bit further from the city center, Kamoshika Sports.
Putting It All Together
The easiest and most important thing to take along with you to the mountains is a good and healthy attitude. You should understand and respect the places you go to as well as the life there. Also, think about what you are doing, where and why you are doing it, and who you are doing it with. In Kamikōchi, take the time to learn and respect the rules and manners. Timeliness is of prime importance. In addition, don't forget that Kamikōchi is located in a national park, so you should respect the plants, wildlife, and other aspects of nature. While simple, this mindset is invaluable. If you remember this and collect the knowledge and gear you need, then you are on your way to making your trip a safe one.
I hope armed with this information, you can come to Kamikōchi prepared and have a great time, no matter what the situation.