Again I saw, again I heard,
The rolling river, the morning bird; —
Beauty through my senses stole;
I yielded myself to the perfect whole.
–Ralph Waldo Emerson, "Each and All"
With Kamikochi's paths and groves now bedecked in gold and red, one is reminded of scraps of poetry and aphorisms attesting to the fact that people the world over have admired the colors and clear skies of autumn from time immemorial.  Here in Japan, people will sometimes cite an old saying said to have originated in the north of China: 空高く 馬肥える秋, or "Autumn, when the sky soars high above and horses grow fat."  And while we don't have any horses here in Kamikochi, we can boast of a spectacular autumn sky.  Now freed of the summer haze, it completes the perfect picture of autumn with a canopy of deepest azure (well, on clear days anyway).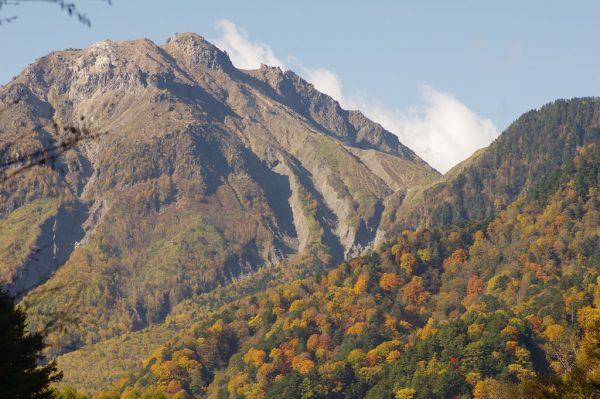 Here we see the that redoubtable old sentry Mount Yakedake with its austere crags in pleasing contrast to the reds, yellows, and browns in the foreground.  This is an example of the sublime compositions which present themselves on a clear day.  Now that autumn color has arrived in Kamikochi proper, the impression is one of heaven and earth in perfect harmony.  The rich tones in the woods below meld with the foliage on the hillsides in a gradient of newer and older leaves, while the mountaintops (soon to be crowned in snow) look suitably majestic on the horizon with sunlight emphasizing different contours over the course of the day.  Add to this the rich blue sky of autumn and you may be fortunate enough to have a perfect autumn panorama laid out before you for as long as the day lasts.  And it doesn't end there.  Autumn nights, with their vast starscapes, are second only to winter nights in grandeur.  That's if you decided to stay the night and have enough energy to stay up a bit longer…
Thanks as always to our friends at the NPG website for providing images and inspiration this autumn.
Anyone interested in the autumn experience at Kamikochi is urged to check the weather forecasts and dress warmly.  Preparation is key to getting the most out of your visit, so bundle up and plan ahead for maximum enjoyment!
Source of Information:
National Park Guide website: http://npg-alps.net