(PLEASE NOTE: Central Kamikochi is still weeks from peak foliage. Karasawa, which is currently displaying peak foliage is a hike of several hours from the main area at higher altitude. It is not recommended that the Karasawa hike be attempted as a day trip.)
Now that we're rounding the corner into October, more and more signs of color are visible around central Kamikochi as, higher up the trail, the Karasawa Col starts to display peak foliage. Currently, crowds are flocking to the mountain hut nerve center of Karasawa Hyutte and Karasawa Goya, intent on enjoying one of the most distilled "koyo" experiences in the area.
Since most of our readers are planning visits to the lower altitude, central area of the park, let's start with conditions in Kamikochi proper. Thanks as always to the good folks at the National Park Guide Kamikochi blog for posting these pics!
Conditions in central Kamikochi (as of 2018/09/26):
Our source on the ground is now reporting an increase in autumn color along the main circuit of Taisho Pond >> Kappa Bridge >> Myojin pond. As you follow the scenic Azusa River, you'll notice patches of mostly yellow foliage as seen here:
Wheres here we see a Vaccinium hirtum which has turned a deep shad of red: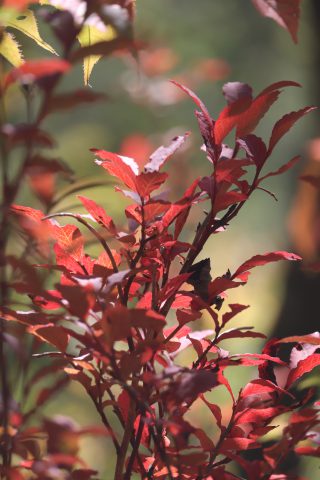 And here the Amur barberry (which you may remember from last week) is showing even brighter red tones than before: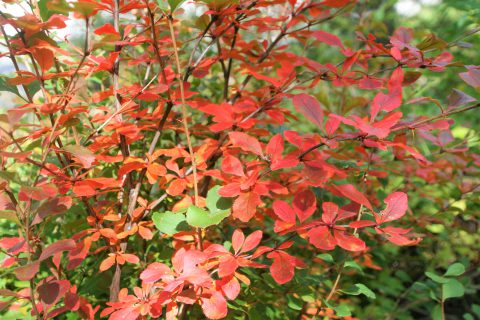 This next picture was snapped by an NPG blogger who hiked about two hours from the Myojin area up the mountain trails of the Tokugo Pass. As you make progress up the trails toward higher ground, you'll notice an increase in colorful foliage, as with this Japanese Rowan: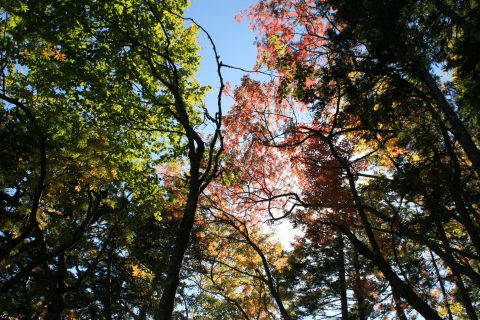 While we're seeing more color around Kamikochi than last week, however, it's important to understand that the central area is still far from showing peak autumn foliage. For example, the Karamatsu (or "Japanese larch") typically displays its brightest yellows in the final third of October, so you can now only make out a hint of color around the tree tops: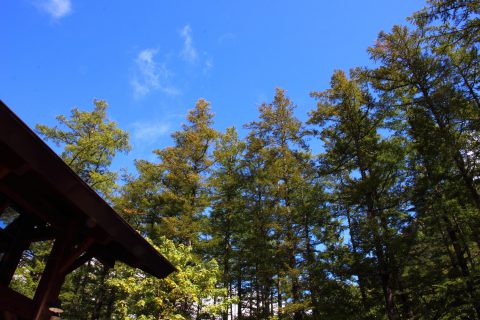 Conditions in the Karasawa area (as of 2018/09/26): 
Once again, we've looked to other Japanese language online sources for info on the Karasawa Col. The Karasawa Htyutte homepage reports that the area has hit peak foliage.  Current photos are on display here: https://www.karasawa-hyutte.com/%E7%B4%85%E8%91%89%E7%8A%B6%E6%B3%81-2018/
The site also offers the caveat that it's currently very crowded in the Karasawa Col. If you consult the following link, you can see which days of late September and early October are expected to be rammed with visitors: https://www.karasawa-hyutte.com/%E6%B7%B7%E9%9B%91%E4%BA%88%E6%83%B3-2018/
Calendar days shaded in pink are expected to be crowded, days shaded in red are expected to very very crowded, and days shaded in black (none yet!) are so crowded that they're all booked up.
Caution:
Conditions at higher altitudes are already getting quite cold as we drift toward mid-autumn. for people who lack appropriate gear or allow themselves to get soaked while hiking, hypothermia and other conditions related to exposure pose a real threat. Remember to dress warmly and account for cold autumn/early winter conditions.  As always, be sure to pack rain gear.
That's all for now. Please join us for more updates on the autumn season next week.
Sources of Information:
National Park Guide Kamikochi blog: https://npg-alps.net/blog/today/21529/
The Karasawa Hyutte homepage: https://www.karasawa-hyutte.com/%E7%B4%85%E8%91%89%E7%8A%B6%E6%B3%81-2018/
…