To our great relief, Typhoon number 24 has passed through Nagano leaving swollen rivers but little in the way of real damage. Not to be outdone, Number 25 looks set to hit southern Japan next weekend, but probably won't trouble central Japan too much.
In the wake of the typhoon activity, the Azusa River is looking broader and deeper and regaining its distinctive crystal blue color. The brownish tint that the water sometimes takes on after storms is a sign of sediment being drawn to the surface.
And seemingly in sympathy with the famous river, the skies above Kamikochi have turned to deepest azure as a fresh waft of autumn fills the air.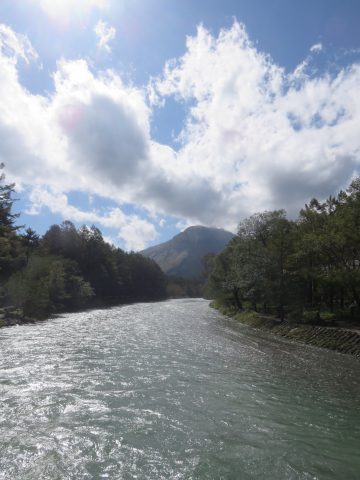 As far as the autumn colors go, we're still looking at the familiar mid-to-late October time frame for Kamikochi proper. Up towards the peaks, however, some of the area's boldest colors are fully on display: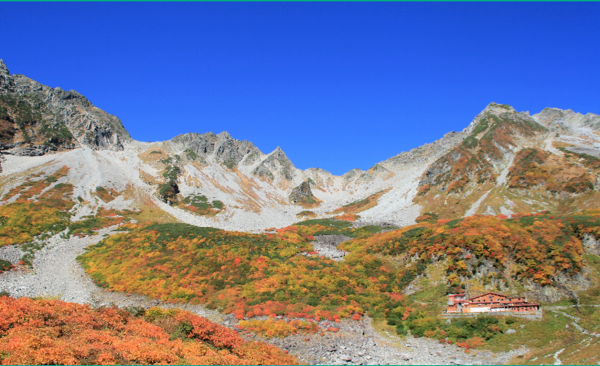 The above picture shows the view of the Karasawa ridge line as seen from the direction of the Karasawa Hyutte. Below and to the left of the ridge, is the Karasawa Goya, another popular place to stay. As you can see, the hillside is sporting a nice pallet of autumn color and we can expect something similar for the rest of the week. After that, colors will have faded and the peak viewing spots moved further down the mountain.
The ridge linking the Kitahotaka and Okuhotaka peaks is one which may be traversed by fit and adventurous hikers with moderate mountain walking experience. In fact, you can read about one such excursion in a post by our friend Tammy Akahane (then Crichton) from 2012: https://www.kamikochi.org/nature/three-days-in-the-hotaka-range
As you might expect, the trails leading up to these destinations are increasingly bedecked in autumn colors as seen here: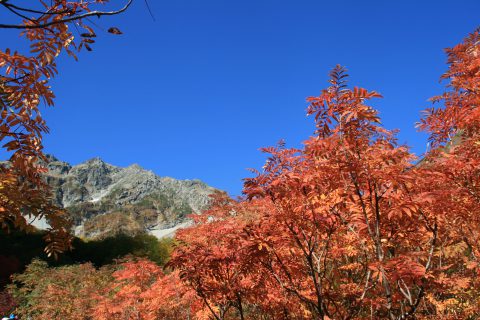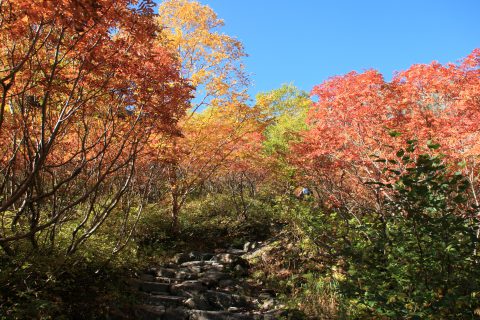 And while we're on that topic, I myself posted a long article on an autumn hike up to the Yake peaks back in 2013. And here it is: https://www.kamikochi.org/nature/mount-yake-ablaze-with-color
As the bloggers at National Park Guide helpfully remind us, October has brought chiller temperatures to the park, with early morning lows dropping to around the 5 degrees Celsius mark.  The mercury might still climb to around sixteen degrees, but we urge you not to get caught unprepared. Dress warmly and wear appropriate footwear to get the most out of Kamikochi's trails!
Sources of Information:
National Park Guide Kamikochi blog: https://npg-alps.net/blog/today/21577/
…