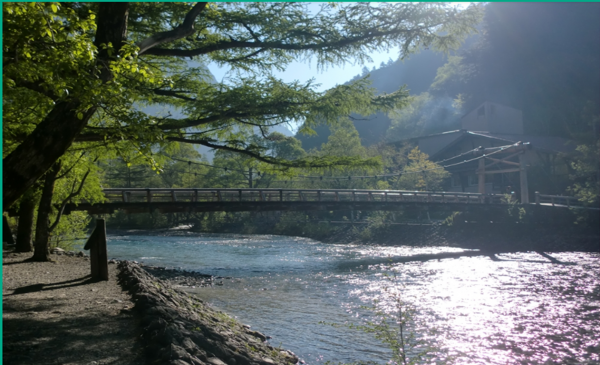 Hello to all of our readers around the world. As I write, Kamikochi's official opening on the 27th is a mere 22 days away and the early opening on the 17th is even closer.
Once again, we've pillaged a recent post from the Nature Guide: Five Sense (formerly, NPG) for useful info and images. This time around, we'll be introducing some of the basics regarding the best-loved, most-trodden walking routes in the central area of the park. We suggest you get comfortable as this is shaping up to be a long one.
Again following Five Sense's example, we'll be listing these courses in terms of how much you can cover within limited time frames. Here's the breakdown:
1.For day trips and overnight trips
2.For travelers with more time to spare
3.Shorter options
Let's start by looking at the route map. The standard area covered by casual visitors to Kamikochi stretches from The Taisho Pond near where you emerge from the Kama Tunnel and the Yokoo Bridge area which serves as the embarkation point for mountain walking courses.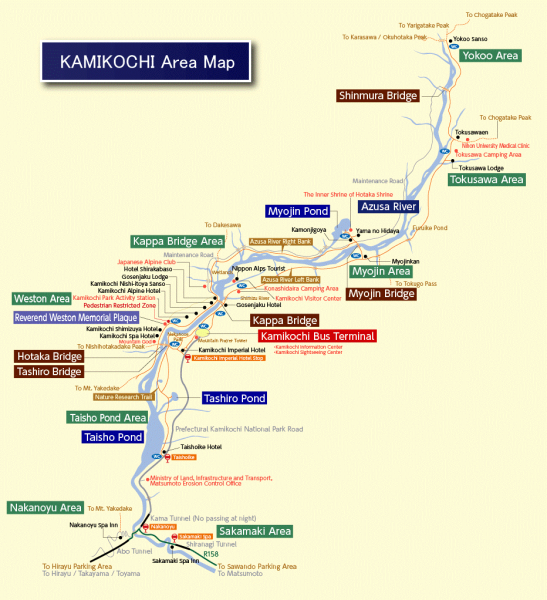 (see the full-sized map here: https://www.kamikochi.org/plan/trekking )
Disclaimer: The guidelines provided in this post apply to the average visitor. Hardcore trekkers can obviously cover more ground in less time. Also, please be aware that the pictures were taken at various times in the year and do not reflect current conditions.
1. For day trips and overnight trips
If you have the luxury of time afforded by one whole day in the park or a more leisurely two days, you can tackle some of the standard Kamikochi hikes, beginning with a round trip from Kappa Bridge to Taisho Pond:
Route A: Kappa Bridge —> Taisho Pond: suitable for beginners, two hours walking time.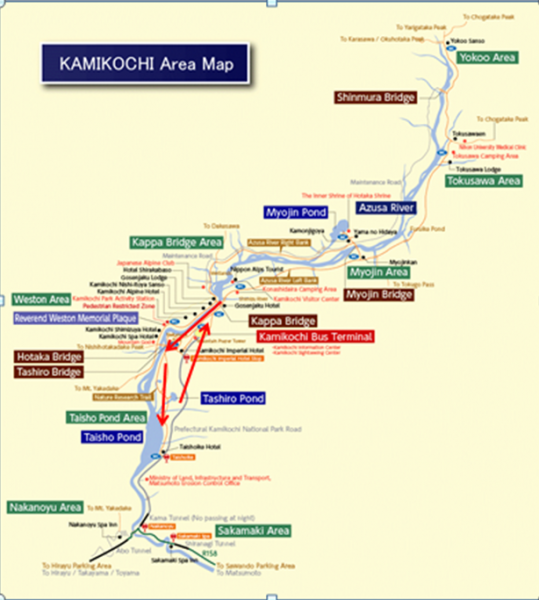 Kappa Bridge to Taisho Pond and back might be the course that best represents the park. You get to see a lot of iconic scenery such as the smoke-spewing Mount Yake and the Hotaka peaks refelected in the mirror like waters of Taisho Pond. As an added bonus, you can pass through the pleasant marshy area around Tashiro Pond on your way back.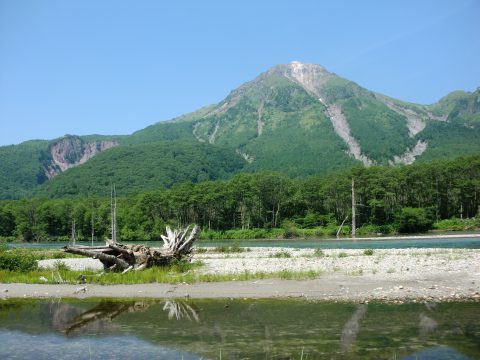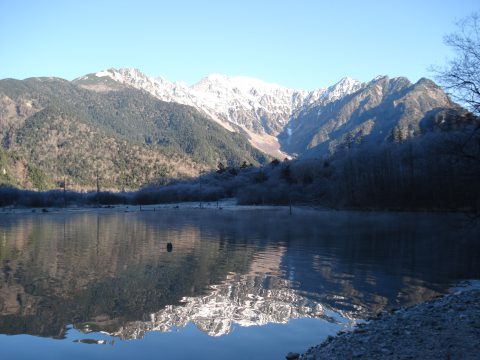 Expect to cover around 3.5 km and to spend around 2 hours on walking time. The terrain is not difficult, but the scenery is pleasingly varied. You can further take advantage of the relaxed time frame by stopping for lunch along the way.
Note: some people opt to get off the bus at Taisho Pond and proceed to Kappa Bridge on foot, thus making it a one way hike and shaving an hour off the walking time.
Another recommended course for this time frame is the round trip from Kappa Bridge to Myoujin.
Route B: Kappa Bridge —> Myoujin, suitable for beginners, 3 hours walking time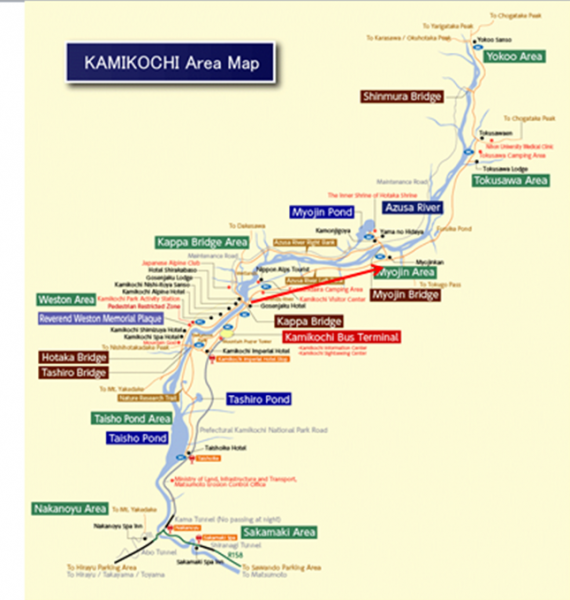 Hiking upriver from Kappa Bridge, you'll pass through an area that can't be accessed by bus or taxi. The most popular destination along this route is the Myoujin area with its famous pond, shrine and bridge. The level surfaces of the paths present no significant challenge to the able bodied, but with a total of 7 km covered round-trip, this course is longer than Kappa —> described above. A brisk walk takes about 2.5 hours, but you'll want to take your time to appreciate the scenery and admire some wildlife along the way.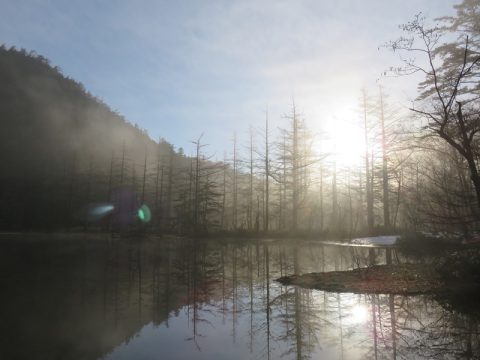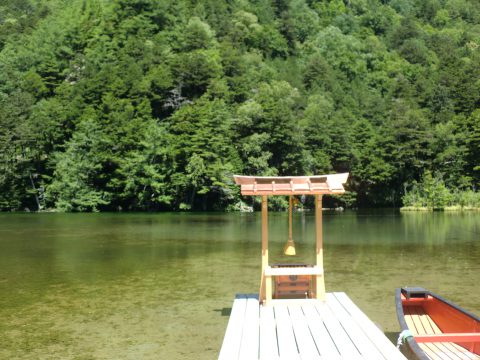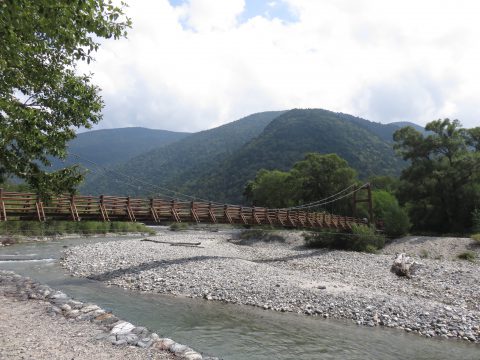 2.For travelers with more time to spare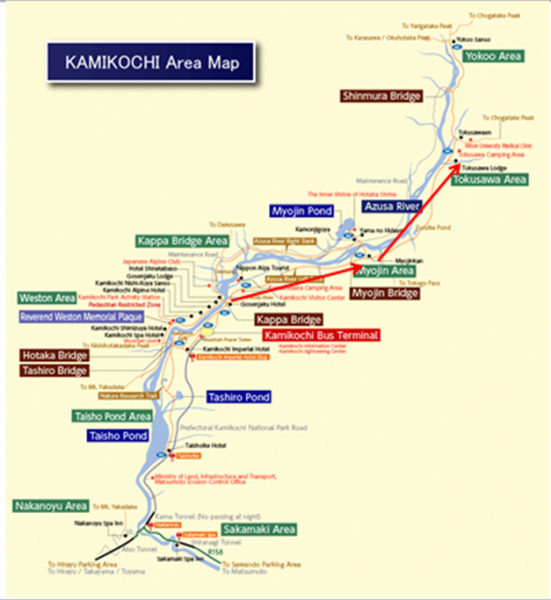 If you're looking to cover more ground and your schedule allows a longer hike, consider one of the following:
Route C, Kappa Bridge to Tokusawa, 5 hours walking time
Continue upriver for another hour from Myoujin to reach Tokusawa. This area used to serve as a pasture and is known for various seasonal highlights. In May, the area is bedecked in a mantle of soft white wildflowers, as seen here: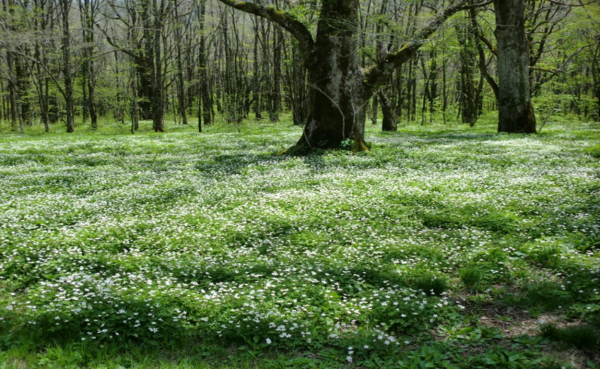 In autumn, the elms and birches display beautiful foliage, with orange and yellow leaves setting the scene for a pleasant autumn stroll. Expect to spend four to five hours getting from Kappa Bridge to Tokusawa and back. And if you fancy stopping for lunch at Tokusawa, there are several lodges serving up curries and other tasty victuals. The Tokusawa area also happens to be a nice place to set up camp or spend the night at one of the lodges.
Note: It is actually possible to start at Taisho Pond and hike all the way to Tokusawa (or even further) and still have time to circle back to the Bus Terminal in a single day. To do so, make sure you get an early start and are up for a long and tiring trek.
3. Shorter options
If you're really pressed for time, you won't want to wander too far from Kappa Bridge and the Bus Terminal. Fortunately, Tashiro Bridge and Tashiro Pond are both within easy reach (25 and 45 minutes on foot, respectively. Bear in mind that, by alighting at Taisho Pond and proceeding to Kappa Bridge on foot, you'll use a similar amount of time and get to more sights along the way.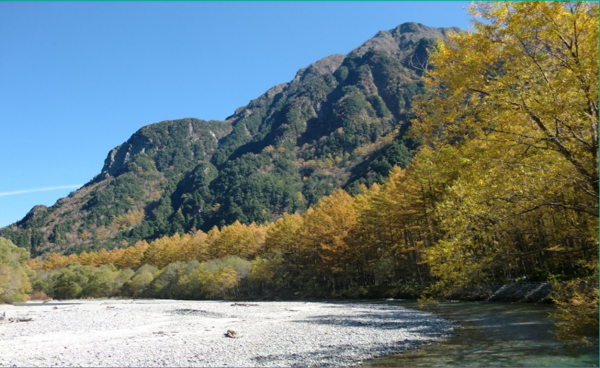 ・Here's a breakdown of walking time for shorter hikes:
Bus Terminal —> Kappa Bridge —> Tashiro Bridge —> Bus Terminal = 55min
Bus Terminal —> Kappa Bridge —> Tashiro Pond —> Bus Terminal = 75min
Taisho-ike Bus Stop —> Tashiro Pond —> Tashiro Bridge —> Kappa Bridge —>            Bus Terminal = 70min
Lastly, If you're really REALLY pressed for time, you might have to content yourself with a leisurely walk to Kappa Bridge and perhaps to the nearby Konashidaira Campgrounds, which clocks in at around 20 minutes of walking time.
Well, that concludes our guide to Kamikochi's top walking courses. As always, we'd like to extend our thanks to Sakura at Five Sense, without whose detailed, photo-packed blogs, we simply could not provide this kind of content. Great stuff!
Source of Information:
Nature Guide Five Sense Kamikochi blog: https://fivesense.guide/blog/column/16430/