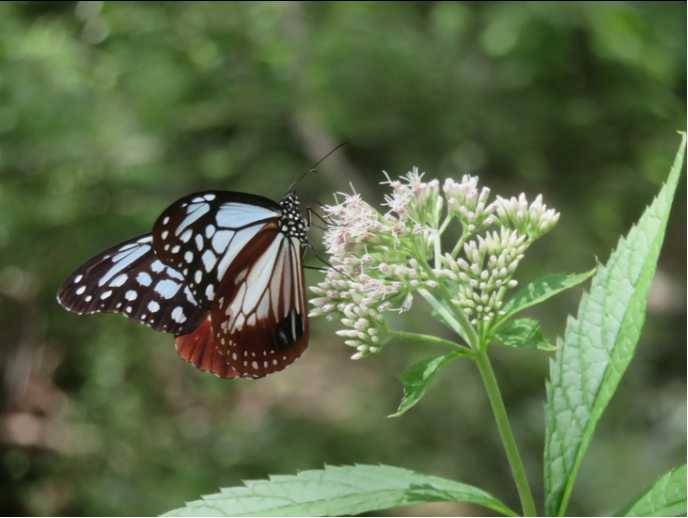 Hello to all of our loyal readers around the world!
As you may have gathered, it's been something of a busy time in Japan. At time of writing, the Olympics are still going at full steam with the eyes of the world focused the host city, Tokyo. On a more worrying note, COVID cases in major urban areas have surged to unprecedented levels. It's looks as though the nation will have a while longer to wait for a return to normalcy.
You wouldn't know it to look at Kamikochi though. With the rainy season now (officially) over and July coming to an end, the park has been a warm, but not stifling, refuge for those seeking an escape from hectic city life.
The photo at the top of the page is of a parantica sita, or "chestnut tiger" one of many species of butterfly you might see this summer. The folks at Five Sense tell us that they've been out in force.
As far as seasonal flora goes, keep an eye out for the distinctive acontium (AKA, monk's hood, wolf's-bane, leopard's bane, mouse bane, woman's bane(!?), the develi's helmet, and queen of poisons). And yes, if you didn't already know, the last of those names should tip you off that the plant is poisonous. Not that it matters; eating, picking, touching, or otherwise molesting plant life in Kamikochi is forbidden.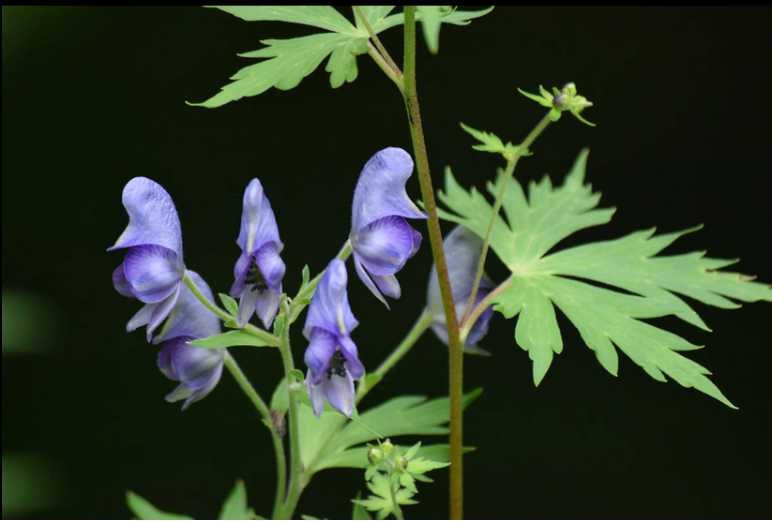 If you're lucky enough to be in the area and are planning a visit, our advice for a summer trip to Kamikochi is the same as in past years:
— Dress in a manner appropriate to you plans. If you are planning a simple stroll around Kappa Bridge, standard warm weather clothes and sensible footwear will do. Hiking requires a little more thought with appropriate boots and hiking garb being obvious assets.
— Be sure to apply sunscreen. Higher altitudes equal higher UV levels and that can lead to a nasty burn in deceptively little time. Remember to re-apply lotion over the course of a long hike.
— Hats are a good idea too. They shade your eyes from the sun and help prevent heatstroke. While you're at it, take a tip from the Japanese hikers, and pick up a hand towel to dab your brow as you walk. Moving around in even moderate summer hear works up a sweat.
Well, that's all for this week's update. Be sure to join us in August for more info an images from summer 2021. And thanks as always to the hard working bloggers at Five Sense!
Source of Information:
Nature Guide Five Sense, Kamikochi Blog: https://fivesense.guide/blog/today/31031/