Hello to all of our loyal readers. We're back with another update on the developing autumn foliage season, along with some recent images and reports.
As you may have read in past reports, autumn foliage is coming late to Kamikochi this year with the peak expected to take place around the end of October and first week of November. In central Kamikochi, you can already see traces of color on some trees but they have not yet started to form the grand tableau of color for which the park is famed.
Looking up toward the Hotaka peaks, however, you can already see large swathes of color at higher altitudes. The Karasawa Hyutte homepage posts regular updates and you can see images taken in the Karasawa Col as recently as October 1st here. Be sure to click on those photos to enlarge them for a better view. The comment above the most recent photo says, "unless the weather is disrupted by typhoon activity, we can look forward to a long foliage season [in the Karasawa Col]."
These next few pictures are of forked viburnum spotted along the path between Kappa Bridge and Myojin. Thanks to guide and blogger Nanamin for posting these in the Five Sense Kamikochi blog: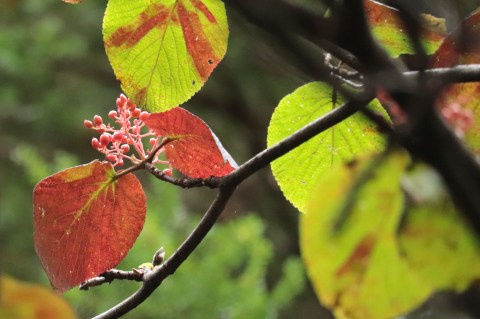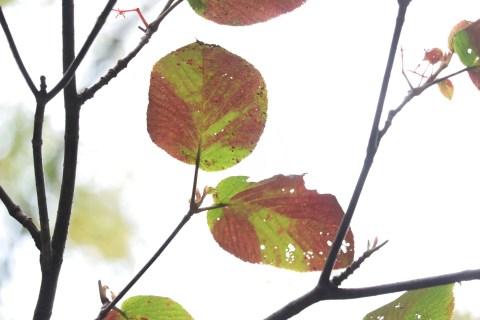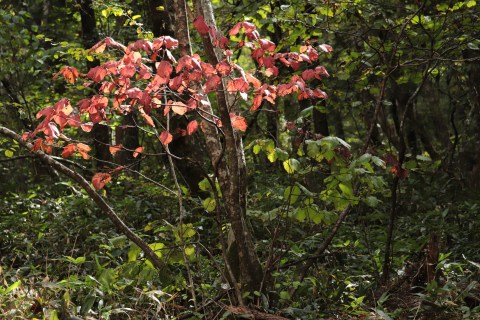 And leaves aren't the only things gradually changing color. Compare the male mallard the top photo with the one in the photo underneath it: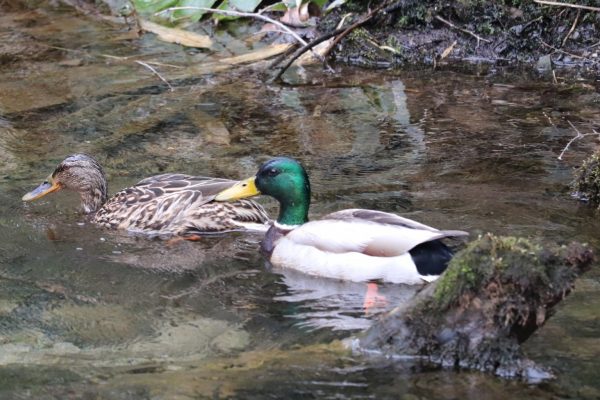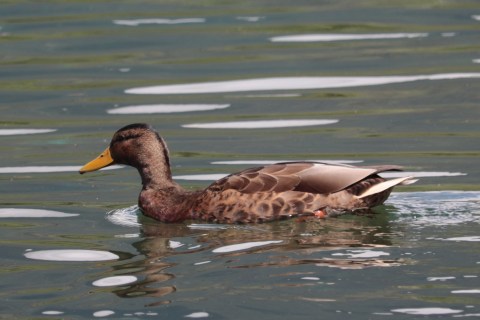 The male mallard in the first photo has a bright blue head and neck which clearly distinguish him from the more modestly pigmented female. However, the male shown in the second photo has reverted to a much more subdued coloring which makes him difficult to tell apart from his better half. And there's a good reason for this: the first photo was taken during mating season in spring when bold colors help draw the attention of potential mates. The second photo is a recent one taken long after the mating season. With bright coloring no longer serving a practical purpose, it can become a dangerous liability by potentially drawing the attention of predators. Females similarly spend a lot of their time in a vulnerable state when tending to their eggs and prefer to keep a low profile. thanks again to Nanamin for explaining all this in her blog.
We'll be back next week with further updates about conditions in the park. Until then, enjoy your weekend!
Sources of Information:
Nature Guide Five Sense Kamikochi blog: https://fivesense.guide/blog/
Karasawa Hyutte homepage: https://www.karasawa-hyutte.com/
…