Most people associate Matsumoto with its famous castle and alpine location. For many locals, however, the city's most exiting aspect is its association football club, Matsumoto Yamaga FC. The past decade has seen what was once a small, provincial club climb divisions to become regular contenders in the second tier of Japanese football, once (and now once more) venturing as far as the top tier.
This past Saturday, after the long and nervy battle that was the 2018 J2 season, Yamaga won the league for the very first time, securing promotion to J1 in the process. In truth, the result was uncertain until the very end, with all of the clubs vying for promotion struggling to achieve much needed wins. Yamaga were no exception and their opponents on the day, Tokushima Vortis, weren't keen to ship any goals. The stand out chances went to Yamaga center-forward Takasaki Hiroyuki who saw a shot beat the keeper only to go agonizingly wide of the far post and who would later fail to capitalize on a free header. More frustration followed when creative midfielder Serghino had to be stretchered off for a first half injury, leaving his side slightly shorter on attacking options.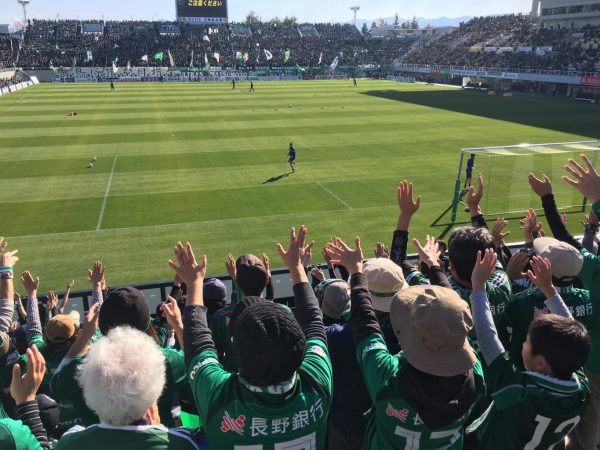 Yamaga's famous fans cheer their team on. (Photo: Tammy Akahane)
When the whistle finally sounded at full time plus four minutes, the scoreboard showed a prosaic 0-0 result. This score, however, did not tell the real story of the day. By then, everyone at Alwin Stadium knew that the second place club Oita Trinita had squandered an early lead to grind out a 1-1 draw with hosts Yamagata (no relation). This meant that Matsumoto's favorite sons only needed a draw or better to secure promotion and win the league. A few giddy moments followed as players and fans alike awaited the official announcement of what they all knew but only half believed: Yamaga were J2 champions for the first time ever.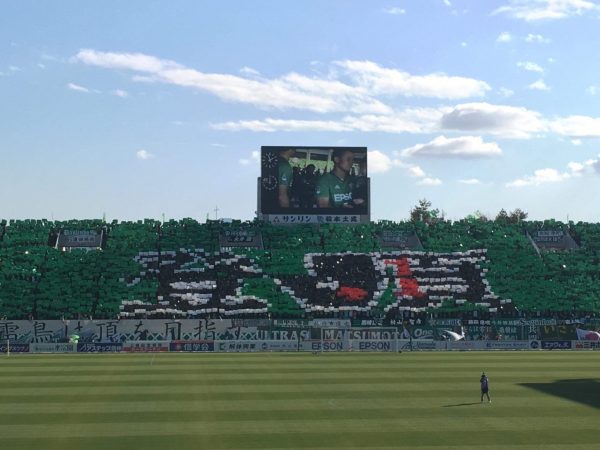 Cards in the stands spell out the supporters' hopes for promotion to J1. (Photo: Tammy Akahane)
I lieu of a dramatic, decisive goal in Saturday's game, we can look back a week to the previous Sunday when Yamaga travelled to Tochigi to face a dogged home team fighting relegation. With the score locked at 0-0 and 15 minutes to go, another dour draw seemed inevitable. Then, in a must-score situation, veteran defender Tanaka Hayuma pounced on a loose ball in the opposition penalty area and tapped home what would prove to be the winning goal. Overcome by emotion, Tanaka collapsed to his knees as jubilant teammates swarmed around him. Cometh the hour, cometh the man.
Narrative aside, the three points gained in Tochigi meant that Yamaga were only one point clear of Oita at the top of the table when simultaneous kick-offs started the final round of matches on Saturday. The home support never stopped cheering and the team never stopped fighting for the all important result that would see them through. And after 90 plus minutes of shredded nerves, the stadium was suddenly all smiles. All whooping, jumping and cackling, to be fair. Three years of hurt had been chalked off and even the club's normally laconic manager Sorimachi Yasuharu could be seen beaming among his celebrating players.  Again and again the stadium erupted, never more so than when the J2 Champions' shield was raised in victory.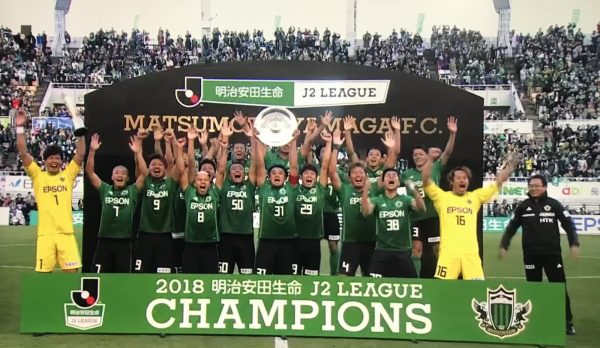 The players celebrate winning the J2 league (Photo: screen capture, copyright DAZN, 2018)
Next year will bring stiffer competition, both at home and away, as Yamaga face some of Japan's top homegrown players along with a few familiar faces from international football. Once again, Gamba Osaka's tour bus will turn heads as it rumbles down Matsumoto streets, and world champions like Lukas Podolski and Andrés Iniesta may very well visit Alwin to try their luck against eleven plucky Ptarmigans. It's all terribly exciting.
Now, with the afterglow as yet undimmed, we extend our congratulations and heartfelt thanks to Matsumoto Yamaga's players, staff, and supporters. You've given us a thrilling season of football in J2 and we eagerly await your achievements in J1 next year.
…