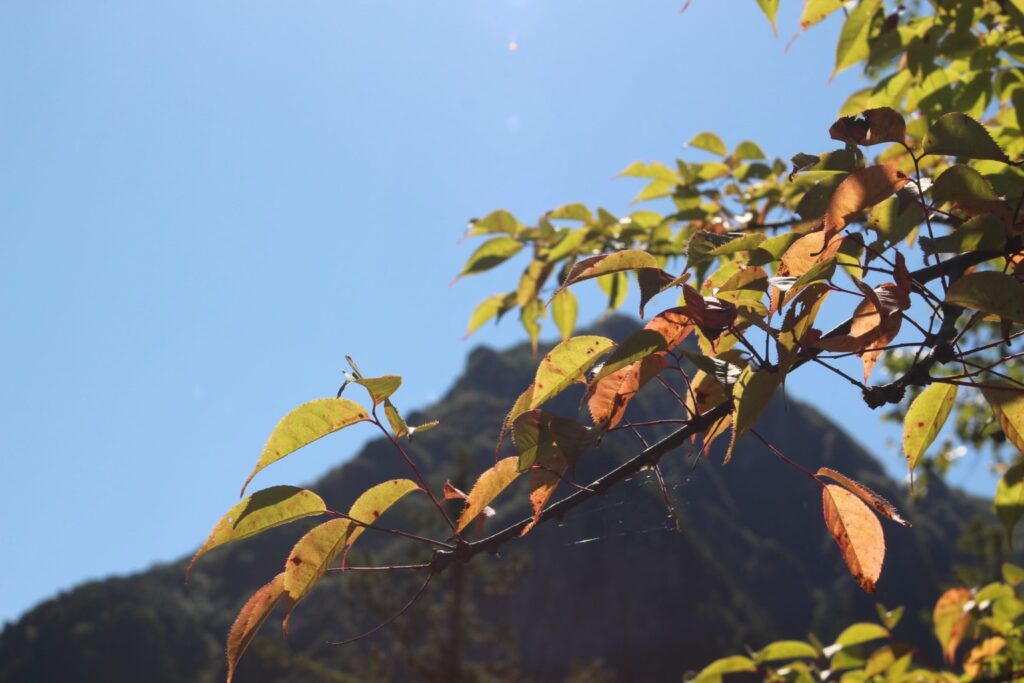 Hello to all of our readers around the world.
There's a cool breeze drifting through the room as I write this and it carries a definite whiff of autumn. We'll soon be in the midst of that bright, vivid, sometimes melancholy season that arrives at the end of Kamikochi's tourist season to place a golden crown on the past year. October is just over a day away and signs of the season are everywhere.
Starting today, we'll be posting two short updates every week on the unfolding autumn season. We realize that readers are currently unable to travel to Japan much less Kamikochi, but hope that occasional glimpses at conditions help fuel the desire for future visits. Incidentally, the Five Sense bloggers are now publishing regular updates, which we are duly pillaging for content.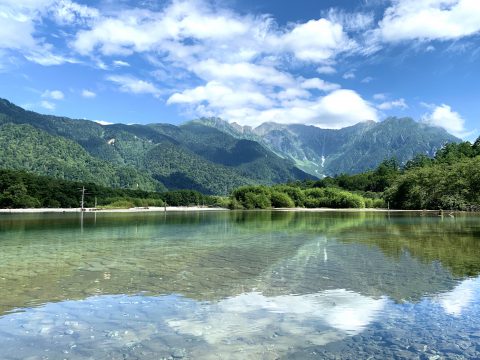 One of the best things about the autumn season is how cooler air results in clearer skies and better views of the mountains on the horizon.
Currently, morning lows hover around 8 degrees Celsius, with midday highs below the 20 degree mark. You'll be wanting to prepare a warm fleece that you can stash in you pack during warmer spells, along with gloves, a rain resistant shell and all the other essentials.
Below, we see a Prunus grayana, informally known as a Japanese bird cherry. It's leaves have already taken on a brownish umber hue in response to the rapidly cooling weather.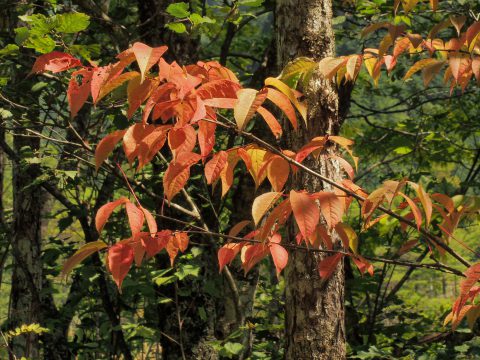 Most trees around central Kamikochi are not yet displaying bright colors associated with peak autumn. Higher up in the popular Karasawa Col, it's a different story. You can see up to date images on the Karasawa Hyutte homepage.
That's all for this week's update. We'll be back with more info and images later in the week. Thanks as always to Five Sense for posting the materials that serve as the basis for many of our blogs.
Sources of Information:
Nature Guide Five Sense, Kamikochi blog: https://fivesense.guide/blog/today/28654/
Karasawa Hyutte homepage: https://www.karasawa-hyutte.com/%E7%B4%85%E8%91%89%E7%8A%B6%E6%B3%81-2020/