A flycatcher stirs
Then pauses for a moment
A thought between thoughts.
–anon
…yeah, it's prettier in the original Japanese.
Ahem, today we offer warm greetings to all our readers on a very cool Friday afternoon. After an idyllic period of summer-like heat, the storm clouds have scudded in to spoil the party: the rainy season is here and it looks like it means business.
Here's what a quickly Googled weather forecast has to say: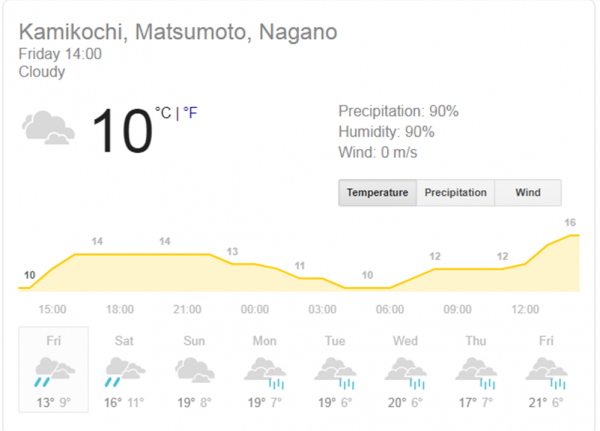 Not long ago, the daily highs were scraping the 20 degrees Celsius mark. Not anymore, though. Today's daytime highs were noticeably lower that what we were just getting used to. You can take all my remarks about t-shirts and shorts being acceptable attire and throw them in the bin, because as of now you'll be wanting at least a long sleeve shirt and a jacket.
With the rainy season now upon us, it's doubly important to check the weather forecasts before heading out for a visit. Your best option for staying dry is probably a "kappa": a full body rain suit with both pants and jacket portion. Even if you don't opt for sturdy rain attire, it's always advisable to avoid cotton which gets heavy and lowers body heat when wet. Some visitors make do with umbrellas, but these are vulnerable to strong winds. I recently noticed budget-priced rain suits at Don Quixote outlets and while such items might appeal to thrifty travelers, they probably won't be as sturdy or comfortable as their upmarket equivalents at shops specializing in outdoor goods.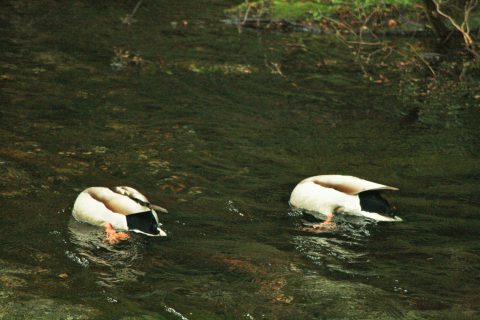 As I've said before, it is absolutely possible to enjoy Kamikochi during the rainy season. To begin with some days aren't rainy at all. At other times, mists swirling around Taisho Pond can create an otherwordly ambiance unknown on clear days (see this old post on the subject: https://www.kamikochi.org/advisory/mysterious-kamikochi ). That said, it's always better to avoid heavy rainfall which can make paths harder to traverse and create safety issues for ill-prepared hikers.
If you're looking for a silver lining to all these storm clouds, it is now possible to see two species of blossoming flowers similar to cherry blossoms in certain areas of the park: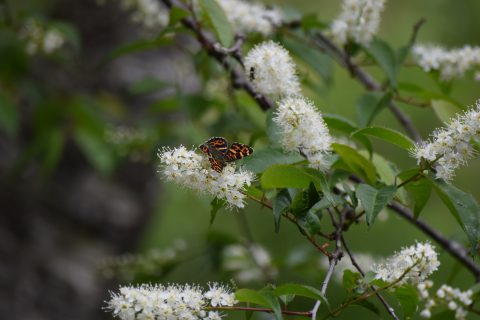 Uwamizuzakura, with its distinctive brush-like petals can also be seen around the park.
Thanks as always to the bloggers at Five Sense, especially Momo and Ume who posted the entries containing info and images used in today's blog.
And to all our readers, we wish you luck in braving the elements this month. Stay safe! Stay dry!
Sources of Information:
Nature Guide: Five Sense, Kamikochi blog: https://fivesense.guide/blog/today/23502/
…