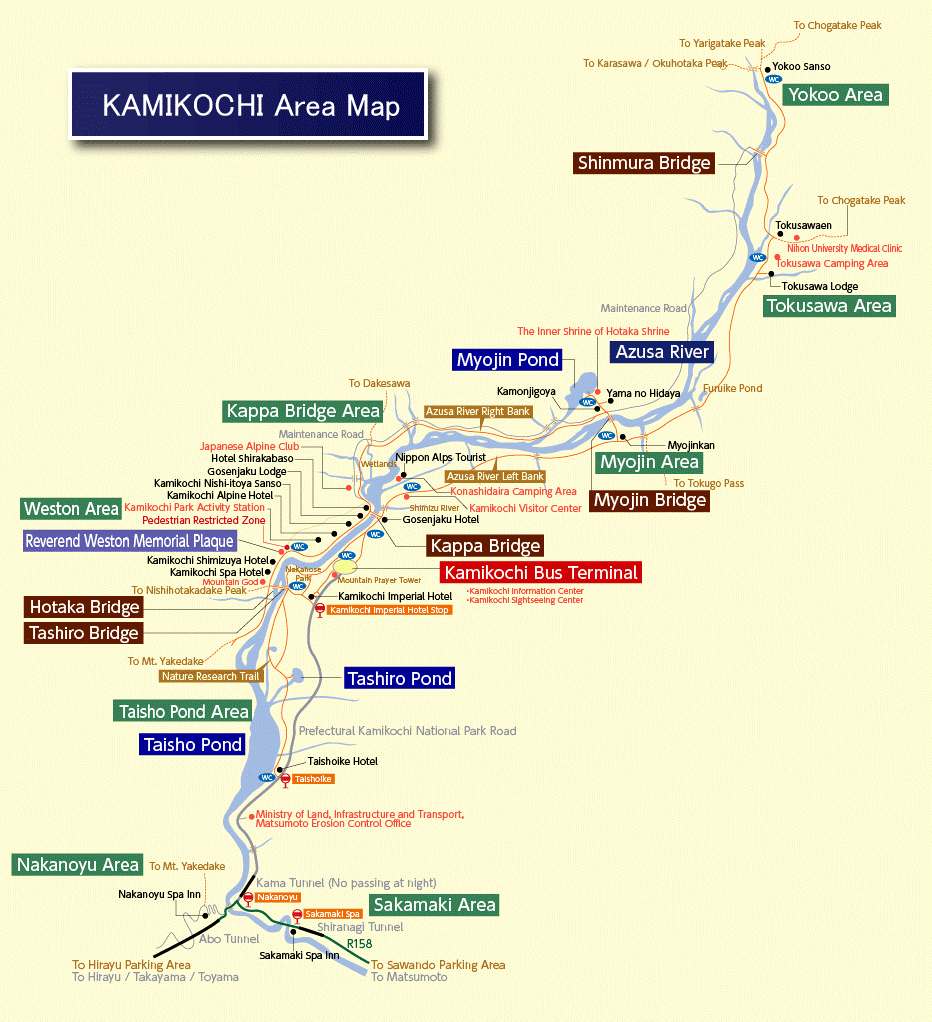 Popular Walking Routes
See our spring 2019 blog article for popular shorter routes for beginners and those with less time. Read more about the main stops below.
How to Enjoy Kamikochi Responsibly (i.e. The Rules)
Please take all your trash with you, including leftover food and cigarette butts.
Please do not feed the wild animals, not even monkeys or ducks.
Kamikochi is protected by law: it is illegal to collect plants or wildlife.
Stay on the trail; do not trample through marshes or other fragile environments.
No camping except in designated areas.
No fires except in designated areas.
Water is scarce above the timber line; please conserve it and protect water sources.
Please do not throw stones or rocks into the water.
Preparing for the Weather and Temperature of Kamikochi
Weather can change suddenly! We recommend wearing layers and comfortable walking shoes. Waterproof items will be your friend.
Kamikochi is a narrow basin situated at 1,500 meters above sea level, with a temperature 5 to 10°C lower than Matsumoto City (600 meters above sea level).
Early spring and late autumn: The lowest temperature sometimes falls below the freezing point. We recommend preparing winter clothes for snowy weather as early as mid-October to as late as early May.
Summer: It is also vital to have a jacket ready since temperatures sometimes fall below 10°C. Don't forget to bring rain gear especially in June and July during rainy season.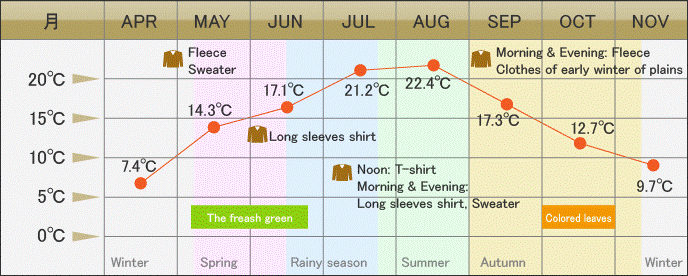 Clothes for Kamikochi Hiking
Short Stay
To enjoy hiking, comfortable walking shoes (trekking shoes or sneakers) and outfits are recommended. If you plan on doing any hiking higher up in the mountains, be sure to have proper hiking boots with ankle support. Many trails in Chubu Sangaku National Park are unpaved and can get muddy including in Kamikochi. It is best to pack extra clothes even in the summer time to prepare for the changeable mountain weather.
Long Stay
The temperature changes significantly within a day in Kamikochi. Don't forget to prepare warmer clothes such as thermals and fleeces and rain gear (jacket and pants, rather than less reliable ponchos) for the sudden temperature change.